W&L's Andrew Tartakovsky '23 Earns Fulbright to Azerbaijan Tartakovsky has been awarded a Fulbright English Teaching Assistantship to teach English in Azerbaijan, his parents' homeland.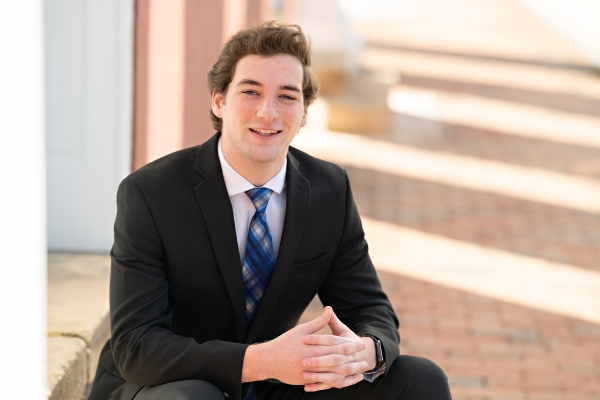 Washington and Lee University senior Andrew Tartakovsky '23 has been awarded a Fulbright English Teaching Assistantship (ETA) to teach in Azerbaijan. At W&L, Tartakovsky is a politics and business administration double major with a philosophy minor. Tartakovsky is a native of Columbia, Maryland, and graduated from Atholton High School.
Tartakovsky applied for an ETA in Azerbaijan to develop his perspective on U.S. diplomacy and international initiatives, which he hopes to use in his post-graduate career, and to gain unique experiences that will help him become both a better teacher and learner.
The ETA program in Azerbaijan is designed to improve English language instruction at Azerbaijani institutions of higher education and strengthen the educational and cultural relationships between the United States and Azerbaijan. Modernizing English language instruction is a priority for the U.S. Embassy there, and Fulbright English Teaching Assistants will help guide the transition to a more communicative style of teaching and learning. The teaching assistants will also have the opportunity to participate in public and cultural outreach programs and initiate self-designed community service projects.
Being awarded the Fulbright to Azerbaijan is also of personal significance to Tartakovsky, whose parents were born and raised in the Azerbaijan Soviet Socialist Republic and emigrated to the U.S. shortly after the collapse of the Soviet Union.
"As a first-generation American, getting this award would fulfill not only my own aspirations but my parents' American dream: giving me a better future than the opportunities they were presented," Tartakovsky said. "They worked tirelessly to move from an apartment in Baltimore to a suburb with great public schools and instill within me the values of gratitude, open-mindedness and dedication. The Fulbright mission of education, advocacy and service aligns closely with my own, and my participation will allow me to further connect with my ancestral roots while sharing my American values with the people there."
On campus, Tartakovsky is a member of the Student Judicial Council, Sigma Chi fraternity, Hillel, the W&L Outing Club and the Tocqueville Society. Tartakovsky is grateful for the faculty at W&L who have supported him and helped him learn and grow over the past four years, including Robert Ballenger '76, professor of business administration, and Brian Alexander, assistant professor of politics, who have served as mentors for him both personally and academically.
"As the son of Azerbaijani immigrants, Andrew will be able to reflect on the importance of immigrants to the history and culture of the United States," Ballenger said. "Bottom line, Andrew is the ideal person we should be looking for as an 'ambassador' for the U.S."
"Andrew's receipt of the Fulbright is a well-earned honor, born of hard work and determination," Alexander said. "He stands out for the focus and discipline by which he pursued academic excellence in addition to diverse professional experience. The Fulbright in Azerbaijan will mark an important step in rounding off Andrew's global perspective and his undoubtedly bright career as a leader in public service."
With the Fulbright award, Tartakovsky will depart in September 2023 for his 10-month program. Upon completion of the program, Tartakovsky plans to attend law school or work on Capitol Hill.
The Fulbright Program was established more than 75 years ago to increase mutual understanding between the people of the United States and the people of other countries. Fulbright is the world's largest and most diverse international educational exchange program. The primary source of funding for the Fulbright Program is an annual appropriation made by the U.S. Congress to the U.S. Department of State's Bureau of Educational and Cultural Affairs.
Washington and Lee University is proud to be included on the list of U.S. colleges and universities that produced the most 2022-2023 Fulbright U.S. Students for the fifth consecutive year.
If you know a W&L student who has done great, accolade-worthy things, tell us about them! Nominate them for an accolade.