W&L's Kamryn Godsey '23 Awarded Fulbright to Taiwan Godsey has been awarded a Fulbright English Teaching Assistantship to teach English in Taiwan.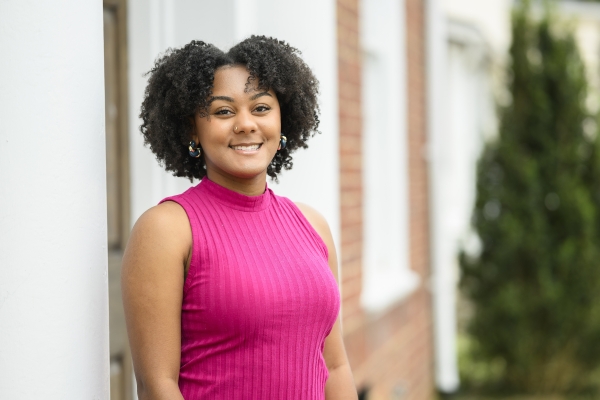 Washington and Lee University senior Kamryn Godsey '23 has been awarded a Fulbright English Teaching Assistantship (ETA) to teach English in Taiwan. At W&L, Godsey is majoring in sociology and anthropology, with a double minor in entrepreneurship and poverty and human capability studies. Godsey is a native of Surry County, Virginia, and graduated from Surry County High School.
"This fellowship will be a continuation of the English language teaching I have been engaging in for the last four years and is an addition to my lifelong global learning experience," Godsey said.
The ETA program in Taiwan is designed to help improve English language instruction in Taiwan's elementary schools, junior high schools and universities, as well as strengthen the educational and cultural relationships between the United States and Taiwan. English Teaching Assistants engage not only with their students but with the surrounding community through service-oriented projects.
"For me, it's an opportunity to share my culture and represent my community in a positive manner that isn't acknowledged enough in widespread narratives," Godsey said.
Since she arrived at W&L, Godsey has been highly engaged both on campus and in the Lexington-Rockbridge community, creating connections with community members and encouraging relationships between students and the community.
"Kamryn thrives at creating a sense of community and has spent the past three years mastering her ability to teach and mentor," said Jenny Davidson, assistant director of the Shepherd Program at W&L. "Kamryn demonstrates integrity, ambition and care in all that she does, and I am eager to see her apply her skills and talents, developed through her work in the W&L and Rockbridge communities, to her Fulbright experience."
Godsey's passion for service and creating community connections has made her stand out on W&L's campus, and she is grateful for the mentorship she has received from W&L faculty members along the way.
"Kamryn is adventurous and brave, and I love that she is not afraid of making mistakes," said Lynn Chin, associate professor of sociology. "She is extremely likable with a bright, friendly and outgoing personality, and she is going to make a great teacher and mentor."
At W&L, Godsey is a Bonner Scholar with the Shepherd Program, a Volunteer Venture trip leader, a staff member for W&L's Traveller Safe Ride Program, and a student researcher. She is also a member of the Student Association for Black Unity, and an executive member and the co-president of English for Speakers of Other Languages (ESOL).
"We at ESOL are delighted to hear that Kamryn has been awarded a Fulbright," said Ellen Mayock, the Ernest Williams II Professor of Spanish. "As a Bonner Scholar and ESOL leader, Kamryn has gotten to know Lexington and Rockbridge County in profound ways. As a witness to her outstanding work with ESOL over her four years at W&L, I know she'll meet this next exciting challenge with intelligence, creativity and hard work."
With the Fulbright award, Godsey will depart in August 2023 for her 11-month program. Upon completion of the program, Godsey plans to attend graduate school to study sociology.
The Fulbright Program was established more than 75 years ago to increase mutual understanding between the people of the United States and the people of other countries. Fulbright is the world's largest and most diverse international educational exchange program. The primary source of funding for the Fulbright Program is an annual appropriation made by the U.S. Congress to the U.S. Department of State's Bureau of Educational and Cultural Affairs.
Washington and Lee University is proud to be included on the list of U.S. colleges and universities that produced the most 2022-2023 Fulbright U.S. Students for the fifth consecutive year.
If you know a W&L student who has done great, accolade-worthy things, tell us about them! Nominate them for an accolade.