W&L's Staniar Gallery Presents 2022 Senior Art Theses 'Memory and Motion' The students' work is on display in Staniar Gallery through April 9.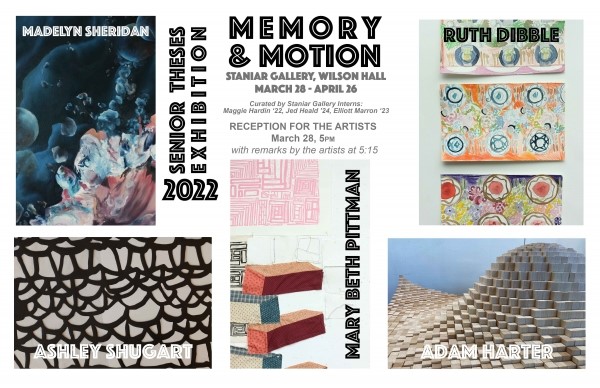 Washington and Lee University's Staniar Gallery is displaying artwork from the senior theses of the Class of 2022 studio art majors from March 28 through April 9. Each year, undergraduate students completing a studio art major develop a body of work and prepare it for exhibition in a professional gallery setting.
The annual exhibition showcases drawing, painting, photography, printmaking and sculptures by the young artists who concentrate on one of these areas to earn their bachelor's degree in studio art. As their debut into the art world, the exhibit allows the graduating seniors to display their work in the Staniar Gallery. This spring, five students presented their work.
Featured in the exhibit:
"Log Cabin Deconstruction: Exploring Memory and Form Through the Domestic Sphere" by Mary Beth Pittman
"Dance" by Ashely Shugart
"Immersion" by Madelyn Sheridan
"Around the Table" by Ruth Dibble
"Wave Form" by Adam Harter
The Staniar Gallery is located on the second floor of Wilson Hall in Washington and Lee University's Lenfest Center for the Arts. For more information, please call 540-458-8861.