W&L's Tanajia Moye-Green '23 Awarded Fulbright to the United Kingdom Moye-Green will pursue a master's degree in criminal justice and penal change at the University of Strathclyde.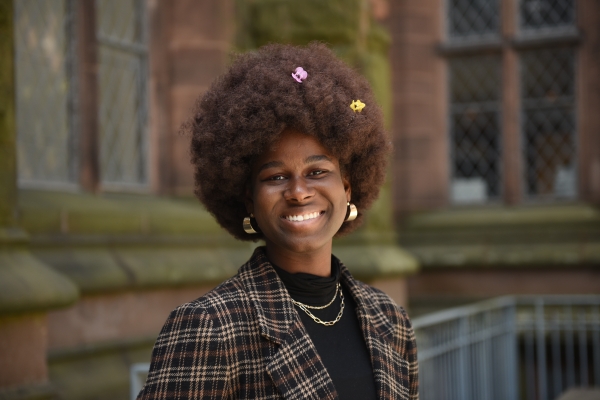 Washington and Lee University senior Tanajia Moye-Green '23 has been awarded a Fulbright Master of Sciences Degree Award to the United Kingdom. At W&L, Moye-Green is majoring in sociology and anthropology with a minor in data science and poverty and human capability studies. A native of Bartow, Florida, she graduated from the International Baccalaureate Program at Bartow High School.
The Fulbright United Kingdom Partnership Awards allow students to pursue a graduate degree at an institution of higher learning in the United Kingdom. Moye-Green will study criminal justice and penal change at the University of Strathclyde in Scotland, a socially progressive, internationally leading technological university.
Moye-Green believes the master's program at the University of Strathclyde will be valuable preparation for her future education and career plans.
"I hope to eventually work at a think tank like the Vera Institute of Justice or the Brennan Center for Justice as a researcher," Moye-Green said. "These positions require an extensive academic background in criminology and social science research and experience designing research projects, analyzing qualitative data, and devising creative solutions to complex challenges."
Moye-Green's research interests are primarily focused on criminal justice reform and investigating contemporary, racialized patterns within the criminal justice system. Off-campus, she serves on the board of the Community Anti-Racism Effort (CARE) of Rockbridge County.
"I am convinced that Tanajia has something to say to the world ­in general and, most certainly, to us social science scholars," said Robin LeBlanc, professor of politics at W&L and vice president of CARE. "She is the rare sort of person who manages to combine great ambition with the kind of balanced self-confidence that owns her faults and makes space for others. She is intellectually hungry and without a doubt, capable."
The support Moye-Green has received from W&L faculty members speaks to her dedication to pursuing opportunities that allow her to make a difference in the world. Her commitment to social justice and reform is evident in her academic pursuits and career ambitions, and she serves as an inspiration not just for her peers, but for her mentors.
"Tanajia has impressed me greatly over the last several years," said Jon Eastwood, professor of sociology. "She is a brilliant social thinker, has off-the-charts research skills, and consistently focuses her intellectual talents on questions closely connected to human wellbeing.
On campus, Moye-Green is involved in the Shepherd Program and the Office of Community-Based Learning, serves as a trip leader for Appalachian Adventure and a key staff member of the Outing Club, and works at the ITS Help Desk. Moye-Green has also partnered with W&L's institutional history initiatives to conduct research on the role of past W&L administrators, faculty and students in criminal acts over the past two centuries. Working closely with Lynn Rainville, professor of anthropology and executive director of institutional history and museums, Moye-Green has documented dozens of court cases that involved African American residents in Lexington between 1865 and World War II; this work has involved detailed searches of local archives and newspaper accounts, as well as biographic profiles. She is currently finalizing an article that highlights examples of racist court judgments and unjust legal statutes.
"Tanajia is one of the few students I have worked with who is deftly able to track between issues in the past and the present, and using this compelling approach, she has combined her historic research with her contemporary sociology project," Rainville said. "She is a compassionate intellectual who is committed to using her research acumen to uncover overlooked and misunderstood aspects of American history and the role that systemic injustice and inequality have played in social and economic outcomes for many Black families."
Moye-Green attended the Public Policy and International Affairs (PPIA) Junior Summer Institute Fellowship at Princeton University's Woodrow Wilson School of Public and International Affairs in summer 2022, where she strengthened her quantitative, analytic and communication skills, as well as learned more about policy analysis, statistics and economics. Moye-Green also received a Beinecke Scholarship in 2022, which provides funds for post-graduate study to students of unusual promise.
With the Fulbright award, Moye-Green will depart in September 2023 for her 12-month program. Upon completion of her degree, she hopes to pursue a doctorate in sociology.
The Fulbright Program was established more than 75 years ago to increase mutual understanding between the people of the United States and the people of other countries. Fulbright is the world's largest and most diverse international educational exchange program. The primary source of funding for the Fulbright Program is an annual appropriation made by the U.S. Congress to the U.S. Department of State's Bureau of Educational and Cultural Affairs.
Washington and Lee University is proud to be included on the list of U.S. colleges and universities that produced the most 2022-2023 Fulbright U.S. Students for the fifth consecutive year.
If you know a W&L student who has done great, accolade-worthy things, tell us about them! Nominate them for an accolade.