Women's, Gender, and Sexuality Studies Program Celebrates 20 Years The WGSS Program at W&L is celebrating the milestone with a series of events that include a film screening, art exhibits and panel discussions.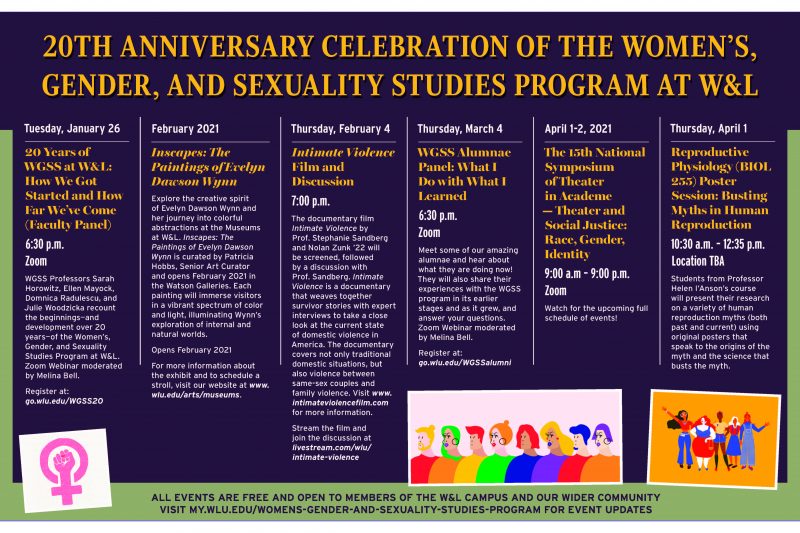 The Women's, Gender, and Sexuality Studies Program (WGSS) at Washington and Lee University kicked off its 20th anniversary celebration on Jan. 26, 2021 with a panel discussion featuring three members of the WGSS faculty.
In the discussion, "How We Got Started and How Far We've Come," faculty members Domnica Radulescu, Ellen Mayock and Julie Woodzicka shared stories about the program's founding at W&L and its development over the years. What began as the Women's Studies Program in 2001 later became the Women's and Gender Studies Program before evolving into its current iteration, which provides students with the opportunity to complete a multidisciplinary minor.
Radulescu, the Edwin A. Morris Professor of Comparative Literature and one of the WGSS Program's original co-founders, said a great deal of collaborative work went into making the program what it is today, and that progress was made despite a number of challenges along the way, including considerable pushback from some within the university community. The growth of the program is "thanks to the extraordinary dedication, talent and incredibly hard work of our faculty," Radulescu said.
Woodzicka, the Abigail Grigsby Urquhart Professor of Cognitive and Behavioral Science, arrived at W&L just as the program was getting off the ground in 2001. She recalled that one early course had nearly 30 students in it, only one of whom was male. Over the years, more male students have taken advantage of the program. Woodzicka said the interdisciplinary nature of the program helps to make it so effective, with faculty members from a number of disparate fields exposing students to different approaches and viewpoints.
Ernest Williams II Professor of Romance Languages Ellen Mayock recalled that women's studies were virtually nonexistent when she was an undergraduate at the University of Virginia in the 1980s. In graduate school, she cobbled together her own women's studies program by selecting courses that might instruct her on how to do research in the field. Mayock pointed out that the program has had an important influence not only on academics at W&L, but on the university's social scene, as well. She said WGSS students and classes often share a common desire to talk about controversial issues and propose solutions, and that the program's faculty and students often "parse challenging institutional politics and dynamics through a WGSS lens."
A recording of the panel discussion is available for viewing on the WGSS webpage.
The WGSS Program has also sponsored countless events at W&L through the years, and this year is no different. The next event in its 20th anniversary series is a screening of "Intimate Violence," a documentary about domestic violence that was co-directed by Stephanie Sandberg, assistant professor of theater, and Nolan Zunk '22. Sandberg and Zunk will lead a virtual discussion of the film after its screening. To stream the film and join the discussion, all of which kicks off at 7 p.m. on Feb. 4, click here.
Also in February, the Watson Galleries at W&L will be home to an art exhibit, "Inscapes: The Paintings of Evelyn Dawson Wynn." Click here for more information or to schedule a visit.
On March 4 at 6:30 p.m., WGSS alumnae will make a virtual visit to W&L for a panel discussion titled "What I Do With What I Learned." The alumnae will talk about their time in the program and how they carried those experiences into their professional lives. Register here.
Finally, in April, WGSS will sponsor the 15th National Symposium of Theater in Academe – Theater and Social Justice: Race, Gender, Identity, directed by Domnica Radulescu (April 1-2) and a reproductive physiology poster session, "Busting the Myths in Human Reproduction" (April 1, 10:30 a.m.-12:35 p.m.). The poster session will feature students from Biology Professor Helen I'Anson's course, who will present research on human reproductive myths of the past and present.
For more information about the WGSS Program at W&L, including all of its events, please visit its webpage.