Public Interest Law Careers Panel to Be Held Feb. 28
W&L will host a Public Interest Law Careers Panel on Feb. 28 at 7:15 p.m. in Stackhouse Theater.
The panel will feature opening remarks by Tammi Simpson, associate dean of students, followed by a panel of lawyers, including:
David I. Bruck, Clinical Professor of Law at W&L; Death Row Defense, Virginia Capital Case Clearing House
Gail Deady '11L, Women's Rights, Reproductive Rights & Gender Equality, ACLU of Virginia
Margaret Hu, Associate Professor of Law at W&L; Civil Rights, Immigration & Cybersecurity
J.D. King, Clinical Professor of Law at W&L; Public Defense, W&L Law Criminal Justice Clinic
Elaine Poon, Civil Rights & Poverty Law, Legal Aid Justice Center
Julie Youngman, Visiting Assistant Professor of Business Law and Adjunct Professor of Law at W&L; Environmental Law, Southern Environmental Law Center
Courtney Hauck '18, a pre-law student and founder of the Roosevelt Institute at W&L, helped organize the event, which she hopes will allow people to take a closer look at public interest law as it relates to a variety of nontraditional legal fields.
"As a pre-law student interested in global environmental health, I wanted to create an opportunity for public service-minded students to learn more about what a law degree could help them achieve," said Hauck.
Visit LexLink Event ID 459 to learn more and RSVP for the event.
W&L's University Singers Celebrate the End of Their 2016 Tour With Home Performance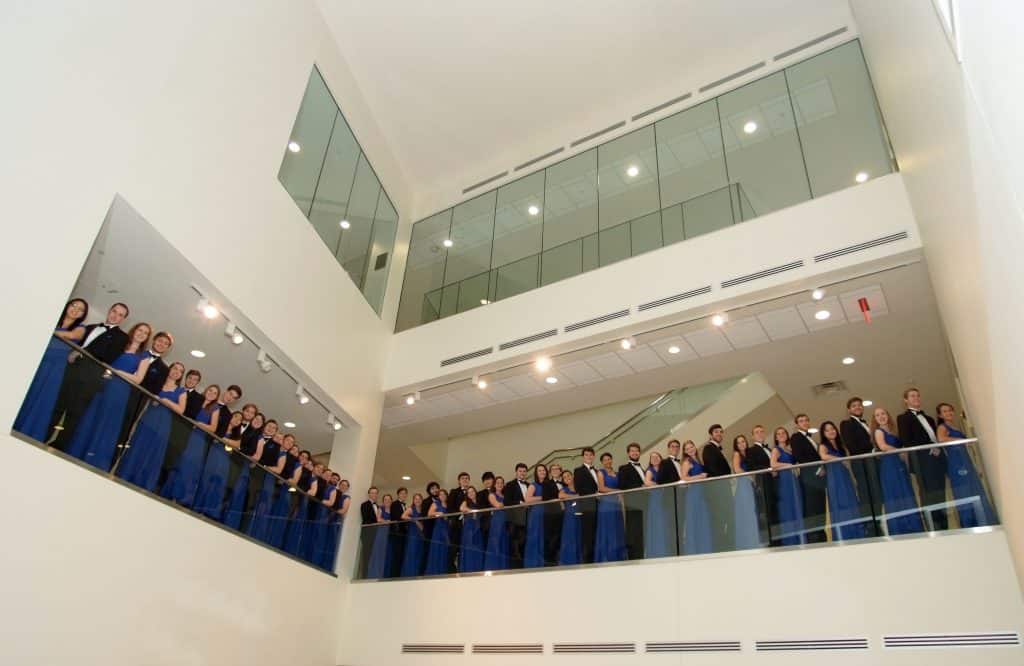 Join the renowned Washington and Lee University Singers as they return from their 2016 tour of the South with an evening of a cappella choral mastery on Feb. 28 at 8 p.m. in the Wilson Hall Concert Hall.
The performance will feature the choir performing a series of daunting modern Latin motets by Frank Martin, conductor Shane Lynch, and Ola Gjeilo. Then travel through the mastery of Bach in his grand motet Der Geist hilft unsrer Schwachheit auf, BWV 226 before a journey home, featuring music by Mack Wilberg, Eriks Esenvalds, and John Denver.
Finally, close the program with folk songs, gospel music, and other works of Americana that are always audience favorites.
Tickets are free, but required. For ticket information, contact the Lenfest Center box office 540-458-8000.
Registration Open for 2017 AdLib Conference
"We want students to know that they can major in any of the liberal arts subjects and not just get jobs in advertising, marketing and PR but excel in those jobs, precisely because of the academic experiences they've had here at W&L."
Washington and Lee University will host its sixth annual AdLib Conference Mar. 2-3, 2017.  The conference brings alumni who work in advertising, marketing and communications together with students interested in careers in those industries.
"The conference emphasizes the power of the liberal arts experience in this industry," said Amanda Bower, the Charles C. Holbrook, Jr. '72 Professor of Business Administration. "We want students to know that they can major in any of the liberal arts subjects and not just get jobs in advertising, marketing and PR but excel in those jobs, precisely because of the academic experiences they've had here at W&L."
Registration is now open through the W&L website for students and alumni to reserve a spot for the conference. The conference begins on Thursday evening at 5:30 p.m. with a reception in the Center for Global Learning.  On Friday, presenters take the stage beginning at 9:05 a.m. in Stackhouse Theater.
The conference will feature four alumni speakers to give "War Stories" on Friday morning, discussing their time in the industry and specific campaigns that have taught them valuable lessons. Gerard McKee '08, Group Director of Cross Media; Elizabeth Dawson '07, Email Marketing Manager at ThinkGeek; Swan Burrus '12, Strategist at OgilvyOne Worldwide; and Brooke Segodnia '08, Content Partner Manager at Twitter will take the Stackhouse Theater stage the morning of March 3rd to share their insights.
Along with the War Stories, additional returning alumni will participate in three panels. Breaking into the Industry: Young Alumni Panel at 11:15 a.m. will feature alumni in the advertising, marketing and PR industry who will answer questions about their experience after graduation. At 1:30 p.m., Finding Your Niche: Writing and Strategy Panel delves into the different skills that students can utilize in their professions, and at 2:30 p.m., a group of alumni will discuss digital media on the Digital Media Panel.
W&L Class of 1995 alumnus Jeffrey Buntin, Jr., President and CEO of advertising agency The Buntin Group will speak as the conference's closing keynoter on Friday at 3:30 p.m. on March 3rd. The Buntin Group, based in Nashville, TN, is one of the top 30 independent U.S. agencies specializing in strategic branding communications.
Students and alumni can register to attend the AdLib Conference at go.wlu.edu/adlib.
Campus Kitchen at Washington and Lee Wins Grant to Address Rural Hunger
"The grant focus on rural outreach is a perfect match to our local community. CKWL is thrilled to receive funding to support increased access to food and nutrition education."
The Campus Kitchens Project, the leading national nonprofit empowering students to fight hunger and food waste, today announced that five schools in the national Campus Kitchens network will each receive $3,000 to address rural hunger in their community. The sub-grants totaling $15,000 are sponsored by CoBank.
The Campus Kitchen at Washington and Lee University launched in 2006 and was the tenth Campus Kitchen to join the growing national network. At Campus Kitchens across the country, students lead efforts to combat food waste and hunger by collecting surplus food from on-campus dining halls, community gardens, restaurants, and grocery stores and transforming it into healthy meals.
The $3,000 sub-grant from CoBank will support student volunteers with the Campus Kitchen at Washington and Lee University to improve and provide additional services to three mobile food pantries, establish a food shelf in partnership with the Agriculture Business classes at Rockbridge County High School and conduct nutrition education workshops at Maury River Middle School's afterschool enrichment program.
The 2017 cohort of five Campus Kitchens who will be part of the CoBank Rural Hunger Outreach Network are:
Elon University (CKEU) – Elon, NC
Lindsey Wilson College (CKLWC) – Columbia, KY
Saint Lawrence University (CKSLAW) – Canton, NY
Troy University (CKTROY) – Troy, AL
Washington and Lee (CKWL) – Lexington, VA
Every Campus Kitchen in the CoBank Rural Hunger Outreach Network will utilize innovative strategies to address rural hunger in their community.
"The grant focus on rural outreach is a perfect match to our local community. CKWL is thrilled to receive funding to support increased access to food and nutrition education" said Campus Kitchen at Washington and Lee Coordinator Jenny Davidson.
In the last academic year, student volunteers with The Campus Kitchens Project recovered more than 1.3 million pounds of wasted food and served nearly 350,000 meals to those in need.
In Case You Missed It! Watch Jonathan Holloway's ODK Lecture, Followed by Panel Discussion
On Wednesday, Feb. 15 at 6 p.m. Jonathan Holloway's recent ODK lecture on "The Price of Recognition: Race and the Making of the Modern University" will be shown in Stackhouse Theater, followed by a panel discussion.
Holloway, historian of post-emancipation American history and black intellectualism and dean of Yale College, was the featured speaker at Washington and Lee University's Founders Day/Omicron Delta Kappa Convocation on Jan. 19.
After the viewing of Holloway's recorded talk, a panel discussion will follow with panelists Marc Conner, provost; Elizabeth Knapp, professor of geology and director of the Johnson Programs; Tammi Simpson, associate dean of students and dean of juniors; Elizabeth Mugo '19, and Iman Messado '19.
The viewing of the lecture and panel are sponsored by the Division of Student Affairs and the Student Association for Black Unity.
Shenandoah Announces the Graybeal-Gowen Prize for Virginia Poets
Shenandoah: The Washington and Lee University Review seeks submissions from Virginia poets for the 2017 Graybeal-Gowen Prize. 
This annual prize awards $500 to a writer born in Virginia, with current residence in Virginia or one who lived in Virginia. Current employees of the Washington and Lee community are not eligible, but students are encouraged to participate.
The submission period is Feb. 14- March 17. Shenandoah will consider up to three poems of 50 lines or less per author. The winning poem will be published in a future edition of Shenandoah.
Jess Quinlan, from Staunton, Virginia, won the 2016 contest with her poem "Wahunsenacawh." Her work can be viewed in the current edition of Shenandoah.
Previous year's winners include: Nancy Schoenberger of Williamsburg, Virginia, with her poem "London Foundling Hospital"; Judith McCombs, currently of Bethesda, Maryland, with her poem "The Minister's Wife Seeks Patrick McKommie's Advice"; and Margaret Mackinnon of Falls Church, Virginia, with her poem "Writing On the Window." 
Contestants should send one word file for each poem with contact information in the upper right-hand corner and a brief biographical note confirming eligibility as a Virginian, to the submittable link on Shenandoah's website (shenandoah.submittable.com/submit). No entry fee is required.
The Graybeal-Gowen Prize is dedicated to Howerton Gowen (W&L '30), a lifelong lover of poetry. The prize is donated by Priscilla Gowen-Graybeal and her husband, James (W&L '49). 
For more information, visit shenandoahliterary.org/graybeal-gowen
Fellowships and Opportunities Fair to Be Held Feb. 13
All students are invited to stop by the Fellowships and Opportunities Fair on Feb. 13, from 11 a.m. to 2 p.m. on the main floor of Leyburn Library to get information on fellowships and a wide variety of other opportunities, such as Fulbright, Critical Language Scholarships, Johnson Opportunity Grants, etc.
Visitors to the fair will have the opportunity to meet with fellowship faculty representatives about the application process and to talk with past student participants and applicants about their experiences.
Five Seniors Receive CFA Exam Scholarships
Five seniors, Robert Conley, Mike DeLuca, Kaitlin Krouskos, Daniel Weld and Catherine Zhu, have received scholarships to study for level one of the exam to become a Chartered Financial Analyst® (CFA).
As a university recognized by the CFA Institute, Washington and Lee can offer up to five scholarships each year to reduce the exam price for students from $1,400 to $350. Additionally, the CFA Institute will send scholarship recipients books on six topics, including finance, accounting and ethics.
A highly sought after designation, a CFA credential gives students a distinct advantage on the job market. This year more than 172,000 candidates sat for the CFA exams, which comprise three levels. Students must pass all three levels to become a CFA. Approximately one in eight people who start the program will become a chartered financial analyst.
W&L's Morel on American Political Thought As a Resource for Improving U.S. Race Relations
Lucas Morel, professor of politics at Washington and Lee, recently participated in a scholarly exchange with UCLA professor Melvin L. Rogers on "Starting Points," an online journal of the Kinder Institute on Constitutional Democracy at the University of Missouri.
In the exchange, Morel and Rogers, the Scott Waugh Chair in the Division of the Social Sciences and Associate Professor of Political Science and African American Studies at UCLA, addressed the question, "Can American political thought be a resource for improving race relations in the U.S."?
The full exchange can be found here.
W&L's Colón Offers Tips for Distinguishing Between Fact and Fiction in the News
"News consumers today face a flood of fake news and information. Distinguishing between fact and fiction has become increasingly challenging."
This article was originally published on The Conversation. Read the original article.
You are the new gatekeeper of the news
By Aly Colón, Knight Professor of Journalism Ethics
at Washington and Lee University
News consumers today face a flood of fake news and information. Distinguishing between fact and fiction has become increasingly challenging.
In the past, news organizations sifted through information to try to determine its validity and veracity. Being trusted for what they reported became an important part of journalists' reputations.
But that was then.
You are part of the problem
Now the gatekeeping role that the legacy media newspapers and network television news once played falls to all of us. Today, everyone assumes the position of publisher. Technology has democratized the process of making, or making up, news.
Journalists no longer decide what goes public. Information flows unimpeded and unchecked through the internet, filling a multitude of websites, blogs and tweets.
All of it flows through social media streams and into our laptops, tablets and smartphones. Everyone who posts, or reshares, a news story on Facebook or retweets a link takes on a role once held by only a powerful few media executives. The problem that emerges today stems from the fact that most social media "publishers" fail to consider the responsibility for what they post.
It's not that fake news is new. Thomas Jefferson complained in 1807, "Nothing can now be believed which is seen in a newspaper." Jefferson's comment represents just one of many views regarding news not only in the U.S. but in Europe. Fake news can be traced back Italy in 1475 when a priest made a false claim about a child's disappearance. Even the political battle between Marc Antony and Octavian to succeed the murdered Julius Caesar engaged the use of fake news. Octavian's use of fake news enabled him to succeed Caesar.
And it's not that the old gatekeepers were infallible or consistently apolitical. But in today's technological world, we're in the midst of an informational perfect storm. The equation I might offer would be: Velocity + Volume = Volatility. All the news on the internet moves so fast, and assaults us with so much, that the outcome becomes unpredictably dangerous.
Some people who use social media check what they publish. Others repost or retweet information without reading it carefully, much less doing any due diligence for accuracy. That plays into what those who produce fake news hope to accomplish. While some believe they hope to deceive people, press critic Tom Rosenstiel asserts, "The goal of fake news is not to make people believe the lie. It is to make them doubt all news."
Some may think that young people, with their social media savvy, might be better able to assess the information they consume.
A Stanford University study found it shocking that many of them couldn't "evaluate the credibility of that information." The study noted that more than 80 percent of middle schoolers saw "sponsored content" as actual news. High school students didn't verify photos. Most college students failed to suspect potential bias in an activist group's tweet.
Step up your game
So what are news consumers to do? How can they act as their own gatekeepers, intent on vigilance and verification like the best journalists and publishers of old?
Here's how to begin.
#1. Check out the source. This may seem basic, but it's easy to read headlines without paying attention to who wrote it. Writers and websites operate with their own perspective. Some want to offer a balanced view. Some advocate a point of view. Others hope to deceive you.
Know the "who" or the "what" of the source. Is the source, website, Twitter handle or blog familiar to you? Have you read them before? Read other work they have done. See if writers you trust link to them.
Read the "About" section of the writer/website. Use search engines to track the name. Sometimes such sites as Linkedin or Facebook turn up basic background information. The key is to know where they are coming from.
#2. Check out the information. Do other sources corroborate what you're reading, viewing or hearing? Have you used verification sites such as Snopes, Politifact and FactCheck.org?
Snopes, for example, reported that some of the "2017 inauguration photos" tweeted out of Trump's inauguration were taken weeks or years earlier. One was a photo of the Kansas Royals baseball team rally. Politifact pointed out President Donald Trump's press secretary's assertion the inauguration had the largest audience – period – was disputed by other measurements. And FactCheck.org noted that former President Barack Obama "falsely claimed that a treaty he signed with Russia in 2011 'has substantially reduced our nuclear stockpiles, both Russia and the United States.'"
Dick Grefe, a senior reference librarian at Washington and Lee University, alerted me that two professors at the University of Washington have proposed teaching a course "Calling Bullshit: In the Age of Big Data." The course would "focus on bullshit that comes clad in the trappings of scholarly discourse." What's fake isn't limited to news.
#3. Be aware of your biases. Remember that we tend to read, listen to and watch news with our own built-in prejudices. We evaluate information based on whether it supports what we already believe. It can be easy to discount that which upsets or challenges our worldview. Reports about "confirmation bias" abound. As studies and writers have noted, we basically believe what we want to believe.
The concern journalists feel about how misleading and confusing the news can be has prompted a number of them to offer their own guides to approaching biases and fake news. Journalist and media expert Alicia Shepard offers her suggestions on how to avoid being duped. Alan Miller, a Pulitzer Prize-winning journalist who founded the News Literacy Project, grapples with confirmation bias head on. Steve Inskeep at NPR provides a guide to facts.
Battle your own confirmation bias by expanding the sources of information you seek. Be open to thinking about different points of view. Read widely. Read counterpoints. Watch for innovations from the media. For example, one recent study published on MarketWatch placed different news sources on the "truthiness" scale. Another, older piece on businessinsider.com  could help you identify the ideology underlining your favorite source of news.
There's no need to close the gate, but be sure you know what's flowing in. It matters.