Civil Rights Activist Diane Nash Keynotes W&L's Multi-Day King Celebration
Diane Nash, peace activist and pioneer of the Civil Rights Movement, will be the featured keynote speaker during Washington and Lee University's annual multi-day observance of King's birthday, "Celebrating the Life and Legacy of Dr. Martin Luther King Jr."
Nash will present the keynote address on Sunday, Jan. 15, at 6 p.m. in Keller Theatre, Lenfest Hall on the W&L campus.
A Chicago native who had never experienced segregation in public accommodations before moving to the South, Diane Nash went on to become one of the pioneers of the Civil Rights Movement. Nash's involvement in the nonviolent movement began in 1959, while she was a student at Fisk University. In 1960 she became the chairperson of the student sit-in movement in Nashville, Tennessee — the first Southern city to desegregate its lunch counters — as well as one of the founding students of the Student Non-violent Coordinating Committee. In 1961, she coordinated the Freedom Ride from Birmingham, Alabama, to Jackson, Mississippi, a story which was documented in the recent PBS American Experience film "Freedom Riders."
Her many arrests for her civil rights activities culminated in Nash being imprisoned for 30 days in 1961, while she was pregnant with her first child. Undeterred, she joined a national committee — to which she was appointed by President John F. Kennedy — that promoted passage of the Civil Rights Act of 1964.
Nash later became active in the peace movement that worked to end the Vietnam War, and became an instructor in the philosophy and strategy of non-violence as developed by Mohandas Gandhi.
Nash is the recipient of numerous awards, including the War Resisters' League Peace Award; the Distinguished American Award presented by the John F. Kennedy Library; the LBJ Award for Leadership in Civil Rights from the Lyndon Baines Johnson Library and Museum; and an honorary doctorate of human letters from Fisk University, her alma mater. Most recently, Nash delivered the 2009 Slavery Remembrance Day Memorial Lecture in Liverpool, England.
Her work has been cited in numerous books, documentaries, magazines, and newspaper articles, and she has appeared on such TV shows and films as "The Oprah Winfrey Show," Spike Lee's "Four Little Girls," and PBS's "Eyes on the Prize: America's Civil Rights Years 1954-1965."
In addition to Nash's keynote, this year's events will include a symposium at the School of Law; the annual children's MLK Birthday Party; a dream-themed Chanoyu Tea Society event; viewings of the movie "Eyes on the Prize"; and the Reflections Dinner.
The keynote and all other events in the multi-day program are free and open to the public. Some events require tickets or RSVP. The complete schedule of events and ticket/RSVP information can be found online.
Undergraduate and law classes are suspended on Monday. Law classes will resume on their normal weekly schedule on Tuesday. The undergraduate schedule for the week of Jan. 16 is as follows:
Monday, January 16: Martin Luther King Jr. Day: No course meetings
Tuesday, January 17: no change – regular Tuesday course schedule
Wednesday, January 18: no change – regular Wednesday course schedule
Thursday, January 19: no change – regular Thursday course schedule
Friday, January 20: follow the Monday course meeting schedule
W&L's Colón Weighs in on Use of Graphic Photos of Ambassador's Murder
"Why is showing the dead body of the Russian ambassador in Turkey helping me, as a viewer, understand the significance of this act better?"
Aly Colón, Knight Professor of Ethics in Journalism at Washington and Lee University, recently shared his expertise in a piece exploring how news sites handled graphic photos of a Russian ambassador's murder.
In an interview with the Christian Science Monitor, Colón points to the key questions that must be asked in a situation such as this one, when determining if the graphic nature of a photograph outweighs its journalistic importance.
"Why is showing the dead body of the Russian ambassador in Turkey helping me, as a viewer, understand the significance of this act better?" asks Colón. "That's in addition to the knowledge you're bringing to me in a narrative format. And will I understand the circumstances of this assassination better because of it?"
You can read the full piece in the Christian Science Monitor online.
Jonathan Holloway, Historian and Dean of Yale College, to Speak at W&L Founders Day/ODK Convocation
"Particularly at a time when the relations between institutions and their histories is under scrutiny, Holloway's is a voice of reason and inquiry and value."
Jonathan Holloway, historian of post-emancipation American history and black intellectualism and dean of Yale College, will be the featured speaker at Washington and Lee University's Founders Day/Omicron Delta Kappa Convocation, on Jan. 19, at 5 p.m. in Lee Chapel.
Holloway will speak on "The Price of Recognition: Race and the Making of the Modern University." He will be signing copies of his book, "Jim Crow Wisdom: Memory and Identity in Black America Since 1940," on the museum level of Lee Chapel from 4:00 to 4:30 p.m. Visitors attending the book signing are asked to use the side entrance.
The talk is free and open to the public. The program will also be broadcast live online.
Holloway's address will precede the induction of 22 undergraduate students, 16 law students and 6 honorary initiates into membership in Omicron Delta Kappa, the national leadership honor society for college students, faculty, staff and administrators, founded in 1914 at Washington and Lee. The University Singers will perform.
Holloway is dean of Yale College and Edmund S. Morgan Professor of African American Studies, History, and American Studies. He specializes in post-emancipation United States history, with a focus on social and intellectual history. He is the author of "Confronting the Veil: Abram Harris Jr., E. Franklin Frazier, and Ralph Bunche, 1919–1941" (2002) and "Jim Crow Wisdom: Memory and Identity in Black America Since 1940" (2013), both published by the University of North Carolina Press. He edited Ralph Bunche's "A Brief and Tentative Analysis of Negro Leadership" (NYU Press, 2005) and co-edited "Black Scholars on the Line: Race, Social Science, and American Thought in the 20th Century" (Notre Dame University Press, 2007). He has written an introduction for a new edition of W.E.B. Du Bois's "Souls of Black Folk," published by Yale University Press in 2015, and is working on a new book, "A History of Absence: Public Narratives, Race, and the Making of the Modern World."
Holloway won the William Clyde DeVane Award for Distinguished Scholarship and Teaching in Yale College in 2009 and the Before Columbus Foundation's American Book Award in 2014. He served as the master of Calhoun College from 2005 to 2014 and was chair of the Council of Masters from 2009 to 2013. He began a three-year term as chair of the Department of African American Studies in 2013. That term was abbreviated when he became dean of Yale College in July 2014.
Holloway has held fellowships from the W.E.B. Du Bois Research Institute at Harvard University, the Stanford Humanities Center and the Ford Foundation. He was an Alphonse Fletcher Sr. Fellow from 2011 to 2012. Currently, he is a Distinguished Lecturer for the Organization of American Historians.
Holloway received a bachelor's degree with honors in American studies from Stanford University. He earned three advanced degrees in history from Yale: an M.A., an M.Phil. and a Ph.D. He began his academic career at the University of California, San Diego, before joining the faculty at Yale in 1999 and becoming a full professor in 2004. He will become the provost of Northwestern University in July 2017.
Marc Conner, interim provost at Washington and Lee, describes Holloway as "one of the leading intellectual figures in African American studies."
"His work on leadership and race is especially influential," Conner said. "Particularly at a time when the relations between institutions and their histories is under scrutiny, Holloway's is a voice of reason and inquiry and value. I'm very excited to hear his remarks at our Founders Day event."
ODK has more than 285 active circles, or chapters, at colleges and universities across the country. Headquartered in Lexington, Virginia, ODK awards annual scholarships and leadership-development initiative grants and holds a national day of service each April. Individual circles conduct additional leadership-development activities.
W&L's Ruscio Presented with VMI Superintendent's Award
Kenneth P. Ruscio, outgoing president of Washington and Lee University, received the VMI Superintendent's Meritorious Achievement Award in a ceremony on W&L's campus on Nov. 30.
The Award recognizes extraordinary service and dedication to the Institute over many years by an individual who is not a VMI employee.
VMI's Superintendent, Gen. J. H. Binford Peay, presented Ruscio with a medallion, accompanied by a signed citation recognizing Ruscio for innovative leadership, strategic insight and tireless efforts in the pursuit of excellence.
"I am deeply appreciative of this recognition by VMI," said Ruscio. "I want to assure them that the respect is mutual. Kim and I have been fortunate to have enjoyed the friendship and support of colleagues at VMI, especially Gen. Peay and his wife, Pamela."
The citation lists a number of Ruscio's accomplishments during his tenure at Washington and Lee. These include the establishment of several new academic initiatives, including the Roger Mudd Center for Ethics, the J. Lawrence Connolly Center for Entrepreneurship, and the development of the highly regarded Johnson Program in Leadership and Integrity; the significant expansion of the university's financial aid program; and the modernization and construction initiatives that led to the renovation and restoration of the historic Colonnade, the building of the Hillel House, The Village third-year student housing, and the recently named Ruscio Center for Global Learning.
The award also recognized Ruscio for his support of the communities of Lexington and Rockbridge County through the creation of W&L's Community Grants program.
Holiday Pops Concert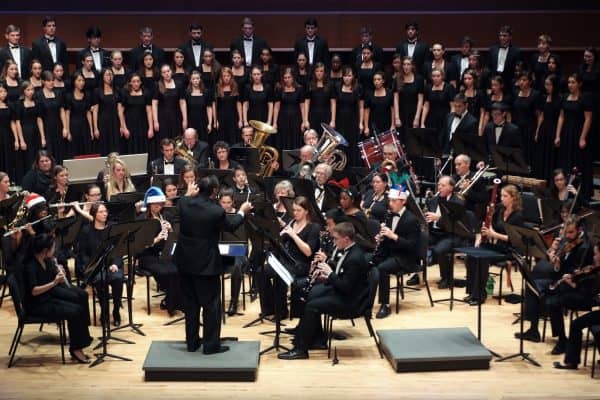 Kick off the holiday season with traditional and contemporary arrangements of favorite holiday tunes performed by the University Wind Ensemble, String Ensemble, Jazz Ensemble, Men's Glee Club, and Cantatrici.
The program will open with Dr. Shane Lynch's setting of Gloria and will close with Mark Wilberg's iconic setting of Come Thou Fount of Every Blessing. Enjoy a lighthearted concert that will be fun for the entire family! Identical programs both nights.
Concerts will be held December 5 and 6 at 7:00 p.m. in the Wilson Hall Concert Hall.
Tickets are free, but required. Tickets for this event must be reserved and obtained in person at the box office during open hours Monday through Friday 9:00 – 11:00 a.m. & 1:00 – 3:00 p.m. and 2 hours prior to each ticketed performance.
W&L's Strong Reflects on Somalia's 1992 Thanksgiving
"Memories of the Black Hawks being brought down make people think of Somalia as being a U.S. foreign-policy failure. It wasn't."
The following opinion piece by Bob Strong, William Lyne Wilson Professor of Politics at Washington and Lee, appeared in Newsweek on November 23, 2016, and is reprinted here by permission.
Somalia's 1992 Thanksgiving: Reflections on U.S. Humanitarian Intervention in the Horn of Africa
On the eve of Thanksgiving in 1992, then-U.S. president George H. W. Bush, in his final weeks in office, approved a major military intervention to relieve a humanitarian crisis in Somalia.
After losing his bid for re-election, Bush was not expected to make any dramatic foreign-policy decisions; lame ducks rarely quack or take unexpected steps. But the first president Bush did.
Today, we vividly remember the chain of events during the Bill Clinton presidency that led to the American withdrawal from Somalia in 1994—the shot-down Black Hawk helicopters, the body of a U.S. soldier dragged through the streets of Mogadishu, the angry crowds taunting American military personnel. We sometimes forget that those tragic events were preceded by a successful mission that saved lives in a war-torn nation on the brink of self-destruction.
U.S. President George H. W. Bush greets Somali women and children while visiting U.S. troops in Somalia on January 2, 1993. Bush deployed thousands of U.S. troops to Somalia in 1992 to help the population deal with a devastating famine. RICK WILKING/REUTERS
In the early 1990s, a bitter civil war freed the people of Somalia from a brutal dictator, Siad Barre, but failed to re-establish order and stability when clan leaders and their militias fought over succession. A combination of civil war, clan conflict, refugee dislocation and drought left the nation unable to feed its population. The emergency generated a routine international response with shipments of food, medicine and relief workers making their way to the country. But continued fighting, particularly in the south and the capital Mogadishu, was so pervasive that the effective distribution of aid was impossible.
When then U.S. Ambassador to Kenya, Smith Hempstone, visited refugee camps on the border with Somalia in the summer of 1992, he described his visit in a memo to Washington titled, "A Day in Hell." In Somalia, hellish starvation and malnutrition were rampant, and as with every famine, the first to die were the young, the old and the infirm. An estimated one in four children under the age of five years old died in the famine, according to some estimates.
In August 1992, the U.S. began an airlift of food and medicine to the southern regions that were inaccessible to relief convoys. These supplies made a difference, but far too often food was captured on the ground by armed groups, who hoarded it and used relief packages as a currency in the crippled Somali economy. Journalists who were able to get to the refugee camps and remote locations within Somalia came back with harrowing stories and pictures of desperation.
The pictures made their way to television screens, first on CNN—where more resources were devoted to the Somalia story—and then more broadly across the media landscape. Two days before Thanksgiving, on the night before President Bush made his decision to send over 28,000 US troops, NBC broadcast heart-wrenching black-and-white photographs of starving Somali children. Tom Brokaw told his viewers: "In Somalia, children under the age of five have all but disappeared…. It's a place where a thousand die today, and a thousand will die tomorrow, and the day after that, and the day after that."
The vivid media coverage gave rise to what came to be called the 'CNN effect'—the theory that widespread media coverage can influence foreign-policy decisions. With this came the suggestion that the U.S. military intervention was the product of excessively emotional public and presidential reaction to images of suffering and starvation.
There is some truth to that conclusion, but less than many commentators recognize. The wheels of government move slowly and it was not a sudden and surprising presidential decision the day after the NBC broadcast that turned everything around. The staff planning in the Pentagon for possible military action began weeks before the final presidential decision. During those weeks, State Department memorandums made the case that only a U.S. intervention could quickly end the famine. Members of Congress and newspaper columnists lobbied for action.
Bush had a long-term interest in the Somali situation and a consistent desire to do something about it. He ordered the airlift in August, then a full-scale intervention in November after the election. Those who knew him well thought of him as a humanitarian who would surely offer U.S. assistance if the risks to our military forces were deemed acceptable.
When the marines landed in Somalia, there were television cameras on the beach and no serious resistance. Explicit diplomatic warnings and the arrival of an overwhelming military force cowered the clan leaders and allowed for the rapid distribution of food and medicine. Secretary of State Lawrence Eagleburger later told me that the U.S. helped the people of Somalia because it was right, and because it could.
Memories of the Black Hawks being brought down make people think of Somalia as being a U.S. foreign-policy failure. It wasn't. Tens–perhaps even hundreds–of thousands of lives were saved by the American protected distribution of aid. For Somalia in the final weeks of 1992, there was a very real reason for Thanksgiving.
Robert Strong is a professor of politics at Washington & Lee University in Lexington, Virginia.
W&L's Rush Shares a Thanksgiving Prayer
"I would encourage angry observers to look to another American tradition that transcends and predates our politics: Thanksgiving."
The following opinion piece by Mark Rush, Waxberg Professor of Politics and Law and director of international education at Washington and Lee, appeared in the The Roanoke Times on November 24, 2016, and is reprinted here by permission.
A Thanksgiving prayer
I served as dean of a college in the Middle East for three years. It was impressive to see and hear the United States discussed so frequently in critical terms by denizens of a part of the world in which anti-western sentiment is common.
Questions about the USA frequently focused on our politics. Over there, it didn't matter if the president were a Democrat or a Republican. American military presence in the region had endured under both parties and the wars in Iraq and Afghanistan bore the imprimatur of Democrats and Republicans. From this perspective, it was never difficult for an observer to identify the contradictions in our political rhetoric, to find reason to cast aspersions on the performance of our political system or, simply, to be angry with the United States.
This same sort of visceral anger has rendered this election year perhaps the most regrettable, divisive, dangerous, ominous… (the list of adjectives goes on) in our history. The tenor of presidential debates was debased as the candidates spent as much time trading insults as they did addressing the pressing economic problems and growing economic inequality that generate fear and anger among voters of all races and walks of life.
In retrospect, it is horrifying to see that our political system is now as adept at generating anti-Americanism at home as it has been abroad.
It was, at first, a great challenge to try to explain the beauty of the USA to people whose views of our politics and culture are shaped by the same media that has taken sides in this election. As long as an observer focused on our contemporary politics, it was difficult to convince him or her to look further or more deeply.
As an antidote to this outlook (or perhaps, as a distraction), I would encourage angry observers to look to another American tradition that transcends and predates our politics: Thanksgiving. No, not Christmas or the 4th of July…no presents, fireworks, flag waving or gifts that had to be returned. Instead, I encouraged folks to look at the holiday on which Americans put aside politics, join hands in thanks and share a meal that symbolizes the celebration of the harvest.
This is, I would argue, American culture at its best. It was not an exaggeration, I would tell them, that even mortal enemies' hearts would soften if they knew that someone was spending Thanksgiving alone. Better to share a meal and fall asleep watching football than to expend energy on divisive politics. Life is better if enemies pause occasionally to find common ground (and acknowledge that it exists). It was amazing and heartwarming to see that even the most visceral critics of our politics would soften at the thought of our Thanksgiving tradition.
It is serendipitous that Thanksgiving comes just a couple of weeks after Election Day. This year, more than ever, the country needs to rediscover its common ground in the wake of an election that has exposed and rubbed salt in virtually every political wound imaginable. Despite occasional acknowledgments of accord (Kaine and Pence agreed that our communities and police need to heal wounds and work together) and respect (by God, Donald Trump is a good father and Hillary Clinton is a tenacious fighter) our presidential candidates have done little to suggest that the country can move forward together to solve the economic problems that divide it.
Despite the damage done to the electorate by the septic rhetoric of the presidential campaign and the fallout of the election, Thanksgiving looms once again as a chance to demonstrate to ourselves that there is more that unites the nation than divides it. In ancient Greece, city-states would pause wars and put down their weapons to celebrate the Olympics. Maybe the country can put this election behind us in a spirit of Thanksgiving … Amen.
Ricardo Dominguez to Speak on Disturbance Gestures: Art Between the Lines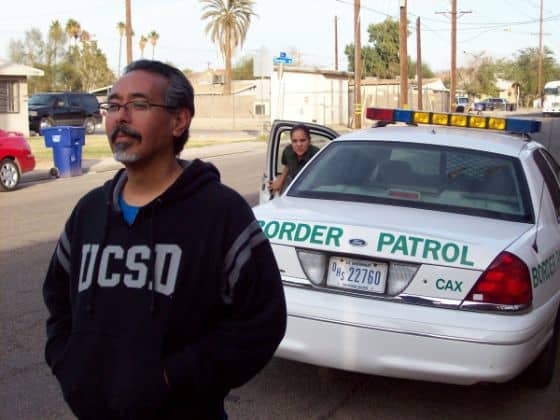 Ricardo Dominguez, American artist and associate professor of visual arts at UC San Diego, will speak at Washington and Lee University on Dec. 1 at 5:30 p.m. in the Multipurpose Room at Hillel House. The title of his talk is "Disturbance Gestures: Art Between the Lines." It is free and open to the public.
Ricardo Dominguez is a co-founder of the Electronic Disturbance Theater (EDT), a group that developed virtual sit-in technologies in solidarity with the Zapatistas communities in Chiapas, Mexico, in 1998.
Dominguez worked with Brett Stalbaum, Micha Cardenas, Amy Sara Carroll and Elle Mehrmand to develop the Transborder Immigrant Tool (TBT), a GPS technology to help immigrants find water stations in the Southern California desert. The TBT won the Transnational Communities Award (2008), a prize funded by Cultural Contact, Endowment for Culture Mexico–US and awarded by the U.S. Embassy in Mexico. The project was the subject of controversy, as it was investigated by the U.S. Congress 2009-2010, and was reviewed by Glenn Beck in 2010 as a gesture that potentially "dissolved" the U.S. border with its poetry.
Dominguez is also co-founder of *particle group* with artists Diane Ludin, Nina Waisman and Amy Sara Carroll, whose art project about nano-toxicology, entitled "Particles of Interest: Tales of the Matter Market" has been presented at the House of World Cultures, Berlin (2007), the San Diego Museum of Art (2008), Oi Futuro, Brazil (2008), CAL NanoSystems Institute, UCLA (2009), Medialab-Prado, Madrid (2009), E-Poetry Festival, Barcelona, Spain (2009), Nanosférica, NYU (2010) and SOMA, Mexico City, Mexico (2015).
Dominguez's talk is presented by the Center for International Education and the Andrew W. Mellon Foundation as part of the "Borders and Their Human Impact" lecture series. It is also made possible in part with support of the Latin American and Caribbean Studies Program (LACS) and the Center for Poetic Research (CPR).
W&L's Pasquale Toscano Among 2017 Class of Rhodes Scholars
Pasquale "Paqui" Toscano, a classics and English double major, is Washington and Lee's 16th Rhodes Scholar.
The Rhodes Trust announced Sunday that Toscano, 22, of Kettering, Ohio, was one of 32 scholars chosen this year. The scholarships, valued at between $50,000 to $200,000, fully fund two to four years of study at the University of Oxford in England.
The Rhodes Scholarships were created in 1902 by the will of Cecil Rhodes, a British philanthropist and African colonial pioneer. They are awarded on the basis of academic excellence, personal energy, ambition for impact, ability to work with others, a commitment to making a strong difference for good in the world, concern for the welfare of others, consciousness of inequities and potential for leadership.
Toscano, a Johnson Scholar at Washington and Lee, is proficient in Latin and Ancient Greek and plans to pursue a master's in English and a master's in Greek and/or Latin languages and literature at Oxford. After completing his studies in the U.K., he plans to return to the U.S. to complete a doctorate in English with a specialty in early-modern poetry, and pursue a career as a professor, scholar and disability-rights advocate.
The summer following Toscano's first year at Washington and Lee, he suffered a spinal-cord injury in an accident. Forced to take a semester-long leave of absence to learn to walk again, Toscano, who had originally considered a career in law, found that literature provided refuge during his lengthy recovery. An independent study during his absence from campus provided perspective for his changed circumstances.
"We read Donne and Herbert, as well as Herrick, whose exhortation to 'make much of time' galvanized me to construe my rehabilitation as an epistemologically-enriching experience —which informed my understanding of human vulnerability and perseverance — rather than a defeating one," said Toscano. "But it was not until I read the blind John Milton's verse that I discovered a voice whose reflections on sightlessness struck both an intellectual and visceral chord. The poet's work highlighted that studying Renaissance literature affords me opportunities to make contributions to disability studies."
Genelle Gertz, professor of English at W&L, directed Toscano's independent study while he was away from campus. "I didn't know at the time what future Paqui would face regarding his health, or whether he would be able to return," said Gertz, "but I felt privileged to teach a brilliant student who was fighting to recover. I am thrilled, and extremely proud, that he's now going on to specialize in the area he studied independently with me." Reflecting on Toscano's resolve, Gertz said, "His response to the accident has, more than any another thing, proven his immense determination and courage in the face of hardship. We're all lucky Paqui returned to W&L; he took the campus by storm."
Kevin Crotty, professor of Classics, said of Toscano, "I was singularly impressed by the excellence of his Latin, and his painstaking interest in attaining as thorough an understanding of Latin as possible. Not many students lavish such loving and intelligent care on a text; even fewer do so, I imagine, when they are fighting their way back from possible paralysis and undergoing a trying course of physical rehabilitation. It is a mark of his intellectual maturity that he could already, as quite a young person, find solace and encouragement in his studies."
"I am humbled, honored, and excited beyond words," said Toscano. "I'm speechless. But I do want to remind everyone that although people often say it takes a village to raise a child, it also takes a village to raise a fellowship applicant. I have been so supported, encouraged, and inspired by my W&L family, and my gratitude truly is ineffable."
Members of Toscano's "village" ­ — which includes faculty and administrators at Washington and Lee —  are not at all surprised by his accomplishment.
"Paqui will succeed as a college professor or at absolutely anything he decides to do," said Ken Ruscio, president of Washington and Lee. "He has intelligence, character, diligence and a conspicuous cheerfulness that make him a very rare individual. Everyone on our campus — students, faculty and administrators — knows Paqui, admires him and counts him as a friend. There is a rare sincerity, enthusiasm and uniformity in our judgment of this remarkable young man."
"Paqui combines extraordinary talent, intellect and spirit," said Lesley Wheeler, Henry S. Fox Professor of English. "I like and admire him profoundly and believe he will make powerfully positive contributions to any community he joins."
Rebecca Benefiel, associate professor of Classics and Toscano's adviser in that major, describes him as "a truly remarkable individual who has overcome the odds multiple times and who will be a brilliant and inspiring professor."
"Paqui is a dedicated, intellectual student," said Benefiel, "a true discussion leader, a big thinker and an inspired writer whose words fly off of the page."
Toscano graduated from Fairmont High School in Kettering, Ohio. At Washington and Lee, he received the Edward L. Pinney Prize, the G. Holbrook Barber Scholarship Award and the Matthew J. Mason Latin Prize. He also won the Elizabeth B. Garrett Scholarship in English, the Dabney Stuart Prize in English and the Sidney Coulling Prize in English. He is a member of Phi Beta Kappa, Omicron Delta Kappa, Phi Eta Sigma and Eta Sigma Phi classics honor society. The W&L faculty awarded him the Algernon Sydney Sullivan Medallion, which honors the senior man or woman who excels "in high ideals in living, in fine spiritual qualities, and in generous and unselfish service to others."
As an undergraduate student, Toscano served as chairman of the Student Judicial Council; a member of the Student Affairs Committee; a Latin and English peer tutor; and a Steering Committee member and platform chair for the 2016 Mock Convention. He gave campus tours as a member of the Student Recruitment Committee, and was a member of the University Wind Ensemble.
Toscano was among 20 students awarded a Beinecke Scholarship for graduate study and was recently named a national leader of the year by Omicron Delta Kappa.
Judith Baca to Speak on "Imagining America: Sites of Public Memory"
Judith F. Baca, painter, muralist, monument builder and scholar, will speak at Washington and Lee University on Nov. 29 at 5:30 p.m. in Wilson Hall Concert Hall. The title of her talk is "Imagining America: Sites of Public Memory." It is free and open to the public.
Baca has been teaching art in the University of California system since 1984. She was the founder of the first City of Los Angeles Mural Program in 1974, which evolved into a community arts organization known as the Social and Public Art Resource Center (SPARC) which has been creating sites of public memory since 1976.
Baca continues to serve as SPARCs ar­tistic director and focuses her creative energy in the UCLA@SPARC Digital/Mural Lab, employing digital technol­ogy to create social justice art. Her public arts initiatives reflect the lives and concerns of pop­ulations that have been historically disenfranchised, including women, the working poor, youth, the elderly, LGBT and immigrant communities.
Underlying all of Baca's and SPARC'S activities is the profound conviction that the voices of disenfranchised communities need to be heard and that the preservation of a vital commons is critical to a healthy civil society.
Baca's talk is presented by the Center for International Education and the Andrew W. Mellon Foundation as part of the Borders and Their Human Impact lecture series. It is also made possible in part with support of The Pamela H. Simpson Endowment for Art, the Art and Art History Department, Latin American and Caribbean Studies Program (LACS) and the Center for Poetic Research (CPR).