Disney Animation Studio's Head of Effects Animation to Give Keynote Speech for SSA
"SSA is an exciting and inspiring celebration of our students that reminds us as faculty of the truly exceptional students with whom we get to work."
Marlon West, head of effects animation at Walt Disney Animation Studios, will give the keynote address for Washington and Lee University's Science, Society and the Arts on March 17 in Evans Hall. The keynote luncheon will begin at 12 p.m., with remarks at 1 p.m. The SSA and luncheon are open to the W&L community. Space is limited, and registration is required to attend the lunch and West's talk (https://www.wlu.edu/ssa/keynote).
West has had an extraordinary career in both 2D- and computer-graphics animation, including serving as head of effects animation on "Frozen," which received the Academy Award for Best Animated Feature, and "Moana," which was nominated for the Academy Award for Best Animated Feature and won the award for "Outstanding Achievement, Animated Effects in an Animated Production" at the International Animated Film Society's 44th Annie Awards.
West also worked on two Academy Award-winning short films: "Feast," for which West served as head of effects animation, and "Paperman." Additional credits include head of effects on "Atlantis: The Lost Empire" and "Home on the Range," effects animation supervisor on "The Princess and the Frog," visual effects supervisor on "Winnie the Pooh" (2011) and assistant effects supervisor on the "Rhapsody in Blue" sequence of Fantasia (2000).
West started his career at Walt Disney Animation Studios in 1993 as an effects animator on The Lion King, where his task was to add the dust-cloud effects to the famous wildebeest stampede scene. He went on to work on effects animation in numerous features including "Pocahontas," "Hunchback of Notre Dame," "Hercules," "Mulan," "Tarzan" and "The Emperor's New Groove."
West is also a music fan and has worked as a DJ in various venues and styles. A native of St. Louis, he now resides with his daughter and thousands of CDs and records in Glendale, California.
"Our keynote speaker is the perfect embodiment of the W&L Science, Society, and the Arts event," said Julie Knudson, director of academic technologies and member of the 2017 SSA committee. "Marlon West's extraordinary career in 2D- and computer-graphics animation combines the art of film, the science of computer animation, and the social aspects of storytelling."
W&L's Science, Society and the Arts is a multi-disciplinary conference involving undergraduates and law students in the presentation of their academic achievements before an audience of their peers and the faculty. Conference participants share their work via oral presentations, traditional academic-conference-style panels, poster sessions, artistic shows or creative performances. The 2017 conference will be held March 16 and 17.
Original work is presented as part of one of many panels, as a poster at one of the four sessions, as a performance of dance, theater or music, or as a display of visual art such as drawings, painting, or photography. Additionally, students, faculty, and staff can take part in one of 25-plus book and film colloquia.
"Every two years Washington and Lee University takes the better part of two days in the spring to recognize original works by students during the Science, Society and the Arts Conference," said Matt Tuchler, associate professor of chemistry and chair of the 2017 SSA committee. "SSA provides an opportunity for all our students to come together and share with the W&L community what excites and inspires them as scholars and artists.
"It is an exciting and inspiring celebration of our students that reminds us as faculty of the truly exceptional students with whom we get to work," Tuchler added. "This year is made even more special by the incredibly generous outright and planned gifts from Drs. Herbert '50 and Betty Lou Lubs. This gift will both assure that SSA continues into the future and supports the Lubs' belief in the important role of SSA in helping foster creative and critical thinking among the student body."
For a complete schedule of the 2017 SSA conference, visit https://ssa.sched.com.
W&L Students' Work Featured in Southwest VA Photography Competition

Wilson Miller '17 Awarded Best in Show at Regional Photography Exhibition

The work of four Washington and Lee University photography students was accepted in the 2017 Southwest Virginia Juried Student Photography Competition at the Radford University Art Museum Downtown.

The photographs of Ellen Kanzinger '18, Suzanna Mayer '18, Wilson Miller '17 and Kiki Spiezio '18 were included in the exhibition. Two of the students also won awards for their work. Miller received Best in Show for his photograph "South Glade Street 3" and Honorable Mention for "South Glade Street 2." Mayer won First Place College Digital for "Midnight Web" and Honorable Mention for "Enveloped."

"We are thrilled to have the talents of our Washington and Lee photography students on display in this exhibition," said Christa Bowden, associate professor of art. "We often see their dedication to the medium in our photography classes, but it is wonderful for them to have the opportunity to share their work with a larger audience outside the W&L community."

The competition received more than 200 submissions and included work by students from colleges, universities and high schools throughout southwest Virginia. Entry was open to current undergraduates and high school students who were taking photography courses as part of their studies. Images were entered into one of three categories: College analog, college digital and high school.
W&L's Gavaler on the Semantics of Fascism
The following opinion piece by Chris Gavaler, assistant professor of English at Washington and Lee, appeared in the Mar. 5 2017 edition of the Roanoke Times and is reprinted here by permission.
Are We Living in Nazi Germany?
By Chris Gavaler
It is of course ridiculous to call the current Republican Party "fascist." Fascism is a historically and geographically specific phenomenon limited to the party of Mussolini in Italy of the 1920s and '30s. As typically used, the term also encompasses Nazi Germany and other European regimes of the 20th century.
More generally, the word may be applied to any government that exercises an absolute authority of the extreme right, typically through the merging of state and business leadership, together with belligerent nationalism.
Unfortunately, Donald Trump's campaign and election were embraced by some white supremacists, and hate crimes against non-white Christians have risen in its wake. Also, common of fascist governments, Trump employed rebirth myth rhetoric, promising a return to a golden age of nationalistic greatness. Though he campaigned on a populist, anti-establishment platform in which he criticized his opponent for ties with and an inability to control Wall Street interests, his transition into government saw an overt collusion of government and business leadership, with multiple corporate executives receiving prominent positions in his cabinet in a somewhat rushed and under-vetted process. His popularity also aligned with and further strengthened the ultra-conservative Tea Party branch of the Republican party, drawing some alt-right extremists into positions of power.
As president, however, Donald Trump does not hold "absolute power," because the Constitution guarantees a check on authority by dividing government into three, self-regulating branches. Currently, the Republican Party controls only the White House and both houses of Congress, leaving the Supreme Court evenly divided.
Because the previous Republican Senate refused to vote on President Obama's nominee last March, the current Republican Senate is now in the position of securing a conservative majority on the Supreme Court. If accomplished, only then will Republicans control all three branches of the federal government and, through district gerrymandering that legally protects Republican seats, control of a majority of state legislatures that promises them continuing and unchallenged control of the House of Representatives.
While it is an exaggeration to call such Republican control "absolute," the party's level of dominance does appear to contradict the founders' Constitutional intentions. But Republican power is not completely unchecked. Public outcry did prevent the Chair of the House Judiciary Committee Bob Goodlatte from dismantling the Office of House Ethics — even though that itself suggest the ruling party's inability to regulate itself within long-standing democratic norms.
Still, we should not be tempted to call the Republican government "fascist." It is merely extreme right-wing in policy, belligerently nationalistic in tone, and business-colluding in practice, with a grip on authority that only approaches absolute.
Donald Trump is also no fascist dictator. When Adolf Hitler assumed the office of Fuhrer in 1934, it was with the approval of 90 percent of German voters. President Trump enters the White House with a 37 percent approval rating, the lowest of any President-elect in U.S. history and the same as George W. Bush during his unfortunate second term. Moreover, when Adolf Hitler ran for president in 1932, he received 37 percent of the popular vote, while Trump received 46 percent.
The future of American democracy rests safely in a president who, because of our founders' anti-democratic fears of mob rule, was appointed by the Electoral College despite his opponent winning the popular vote by a margin of 2 percent.
Sometimes democracy needs the hand of an elitist minority to steer it through rough waters. We now may look to a leader who embodies capitalism in all of its excesses, a business tycoon who lost $910,000,000 in a single year and declared bankruptcy six times, an epicure who we trust when he assures us that he never commits but merely brags of committing sexual assault, despite allegations by over a dozen so-called victims, including one of his ex-wives. Even America's evangelical leaders have coalesced around the moral model that he and his former erotic nude model First Lady provides our Christian nation.
As we continue to regain our financial footing after the Great Recession triggered by the last Republican administration, and as we continue to fight the battles of the middle east also begun by that same administration, it is reassuring to know that the Republican Party is once again here to aid all of America with job-creating tax cuts for the wealthy and a foreign policy of nuanced, war-mongering diplomacy.
We should take no action against Congress as it enacts extremist right-wing policies that a majority of Americans oppose. Health insurance, Social Security, abortion rights, anti-bigotry laws, environmental protection, Wall Street regulation — all can be stripped away in the coming months without lasting damage to the underlying principles of democracy. This nation is built upon bedrock. Even if Donald Trump were a tyrant and Republican control of government a fascist coup, we will always remain America proudly in name.
In Good Company: W&L Joins Liberal Arts Consortium for Online Learning
"W&L's creative spirit aligns beautifully with LACOL's goals for multi-campus investigations into digitally enhanced teaching and learning for our students."
Washington and Lee is one of the newest members of the Liberal Arts Consortium for Online Learning (LACOL). The consortium, which was founded in 2014, is a partnership of: Amherst College, Bryn Mawr College, Carleton College, Haverford College, Pomona College, Swarthmore College, Vassar College, Washington and Lee University and Williams College. The group is focused on exploring the future of teaching and learning in a networked world to support its partners' missions as residential liberal arts institutions.
"Being accepted into the Liberal Arts Consortium for Online Learning opens up tremendous opportunities for W&L," said Provost Marc Conner. "It gives our faculty and students a chance to collaborate with peers at similar institutions to enhance teaching and learning, to share our own imaginative uses of technology, and to learn from our partner colleges' experiences."
"We are thrilled for the opportunity to join together in collaboration with so many wonderful colleagues at Washington and Lee," said LACOL's director, Elizabeth Evans. "Already, connections are sparking up with faculty, librarians and technologists along several interesting lines of work. W&L's creative spirit aligns beautifully with LACOL's goals for multi-campus investigations into digitally enhanced teaching and learning for our students."
LACOL's partnership objectives are centered around collaboration, sharing, experimenting and connecting. "One of the things that excites me most," said Conner, "is that the group is not focused on online learning as a means of providing remedial education, finding cost-savings or developing MOOCs. Rather, it provides a framework for creative collaboration that allows our students and faculty to explore new uses of technology to enhance the liberal arts experience in unique and innovative ways."
W&L's Julie Knudson, director of academic technologies, and Paul Youngman '87, professor of German, have been involved in initial projects with LACOL partners. "It's always beneficial to work with people from other schools and to learn how they are meeting similar challenges, to discover research commonalities and to combine resources for mutual benefit," they said. "We also look forward to working on projects in the field of digital humanities, which is an area of strength for W&L."
Public Interest Law Careers Panel to Be Held Feb. 28
W&L will host a Public Interest Law Careers Panel on Feb. 28 at 7:15 p.m. in Stackhouse Theater.
The panel will feature opening remarks by Tammi Simpson, associate dean of students, followed by a panel of lawyers, including:
David I. Bruck, Clinical Professor of Law at W&L; Death Row Defense, Virginia Capital Case Clearing House
Gail Deady '11L, Women's Rights, Reproductive Rights & Gender Equality, ACLU of Virginia
Margaret Hu, Associate Professor of Law at W&L; Civil Rights, Immigration & Cybersecurity
J.D. King, Clinical Professor of Law at W&L; Public Defense, W&L Law Criminal Justice Clinic
Elaine Poon, Civil Rights & Poverty Law, Legal Aid Justice Center
Julie Youngman, Visiting Assistant Professor of Business Law and Adjunct Professor of Law at W&L; Environmental Law, Southern Environmental Law Center
Courtney Hauck '18, a pre-law student and founder of the Roosevelt Institute at W&L, helped organize the event, which she hopes will allow people to take a closer look at public interest law as it relates to a variety of nontraditional legal fields.
"As a pre-law student interested in global environmental health, I wanted to create an opportunity for public service-minded students to learn more about what a law degree could help them achieve," said Hauck.
Visit LexLink Event ID 459 to learn more and RSVP for the event.
W&L's University Singers Celebrate the End of Their 2016 Tour With Home Performance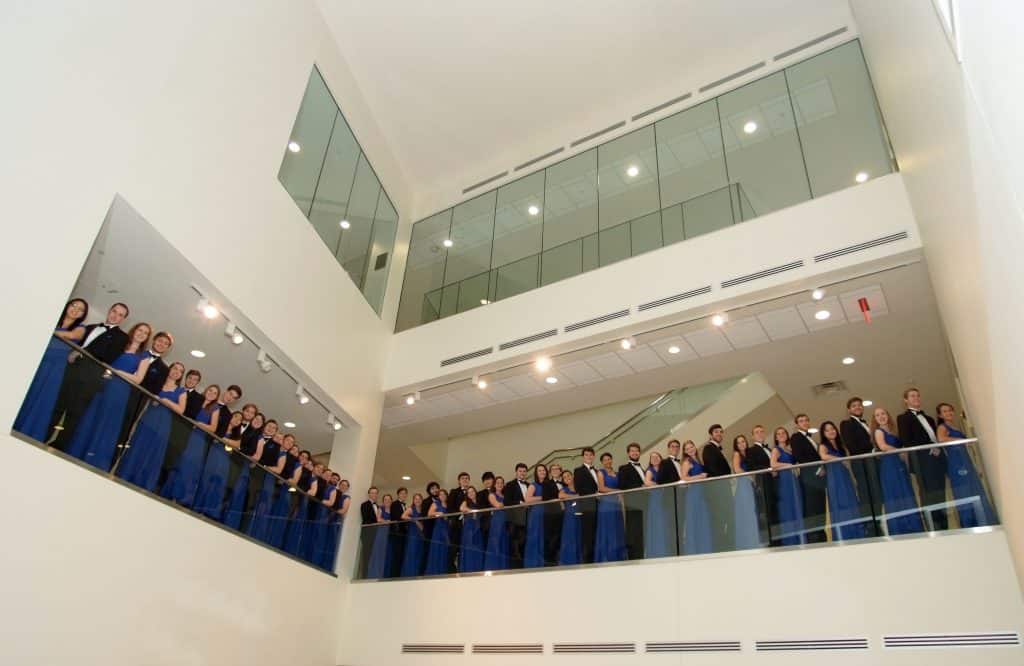 Join the renowned Washington and Lee University Singers as they return from their 2016 tour of the South with an evening of a cappella choral mastery on Feb. 28 at 8 p.m. in the Wilson Hall Concert Hall.
The performance will feature the choir performing a series of daunting modern Latin motets by Frank Martin, conductor Shane Lynch, and Ola Gjeilo. Then travel through the mastery of Bach in his grand motet Der Geist hilft unsrer Schwachheit auf, BWV 226 before a journey home, featuring music by Mack Wilberg, Eriks Esenvalds, and John Denver.
Finally, close the program with folk songs, gospel music, and other works of Americana that are always audience favorites.
Tickets are free, but required. For ticket information, contact the Lenfest Center box office 540-458-8000.
Registration Open for 2017 AdLib Conference
"We want students to know that they can major in any of the liberal arts subjects and not just get jobs in advertising, marketing and PR but excel in those jobs, precisely because of the academic experiences they've had here at W&L."
Washington and Lee University will host its sixth annual AdLib Conference Mar. 2-3, 2017.  The conference brings alumni who work in advertising, marketing and communications together with students interested in careers in those industries.
"The conference emphasizes the power of the liberal arts experience in this industry," said Amanda Bower, the Charles C. Holbrook, Jr. '72 Professor of Business Administration. "We want students to know that they can major in any of the liberal arts subjects and not just get jobs in advertising, marketing and PR but excel in those jobs, precisely because of the academic experiences they've had here at W&L."
Registration is now open through the W&L website for students and alumni to reserve a spot for the conference. The conference begins on Thursday evening at 5:30 p.m. with a reception in the Center for Global Learning.  On Friday, presenters take the stage beginning at 9:05 a.m. in Stackhouse Theater.
The conference will feature four alumni speakers to give "War Stories" on Friday morning, discussing their time in the industry and specific campaigns that have taught them valuable lessons. Gerard McKee '08, Group Director of Cross Media; Elizabeth Dawson '07, Email Marketing Manager at ThinkGeek; Swan Burrus '12, Strategist at OgilvyOne Worldwide; and Brooke Segodnia '08, Content Partner Manager at Twitter will take the Stackhouse Theater stage the morning of March 3rd to share their insights.
Along with the War Stories, additional returning alumni will participate in three panels. Breaking into the Industry: Young Alumni Panel at 11:15 a.m. will feature alumni in the advertising, marketing and PR industry who will answer questions about their experience after graduation. At 1:30 p.m., Finding Your Niche: Writing and Strategy Panel delves into the different skills that students can utilize in their professions, and at 2:30 p.m., a group of alumni will discuss digital media on the Digital Media Panel.
W&L Class of 1995 alumnus Jeffrey Buntin, Jr., President and CEO of advertising agency The Buntin Group will speak as the conference's closing keynoter on Friday at 3:30 p.m. on March 3rd. The Buntin Group, based in Nashville, TN, is one of the top 30 independent U.S. agencies specializing in strategic branding communications.
Students and alumni can register to attend the AdLib Conference at go.wlu.edu/adlib.
Campus Kitchen at Washington and Lee Wins Grant to Address Rural Hunger
"The grant focus on rural outreach is a perfect match to our local community. CKWL is thrilled to receive funding to support increased access to food and nutrition education."
The Campus Kitchens Project, the leading national nonprofit empowering students to fight hunger and food waste, today announced that five schools in the national Campus Kitchens network will each receive $3,000 to address rural hunger in their community. The sub-grants totaling $15,000 are sponsored by CoBank.
The Campus Kitchen at Washington and Lee University launched in 2006 and was the tenth Campus Kitchen to join the growing national network. At Campus Kitchens across the country, students lead efforts to combat food waste and hunger by collecting surplus food from on-campus dining halls, community gardens, restaurants, and grocery stores and transforming it into healthy meals.
The $3,000 sub-grant from CoBank will support student volunteers with the Campus Kitchen at Washington and Lee University to improve and provide additional services to three mobile food pantries, establish a food shelf in partnership with the Agriculture Business classes at Rockbridge County High School and conduct nutrition education workshops at Maury River Middle School's afterschool enrichment program.
The 2017 cohort of five Campus Kitchens who will be part of the CoBank Rural Hunger Outreach Network are:
Elon University (CKEU) – Elon, NC
Lindsey Wilson College (CKLWC) – Columbia, KY
Saint Lawrence University (CKSLAW) – Canton, NY
Troy University (CKTROY) – Troy, AL
Washington and Lee (CKWL) – Lexington, VA
Every Campus Kitchen in the CoBank Rural Hunger Outreach Network will utilize innovative strategies to address rural hunger in their community.
"The grant focus on rural outreach is a perfect match to our local community. CKWL is thrilled to receive funding to support increased access to food and nutrition education" said Campus Kitchen at Washington and Lee Coordinator Jenny Davidson.
In the last academic year, student volunteers with The Campus Kitchens Project recovered more than 1.3 million pounds of wasted food and served nearly 350,000 meals to those in need.
In Case You Missed It! Watch Jonathan Holloway's ODK Lecture, Followed by Panel Discussion
On Wednesday, Feb. 15 at 6 p.m. Jonathan Holloway's recent ODK lecture on "The Price of Recognition: Race and the Making of the Modern University" will be shown in Stackhouse Theater, followed by a panel discussion.
Holloway, historian of post-emancipation American history and black intellectualism and dean of Yale College, was the featured speaker at Washington and Lee University's Founders Day/Omicron Delta Kappa Convocation on Jan. 19.
After the viewing of Holloway's recorded talk, a panel discussion will follow with panelists Marc Conner, provost; Elizabeth Knapp, professor of geology and director of the Johnson Programs; Tammi Simpson, associate dean of students and dean of juniors; Elizabeth Mugo '19, and Iman Messado '19.
The viewing of the lecture and panel are sponsored by the Division of Student Affairs and the Student Association for Black Unity.
Shenandoah Announces the Graybeal-Gowen Prize for Virginia Poets
Shenandoah: The Washington and Lee University Review seeks submissions from Virginia poets for the 2017 Graybeal-Gowen Prize. 
This annual prize awards $500 to a writer born in Virginia, with current residence in Virginia or one who lived in Virginia. Current employees of the Washington and Lee community are not eligible, but students are encouraged to participate.
The submission period is Feb. 14- March 17. Shenandoah will consider up to three poems of 50 lines or less per author. The winning poem will be published in a future edition of Shenandoah.
Jess Quinlan, from Staunton, Virginia, won the 2016 contest with her poem "Wahunsenacawh." Her work can be viewed in the current edition of Shenandoah.
Previous year's winners include: Nancy Schoenberger of Williamsburg, Virginia, with her poem "London Foundling Hospital"; Judith McCombs, currently of Bethesda, Maryland, with her poem "The Minister's Wife Seeks Patrick McKommie's Advice"; and Margaret Mackinnon of Falls Church, Virginia, with her poem "Writing On the Window." 
Contestants should send one word file for each poem with contact information in the upper right-hand corner and a brief biographical note confirming eligibility as a Virginian, to the submittable link on Shenandoah's website (shenandoah.submittable.com/submit). No entry fee is required.
The Graybeal-Gowen Prize is dedicated to Howerton Gowen (W&L '30), a lifelong lover of poetry. The prize is donated by Priscilla Gowen-Graybeal and her husband, James (W&L '49). 
For more information, visit shenandoahliterary.org/graybeal-gowen