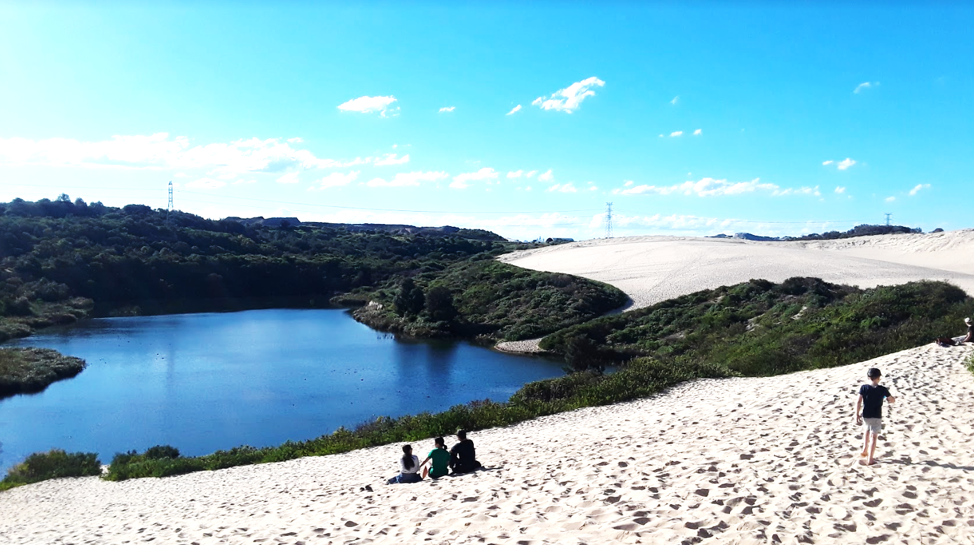 'Discernment for Future Adventures' Wenle Mu '20 describes a typical week of living in Australia as a student in the Sydney Internship and Study Abroad Program.
Sunday
On Sundays, I usually go to church; I have made some great Aussie friends here!
Also on Sundays in New South Wales, you can take as much public transportation as you want, including ferries, trains, and busses, and only get charged $2.75 AUD max. So naturally, I take advantage of the deal and visit beaches, national parks, and other further-away outdoors places.
Sydney has a lot of sandstone; the University of Sydney (USyd) had its first buildings made out of sandstone. Look at this sandstone on the beach from one of our Sunday afternoon adventures!
Monday
One of the reasons I chose to study abroad was to expand my liberal-arts education and take some classes outside of my accounting major. On Mondays, I have a computer science course. I'm appreciating the logic behind programs and now better understand the potential for problem-solving in other fields using this science. It's also nice to get a hint of understanding of how our digital-reliant world works nowadays, a world that strives to remain organized, much like a city's structure.
Tuesday
Students studying abroad are required to take a culture or language class, but I would have taken Learning in Outdoor Education anyway. Apparently, experiential education is quite integrated into the Australian learning style, and I have no complaints. As a part of this class, we students had the opportunity to visit Royal National Park and Blue Mountains National Park to learn about geological history, Aboriginal culture, and current sociological and ecological issues.
What diverse landscapes, – from coastal ground-hugging bush to rainforest to dry eucalypt forest! However, in the spirit of experiential education, using your five senses is one thing, but reflecting on what you've taken in is another. The abstraction part of experiential education happens in the reflection, where you reinforce your knowledge, analyze your gained insights, and arm yourself with discernment for future adventures.
I'm so thankful to have this opportunity to study abroad. Before W&L, I didn't even dream of such a possibility. Coming to Sydney has helped me reflect upon my spiritual life, my world views, my career goals, and my study habits.
Wednesday
I have my computer science lab in the morning and a small bible study group every other week at dinnertime, but during the middle of the day, if I'm done working on group projects or homework, I like to walk around the city. I've never lived in the downtown area of a big city before. Sydney's Central Business District was a bit overwhelming at first. However, I was pleasantly surprised at the amount of greenery and the relative cleanliness of the streets and the courteousness of all the people.
Thursday
I have my only accounting class, Cost and Managerial Accounting, on Thursday mornings. Because U.S. accounting regulations are a bit different from the rest of the worlds', I could not take any accounting classes related to regulated standards, such as financial accounting or auditing. I'd make sure to be on track to completing your major requirements before going abroad, especially if you're going the CPA track.
It's more relaxing to take a peaceful walk at night instead of worrying about your degree requirements.
Friday
On Thursday afternoons and all of Friday, I get the opportunity to be an intern at Goodman Fielder, a grocery brands marketer and manufacturer in Australia and other areas the South Pacific. I am thankful to have learned so much from this internship about corporate legal structure, various financial reports, corporate tax accounting, and accounting software.
On Friday nights right after work, I go to an international student fellowship, a USyd student organization. Most of the students in this organization are from Singapore, Malaysia, and Hong Kong. I love spending hours with new friends worshiping Jesus, doing bible study, and hearing their stores. I also get to learn about their culture, viewpoints, and governments over a group dinner after bible study.
I forgot to mention that Sydney is a very international city, especially downtown. I've spoken Chinese to someone new nearly every week—from the streets with someone asking me for directions to when I'm outside the lecture halls waiting for class to start. Having classes with people from all over the world makes this study abroad experience a more international experience!
Saturday
On Saturdays, I have time to relax, explore, finish schoolwork, and reflect. New places help you appreciate other places and people sharpen other people. I'll miss Sydney and the people here, but I look forward to what's ahead on my life journey.
If you know any W&L students who would be great profile subjects, tell us about them! Nominate them for a web profile.