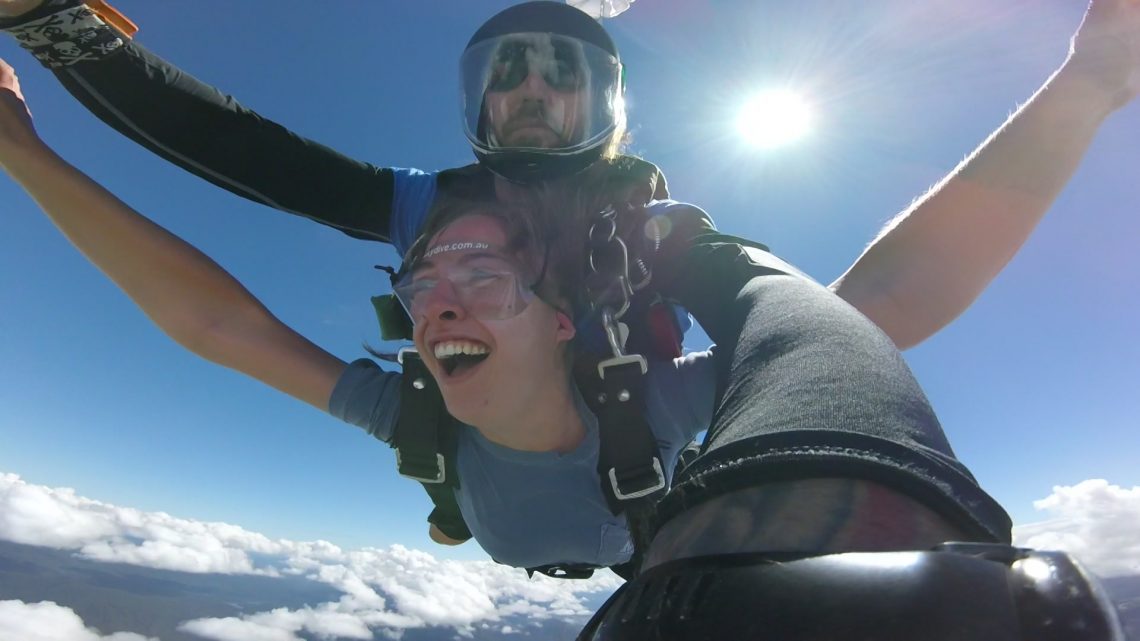 'Livin' Life as an Aussie' Victoria Seymour '21 reflects on her time in Australia as part of the Sydney Internship and Study Abroad Program.
I have become much more independent and confident in myself, and feel that I will be ready to take on the world upon graduating from W&L. Victoria Seymour '21
As I write this, I am in disbelief that I only have three weeks left in Australia. It feels like I have been here for years, as I have become so acclimated to Sydney living and culture. When I left New Jersey on January 4, it was about 20 degrees. When I got off the plane in Sydney on January 6, it was a sweltering 85 degrees! All my friends were jealous that I was "skipping winter," but contrary to popular belief, winter does come to Sydney, as I am now regretting only packing one sweater to come to Australia with as I thought I would be in beach weather for all five months.
Being in Australia the past four and a half months have been life-changing. As soon as I got accepted into W&L, my mom and I started looking at all the amazing study abroad programs, as I had barely even left New Jersey before and was eager to explore the world. The one that caught my eye the most was the Sydney Internship and Abroad Program, as I had always wanted to go to Australia, explore down under, and study in a different part of the world. Last summer, my father passed away, and thus I struggled all last semester to bear with the pain of losing him. Thus, coming to Australia this semester was the best decision I could have made for myself.
Upon arriving in Sydney, I was in awe of the new world around me — this was to be my home for the next five months. However, to my surprise, I never got the culture shock I was expecting to get. Sydney is fairly similar to big cities in the U.S., but it definitely has its defining factors, and going from living in Lexington to Sydney was definitely something I had to adjust to. I live in an apartment with four other W&L students, none of whom I had known before the trip. As we have been navigating our ways through Australia together, I have now become very close to each of them, and am glad I have been able to experience this journey with them.
Our apartment is located in Chinatown, and so almost every restaurant and grocery store near me is Asian themed. Admittedly, before coming to Australia, I did not realize the huge Asian influence — but I absolutely love it. I feel like I have been able to learn a lot about and immerse myself not only in the Australian culture but Asian culture as well, as there is a very high percentage of Asians in the big cities. I love Asian cuisine, and so I have loved being able to try authentic Thai, Chinese, Japanese, and Vietnamese food since I have been here. Our apartment is situated right across from Darling Harbor, which is a really fun spot for all types of food, and it also holds cultural festivals every few weeks, so it has been really fun to attend the Greek, Thai, and other festivals there.
Sydney is a great place to live in. I always imagined myself living in Washington, D.C. after I graduate from W&L, and I think Sydney resembles D.C. a lot. Even though it is a big metropolitan area, it also has a lot of beautiful greenery, beaches, and a harbor. I have spent most of my free time going to the beaches (Coogee, Bondi, Manly, and Tamarama), exploring the Royal Botanical Gardens, eating and shopping in the historic Rocks, walking across the Sydney Harbor Bridge, watching plays in the Sydney Opera House, attending Australian Football and Rugby League games, learning how to surf, hiking the beautiful Blue Mountains, going to the zoo and aquarium, and trying lots of new and delicious food (Tim Tams, lamingtons, meat pies…love Aussie food!).
The program we are here with, Global Academic Ventures, took us to Cairns for spring break (well, every Australian would correct me and say it was actually fall break), and this is where I really experienced a culture shock. This was easily the most amazing trip of my life. We went snorkeling in the Great Barrier Reef the first day (and I learned I get very seasick, but that's beside the point), then we walked through rainforests and swam in swimming holes and waterfalls the second day, we spent the day at Fitzroy Island (which is what I imagine Hawaii to look like) where we kayaked in the crystal clear water and rode in a glass bottom boat, and we went to a crocodile park the fourth day where we got to see a bunch of crocodiles and hold a koala! Our last two days were free, so Claire Mackin '20, Evan Kramer '20, and I decided to go skydiving, which was truly the most amazing experience of my life, and I think they would concur. I told my high school tennis coach I went skydiving and she said "I'm so shocked and pleased to hear you went skydiving…such growth. Love it!" So, if anyone ever wants to try skydiving, I highly recommend. Mariam Samuel '20, Claire, and I visited Melbourne last weekend, which was also an awesome trip. It was very different than Sydney, as Melbourne mirrored New York more, and was a very hip and trendy city. I am really glad I have had the opportunity to explore Sydney and other parts of Australia, but another really valuable part of my time here has been my studies and internship.
When I arrived in Sydney, I took a summer school class for a month called "The Sociology of Terror," in which we analyzed the impact of terrorist attacks and other forms of human-induced fear on people. This class was super interesting — I wish it had been longer than a month! For the past three months, I have been taking International Business Strategy, Introduction to Anthropology, and Australian Theatre, Film, and Culture. I have absolutely loved all of these classes, especially the Australian Theatre class, as I am a huge theater/music junkie and have learned a lot more about Australian culture through this class. Attending the University of Sydney has been extremely different than attending W&L, as there are about 200 students in my lectures as opposed to 20. Walking to school takes 35 minutes (or a fifteen-minute walk and ten-minute bus ride), which definitely has been different than having a ten or fifteen-minute walk max as I do at W&L. However, the campus is beautiful, and I have enjoyed getting a new learning experience (although, admittedly, I definitely prefer W&L classes and walking distances). I even auditioned for the SATB choir on campus and got in!
I think my favorite part of my work here is my internship. I have been interning with the marketing team at real estate agency Jones Lang LaSalle, and I have absolutely loved it. I have been writing case studies that are going to get published, helping to put campaign videos together, writing social media posts for infographics, and I even created a campaign to help strengthen the partnership JLL has with The Salvation Army. I have learned so much through this internship and can definitely see myself going into marketing when I am older. My coworkers are so kind, helpful, and have made me truly feel a part of their team.
Through all of this, I have really found myself during my time abroad, although it may sound cliché. I have become much more independent and confident in myself, and feel that I will be ready to take on the world upon graduating from W&L. I am eternally grateful for the opportunities I have gained through this program, and my departure in a few weeks will definitely be bittersweet. Now, I look forward to finishing off my time here and then returning to W&L in June to conduct research! G'day, mate!
If you know any W&L students who would be great profile subjects, tell us about them! Nominate them for a web profile.