Prepared for the Game of Life With the support of teammates, professors and friends, Nicholas George '18 was able to balance two majors and a spot on the basketball team.
Nicholas George '18
Hometown: Charleston, West Virginia
Majors: Mathematics and economics
Being a scholar-athlete at Washington and Lee has been an unforgettable experience. Throughout this four-year journey, I have learned many skills that I will carry with me for the rest of my life. It is certainly difficult balancing my two majors, mathematics and economics, and basketball on top of other extracurricular activities; however, through the support and guidance of my teammates, coaches and professors I was able to fully experience and enjoy all of these activities.
When I arrived at W&L, my teammates were the first people I met and the first people with whom I became friends. However, many of my teammates, especially the upperclassmen, were more than just friends—they were role models for me. My older teammates not only excelled on the basketball court, but were successful students and active members of the community, engaging in and leading various clubs and activities across campus.
My teammates led by example. They demonstrated the balance, discipline and persistent effort needed to fully engage in every activity with which they were involved, and to succeed in those endeavors.  As a first-year student immersed in that culture, witnessing their success both on and off the court, it motivated me to emulate them so that when it was my turn to be the "old guy," I could be the same leader for the younger guys.
Another special part of my experience has been developing personal relationships with many professors in the economics and mathematics departments. Unfortunately, the length of our basketball season leads to many academic-athletic time conflicts. On many occasions, I have had to miss class, tests or outside lectures; however, my professors were always more than understanding; they were supportive and encouraging of my athletic ventures.
While always demanding as much of me as any other student—and sometimes even more—they always accommodated scheduling issues.  Whenever I had to miss class for a sports event they would always be willing to meet outside of class (even outside of office hours) to go over the missed material. As a result, I developed meaningful relationships with my professors, some of which turned into mentorships and research opportunities. These professors have truly influenced and challenged the way I think, and the way I scrutinize what I read and hear. That contributed to my efforts in the classroom and on the basketball court.
Like my professors, my coaches instilled in me the discipline and values necessary to succeed, now and in the future in every area of life. They taught us the importance of the journey; specifically, how we prepare and approach that journey. Preparation is as important as the big shot. Through the hours spent in the gym with our coaches, we discovered who we were. In the end, my coaches sharpened my discipline and molded my persistence in our pursuit of success. In preparing us for big games, our coaches prepared us for the game of life—every skill that we relentlessly worked on translated to a skill necessary to succeed in the classroom and beyond. They created and maintained the culture of incredibly hard-working, involved scholar-athletes.
Any success I have had at W&L is because of these attributes of a scholar-athlete that I have learned along my four-year journey with my teammates, professors and coaches. Thanks to my special experience at W&L, I now understand the importance of coaches who prepare you, mentors who challenge you and friends you can look up to.
Nicholas George has earned impressive accolades as a guard on the W&L men's basketball team. Over four seasons, he made 140 triples, while shooting 36.8 percent (140 of 380) from behind the arc. The 140 three-pointers are the fourth-most in the history of the program, and his three-point percentage is 10th on the all-time list. This year, he made the College Sports Information Directors of America (CoSIDA) Division III Academic All-America Men's Basketball second team, and was named the ODAC/Virginia Farm Bureau Scholar-Athlete.
If you know any W&L students who would be great profile subjects, tell us about them! Nominate them for a web profile.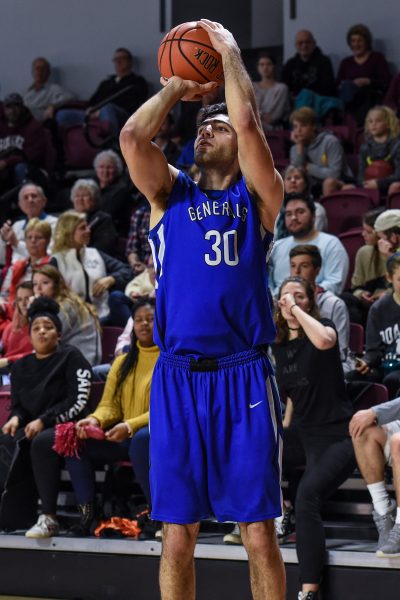 More about Nick
Extracurricular involvement:
Basketball, Williams Investment Society
Why did you choose your major?
I chose to double major in mathematics and economics because of how well they complement each other. Math gave me a better foundation to understand economics; at the same time, economics made the math more interesting because there were practical applications.
Has anyone on campus inspired you?
There are so many remarkable professors here at Washington and Lee, many of whom have inspired me, like Professor James Casey (economics). He was the academic advisor for the basketball team. We have spent many hours together doing research during the summer and school terms, as well as getting up shots in the gym. This school allows amazing access like this to these academic leaders.
Best place to eat in Lexington? What do you get?
Chick-fil-A in The Commons (not a regular offering, but something student groups often bring in for fundraisers). I like the chicken sandwich with extra Chick-fil-A sauce.
What book do you recommend to everyone?
"Banker to the Poor" by Muhammad Yunus
Post-graduation plans:
I would like to go to graduate school for mathematical finance.
Favorite W&L memory:
Beating Randolph-Macon our last game of the 2017-2018 season, and the last game ever played in Warner Center.
Favorite class:
Professor Art Goldsmith's economics elective course on the economics of social issues
What's something people wouldn't guess about you?
I've seen all 36 seasons of the reality TV show "Survivor."