Washington and Lee to Host Climate Change Discussion The talk, which is free and open to the public, is titled "Climate Change: Local Agriculture and Rainforest Solutions – A 7 Point Plan."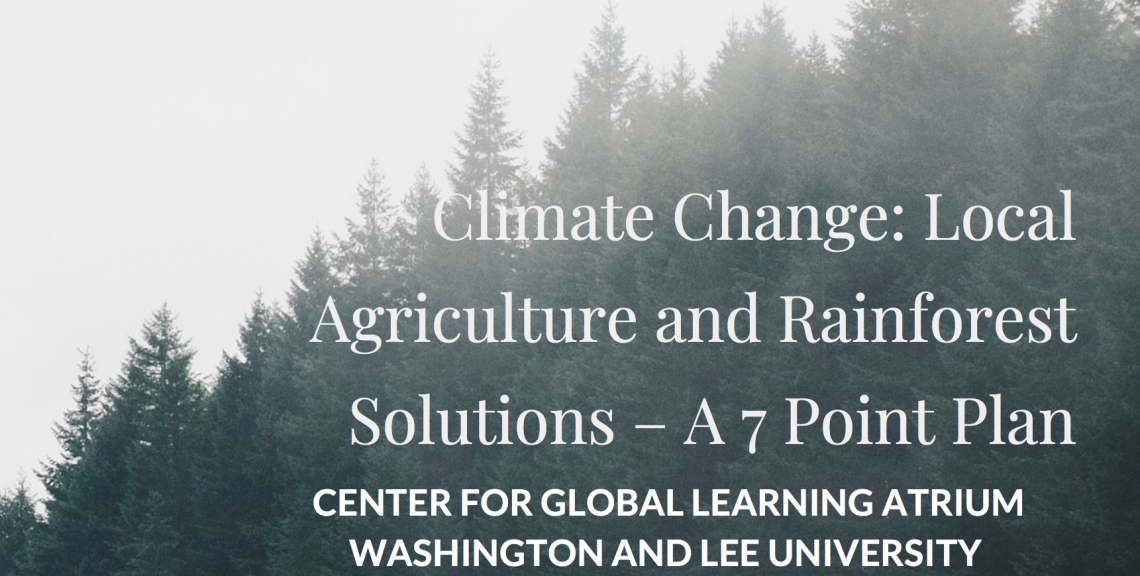 Washington and Lee University will host a public talk and Q&A with Randy Hayes, executive director of Foundation Earth, and Brent Blackwelder, environmental organizer, teacher, vice-chair and treasurer of Foundation Earth's board on Oct. 23 at 6:30 p.m. in the Center for Global Learning Atrium.
Their talk, which is free and open to the public, is titled "Climate Change: Local Agriculture and Rainforest Solutions – A 7 Point Plan." Refreshments will be served.
Hayes and Blackwelder will give their perspective to the public as they envision a plan to address the already harmful impacts on Virginia agriculture. Foundation Earth's mission is to bring an earth-centered economy into reality through a major rethinking of society implemented via outreach campaigns.
Hayes has been described in the Wall Street Journal as "an environmental pit bull." He is a former filmmaker, and a veteran of many high-visibility corporate accountability campaigns and has advocated for the rights of Indigenous peoples throughout the world. He served for five years as president of the City of San Francisco Commission on the Environment, and for two-and-a-half years as director of sustainability in the office of Jerry Brown, Oakland Mayor  (now governor). Hayes founded Rainforest Action Network and is emeritus on the board of directors. He is an advocate of general systems theory and deep ecology.
Hayes has an undergraduate degree from Bowling Green State University. He has a doctorate degree and master's degree in environmental planning from San Francisco State University. His master's thesis, the award-winning film "The Four Corners," won the Academy of Motion Picture Arts and Sciences award for "Best Student Documentary" in 1983. He contributed to Alternatives to "Economic Globalization: A Better World is Possible," published by San Francisco: Berrett-Koehler Publishers, Inc., in 2004. Not satisfied with short-term thinking, his 500-year plan offers a vision of a sustainable society and how to get there.
Blackwelder teaches part-time at Johns Hopkins University in Washington, D.C., and has served as president of Friends of the Earth from 1994 until his retirement to president emeritus in 2009. He was the founding chairman of American Rivers in 1973 and worked for 40 years on environmental issues, testifying over 100 times to Congress. In his 40-plus years of environmental advocacy, he has been active in campaigns to reform foreign aid, save forests, protect rivers and advance human rights. He was an architect of significant legislation to protect natural resources and clean up pollution.
He is also a leader in the effort to save rivers — he helped expand the National Wild and Scenic Rivers System from eight rivers in 1973 to more than 250 today and helped eliminate more than 200 dams and stream dredging projects, which would have destroyed rivers, wetlands, wildlife and areas of significant scientific value. He founded American Rivers, the Environmental Policy Center and Environmental Policy Institute, and was the chairman of the board of directors of the League of Conservation Voters.
He holds a bachelor's degree summa cum laude from Duke University, and a master's from Yale University in mathematics and a doctorate in philosophy from the University of Maryland. He currently serves as ex-officio and president emeritus of Friends of the Earth. He was listed by Vanity Fair magazine as one of the 22 Best Stewards of the Planet in 2005.
The talk is sponsored by the Student Environmental Action League and 50 Ways-Rockbridge.