Williams School Faculty Members Present at Social Entrepreneurship Summit in Cuba Professors Emily Landry and Jim Casey both spoke at the workshop held in Havana.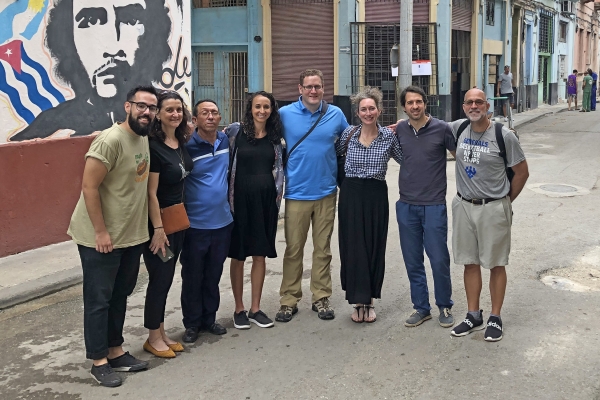 Emily Landry, visiting assistant professor of business administration and Jim Casey, professor of economics, were among an international delegation that presented at the Seminario Taller Sobre Emprendimientos Sociales en Cuba, a social entrepreneurship summit held in Havana, Cuba on Nov. 21-22.
The workshop featured panels with numerous experts covering economic themes of great importance in Cuba and beyond. These included topics such as ethical business challenges of private sector entrepreneurship and sustainable development of natural and human resources.
"This was the first summit on social entrepreneurship held in Cuba and we hope that this will be a recurring event that W&L can participate in and help facilitate," said Landry. "There were some fantastic sessions, and we believe that there are some great opportunities for future collaboration with W&L students and faculty."
Entrepreneurship has enjoyed a recent revolution in Cuba following updates to the constitution which allow for small and medium enterprises for the first time. Landry's area of focus is entrepreneurship with social benefits such as those found in B Corps like Patagonia and Ben & Jerry's. She presented a talk on the B Corp Certification Standards and Legal Benefit Corporation framework as a global scale example for how to incentivize socially and environmentally beneficial business practices. Landry was later interviewed on camera for coverage of the event by the Cuban national press.
"Cuba is such a fascinating context for learning about themes of business ethics, social entrepreneurship and sustainability," noted Landry. "It is a complex place with a challenging history and precarious position in relation to the system of global capitalism. I began doing research there initially for my dissertation in 2017 and have spent the past several years establishing long-term collaborations with an interdisciplinary group of Cuban scholars from the University of Havana. Each time I return to Cuba, I peel back another layer of the place, and I leave thinking there is so much more to explore and understand. I am excited to share this with W&L."
Casey spoke about his exploratory research previously done in Cuba for sustainable tourism and coastal development, which may have future possibilities for W&L faculty and student involvement.
"My interest in Cuba began in 2014 when I first met a group of Marine Scientists at a workshop at UNC-Wilmington," said Casey. "I was impressed by the commitment to conservation and soon discovered that Cuba has one of the largest systems of Marine Protected Areas in the Western Hemisphere. I soon learned that many of these scientists were concerned about the lack of economic opportunities and wanted to explore ways in which to 'sustainably' develop coastal resources. For me, Cuba presents the perfect place to consider my two passions – reducing poverty and protecting the environment. I am hopeful that this collaboration will continue for the rest of my professional career."
Landry is in her first year as a visiting faculty member at W&L. She holds a bachelor's degree in international studies from Trinity University, a master's degree in political science from Central European University and a doctorate in sociology from the University of Tennessee, Knoxville. She teaches business ethics and entrepreneurship at W&L.
Casey earned a bachelor's degree in economics from Washington and Lee in 1991 and he has taught at W&L since 1998. He went on to earn a master's degree in agricultural and resource economics and a doctorate in forest resource economics, both from North Carolina State University.
If you know a W&L faculty member who has done great, accolade-worthy things, tell us about them! Nominate them for an accolade.