W&L Professors Publish New Edition of Politics Textbook The fourth edition of "Comparative Politics" is a collaboration between faculty in W&L's Department of Politics and Department of Sociology and Anthropology.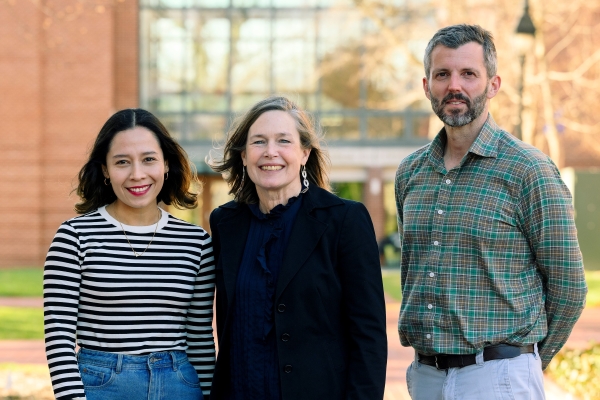 Washington and Lee University professors Jonathan Eastwood, Robin LeBlanc and Zoila Ponce de León have recently published the fourth edition of "Comparative Politics: Integrating Theories, Methods, and Cases."
The textbook was originally authored by Eastwood, professor of sociology, and J. Tyler Dickovick, Grigsby Term Professor of Politics, in 2012. Dickovick and Eastwood worked together to produce the first three editions, and LeBlanc, professor of politics, and Ponce de León, assistant professor of politics, joined the project for the fourth edition, having both taught the book extensively in their own courses. Dickovick passed away in 2019 after battling ALS, but his vision continues to fundamentally shape the trajectory of the textbook and its place in the field.
"Comparative Politics" takes an integrative approach to relationships between thematic analysis and country case studies and is an accessible introduction to the methodological tools that students need to answer the "big questions" in the field. The fourth edition includes new country profiles of South Africa and Indonesia, and existing country profiles and case studies have been revised and updated to reflect recent developments. The authors added additional discussion of race and racial inequality at key points in the text and updated the existing chapter on race, ethnicity, and gender in politics, among other revisions and additions. The latest edition also includes coverage of the COVID-19 pandemic.
"For me, joining the 'Comparative Politics' textbook team with Jon and Zoila has been a great collegial experience," said LeBlanc, who has taught the book in her global politics course since its first edition. "It's been great to see how much we have in common despite coming at the study of politics from different spheres of interest, different research backgrounds, and different methodologies. The whole experience has also renewed my appreciation for our dynamic field and the massive amount of work that Tyler and Jon put into the first edition."
Numerous students have also contributed feedback on the book or served as research assistants for aspects of the project over the years, including students in courses taught by each of the book's authors.
The "Comparative Politics" project would not have been possible without Dickovick, who was a scholar of comparative politics and international development, with a focus on the political and economic consequences of federal systems in the developing world, particularly Sub-Saharan Africa and Latin America. When Eastwood joined the W&L faculty in 2006, he quickly became friends with Dickovick and found that his own experience as a social theorist with training in comparative-historical sociology dovetailed with Dickovick's research interests.
Dickovick and Eastwood jumped at the opportunity to co-author a textbook about comparative political analysis and wanted to widen the lens and address the subject from a "big picture" perspective since many contemporary books on the topic focused on descriptive details and case studies, as opposed to broader themes and methodologies.
"Our idea was that the primary goal of a course on comparative political analysis is to teach the comparative method: how to pose good questions, draw on theories in formulating potential answers to them, expressing those answers as hypotheses, and then considering the implications of case-based evidence for those hypotheses," Eastwood said. "In other words, such a course is about how to do social science."
The first edition was well-received, and Dickovick and Eastwood went on to produce three editions together. Eastwood remembers Dickovick's humility in the face of praise for the book, and how pleased they both were not only with the reactions to the book but with the opportunity to work on the project together.
"The best thing about working on this project for me, by far, was the opportunity it gave me to spend time with this most remarkable person, who became one of my very best friends," Eastwood said. "To know him was to love him, and I am sure that everyone else, students and colleagues alike, who worked with him will agree that he brought the arts of teaching, scholarship, and, above all, of being a good and kind human being to the highest levels."
"The book's continued publication means, in a very real way, that our wonderful friend and colleague's words continue to shape student learning today, here at W&L and elsewhere," he said.
Eastwood joined the university's faculty in 2006 and currently serves as the Chair of the W&L Department of Sociology and Anthropology; he received his doctorate from Boston University. LeBlanc came to W&L in 1998; she received her bachelor's degree from Berry College and her doctorate from the University of Oklahoma. Ponce de León joined the W&L faculty in 2018; she received her bachelor's degree from Pontificia Universidad Católica del Perú and her doctorate from the University of North Carolina at Chapel Hill.
If you know a W&L faculty member who has done great, accolade-worthy things, tell us about them! Nominate them for an accolade.