Campus Kitchen at W&L Hosts Annual Turkeypalooza The community is encouraged to participate and donate to support Campus Kitchen's programming, which kicks off Nov. 5.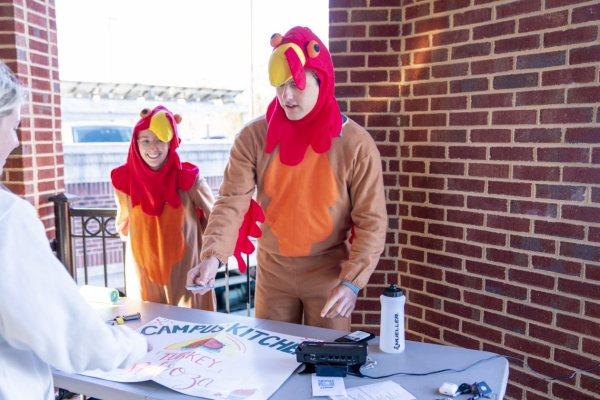 The Campus Kitchen at Washington and Lee University (CKWL) presents its annual Turkeypalooza: A Family Table Gathering Event Nov. 5-14. CKWL hosts several unique events during this series, including holiday meals at partner organizations, a Pumpkin Pieve-K 5k run/walk fundraiser and the annual Indigenous Community Meal.
"For so many of us, the holidays are a time to gather and connect with loved ones over shared meals, but with rising food costs, such gatherings can be a big challenge for folks in our community experiencing poverty," said Ryan Brink, assistant director of the Shepherd Program and CKWL coordinator. "The Campus Kitchen's Turkeypalooza series is an attempt to help alleviate that burden through the provision of Thanksgiving-themed meals and distribution of holiday grocery gift cards. We are very excited to be hosting our second annual Pumpkin Pieve-K fundraiser this year, and to be working with the Rockbridge Area Relief Association to provide gift cards to families attending the Campus Kitchen's Mobile Food Pantry sites throughout November."
Kicking off this year's Turkeypalooza is the Pumpkin Pieve-K 5k run/walk fundraiser on Sunday, Nov. 5, at 1 p.m. The race will begin at the university's Outing Club Pavilion (159 W. Denny Cir.), and participants can register for the event online. Every participant will receive a t-shirt and a slice of pumpkin pie. There is no registration fee, but please consider making a donation to benefit the CKWL.
On Friday, Nov. 10, the community is invited to "Bring Your Turkey to Work" from 8 to 11 a.m. at the W&L parking deck. Support CKWL by bringing a frozen turkey or monetary donation, which will be used to serve more than 200 meals and help provide turkeys for families attending an area mobile food pantry in November.
Turkeypalooza festivities will wrap up with the 3rd annual Indigenous Community Meal on Tuesday, Nov. 14 at 5:30 p.m. in Evans Dining Hall. Co-sponsored by the Native American Student Organization and the Native American and Indigenous Cohort, the evening will feature a menu that highlights indigenous ingredients and techniques and will include guided discussions around the history of colonization in America, indigenous sovereignty and the complexities of the Thanksgiving holiday. Register here.
Throughout the week of Thanksgiving, CKWL will prepare and deliver Thanksgiving meals to its community partners throughout Lexington and Rockbridge County. Donations to support Campus Kitchen's continued efforts can be made online.
The mission of The Campus Kitchen at Washington and Lee is to use service as a way to strengthen bodies, empower minds and build communities through food. Campus Kitchen combats hunger and promotes nutrition by recovering and reusing food that would otherwise go to waste into balanced meals for low-income community members in Rockbridge County.