Learning to Swim Tetiana Kozachanska '26 is taking full advantage of her first year at Washington and Lee.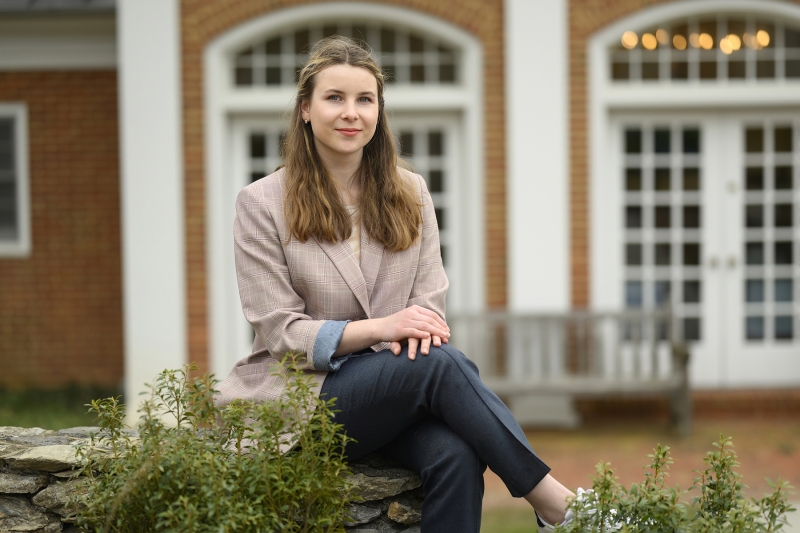 "W&L feels like a pool of opportunities, and I am learning to swim. When I graduate, I want to feel prepared to dive into the ocean."

~Tetiana Kozachanska '26
Tetiana "Tania" Kozachanska '26 arrived on campus last fall ready to dive into her W&L experience. That might be because the journey to get here, Kozachanska said, started years before she applied.
Kozachanska, an environmental studies major with a double minor in poverty and human capability studies and German, is originally from Ukraine She had dreamed of applying to schools in the United States since she was a child, but had never been sure that her family could afford to send her. After taking a gap year after high school to volunteer, she decided to pursue her dream. Kozachanska said that she was drawn to W&L because of its values. She applied early decision and was thrilled when she was accepted and offered a financial aid award that made it feasible for her to attend.
Joy turned to uncertainty when, in February 2022, Russia began its invasion of Ukraine. Hunter Swanson, assistant director of W&L's Center for International Education, moved quickly to ensure that Kozachanska was safe and provided her support.
"At the CIE, we try to be aware of when international students might need specialized assistance and take action accordingly," Swanson said. "I was in touch with Tania as the fears that Putin would begin a full-scale invasion of Ukraine were growing in January 2022. In late January, the U.S. Department of State asked families of U.S. Embassy staff in Kyiv to leave Ukraine and it seemed that the next step would be reductions in embassy staff. I told Tania that since the U.S. Embassy in Kyiv is drawing down its footprint, we should begin the visa process early. She responded immediately and secured a visa interview on Friday, Feb. 11, 2022. Her visa was approved the same day, and on Monday, Feb. 14, the state department closed the U.S. Embassy in Kyiv." Swanson said it was a relief knowing that Tania had her student visa in hand as the situation remained so uncertain.
"When Putin's forces invaded from Belarus towards Kyiv on February 24, we were able to get in touch with Tania through WhatsApp and follow along as her family encouraged her to leave Kyiv and go west for her safety," Swanson said. "We have a few international students at W&L who have experienced conflicts in their home countries and with Tania's permission, I put her in touch with those students who were eager to connect with her."
Kozachanska later escaped to Germany, where she began working as a volunteer for a refugee organization, coordinating its outreach work with the Ukrainian community and organizing a summer camp for the children of Ukrainian refugees.
Once Kozachanska arrived on campus, she was also connected to Alex Radsky, W&L's assistant wrestling coach, and his wife, Natalie Oleksyshyn, through the W&L Friendship Family program, which matches incoming international students with local host families to provide an additional support network. Radsky and Oleksyshyn were both born in Ukraine and speak Ukrainian. They said they have enjoyed getting to know Kozachanska by taking her on sightseeing trips nearby or inviting her over to make vareniki (Ukrainian dumplings) in their home.
"She sparks in me a hope for a better future," Oleksyshyn said, "where people work together to create something better and bigger than themselves. I can see her running a nonprofit, NGO or country."
Kozachanska has appreciated finding ways to get involved in the campus community, as well as beyond campus. She recently collaborated with the Student Association for International Learning (SAIL), W&L's Amnesty International chapter, and the Marketplace to put on several events for the campus's inaugural "Ukraine Week." The programming included a Ukrainian meal in the dining hall, an art exhibit and a panel discussion, all tied to fundraising efforts for a nonprofit in Ukraine. Additionally, she regularly volunteers through the student organization English for Speakers of Other Languages (ESOL) to provide English language tutoring to three Ukrainian families who have recently arrived in Rockbridge County.
"Tania has been a terrific addition to the Shepherd Program," said Howard Pickett, director of the Shepherd Program and associate professor of ethics and poverty studies. "She brings excellent questions to each and every one of our seminar discussions, as well as a passion for a more just world, and a genuine desire to figure out what's true and good — what is going on and also what should be going on — plus a good sense of humor."
During her time on campus, Kozachanska said that she hopes to take advantage of as many opportunities as possible.
"W&L feels like a pool of opportunities, and I am learning to swim. When I graduate, I want to feel prepared to dive into the ocean," Kozachanska said. "I hope to make tight connections here, especially with the faculty, whose mentorship I value enormously. Everyone I've met so far is so open, friendly and inspiring. I also want to build lifelong friendships with people sharing my values and view of the world. And I want to travel as never before and expand my horizons — W&L provides so many options to do so!"
If you know any W&L students who would be great profile subjects, tell us about them! Nominate them for a web profile.