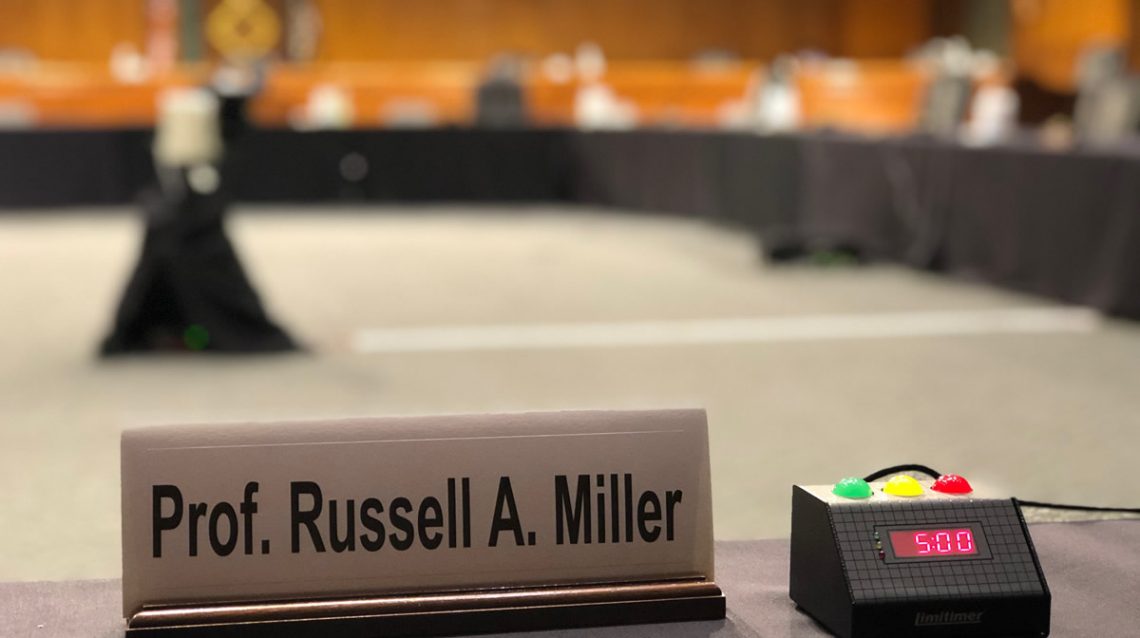 W&L Law's Russ Miller Testifies before Senate Judiciary Committee
Russ Miller, the J.B. Stombock Professor of Law at W&L Law, testified on Tuesday, June 24 before the U.S. Senate Judiciary Committee on the issue of China's legal responsibility for the global COVID-19 pandemic.
Miller was invited to give testimony based on an essay he published (with his colleague William Starshak) in April at the influential JustSecurity blog. The essay considered how the international law principle of transboundary harm might come into play as a means for holding China accountable. The essay drew on Miller's 2006 book "Transboundary Harm in International Law," which examined the legacy of the Trail Smelter Arbitration. The arbitration arose from a famous incident from the 1920s, when toxic fumes from a zinc smelter in Trail, British Columbia caused damage to crops and timber across the border in the United States.
"That case is now part of the canon of international law," explains Miller. "The arbitrators announced the foundational principle that 'no state may use or allow its territory to be used in a manner that causes harm in the territory of another state.' My argument is that China's poor health and food safety regulations – as an underlying cause of the pandemic – may count as a violation of that principle."
The Senate Judiciary Committee hearing was held in support of the bills "Justice for Victims of Coronavirus Act" (sponsored by Senator Hawley) and the "Stop COVID Act" (sponsored by Senator Blackburn). These bills would expose the Chinese government to civil liability in the U.S. courts and establish a public commission to investigate the Chinese government's responsibility and liability for the health and economic effects of the pandemic.
"It was an honor to be able to contribute to the Senate's consideration of this immensely important issue," Miller said. He highlighted two take-aways from his time in Room 106 of the Dirksen Senate Office Building. First, Miller noted that "there was tangible, bi-partisan sentiment on the Committee.  It's not often that the space between Senators Cruz and Booker seems so narrow. It was exciting to see that kind of rare consensus in our political process up-close and in person." Second, Miller remarked that it was "humbling and inspiring to see how much competence and expertise the Senators and their staffs bring to these debates."
Miller is a frequent contributor to policymaking. He has consulted with Members of Congress on several occasions. In 2014 he was called to testify before the German parliament's inquiry into Edward Snowden's revelations about the NSA's surveillance practices. He also was called to give expert testimony before the Council of Europe as it debated potential reform of the European Court of Human Rights.
A video of this week's Senate Judiciary Committee hearing is available online at the Committee's website. Miller gives his opening statement at the 22:30 mark and answers questions from Committee members throughout the proceeding. His written testimony is also available online.
If you know any W&L faculty who would be great profile subjects, tell us about them! Nominate them for a web profile.