W&L Presents Lifelong Learning Series on Sustainability  W&L faculty and alumni will share their efforts on creating a more sustainable future.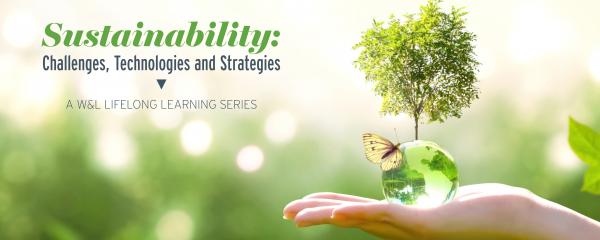 Washington and Lee University's Office of Lifelong Learning presents a series of interactive discussions with W&L faculty and alumni on the importance and complexity of sustainable development.
In the series, W&L faculty will share their research on creating a more sustainable future. W&L alumni engaged in sustainable development will discuss policies and business models for sustainability in food production, waste management, energy and fresh water and ocean conservation.
Each session is a Zoom webinar. The program is open to members of the campus community, as well as alumni and parents. Registrants will receive a link to join the webinar after registering.
Sessions include (click the title to register):
What Do We Mean by Sustainability? – Jan. 31 at 7 p.m. (EST)
Jim Casey '91, professor of economics, will team up with Robert Humston, John Kyle Spencer Director for Environmental Studies and professor of biology, and Julianna Keeling '19, founder and CEO of Terravive, a manufacturer of biodegradable packaging and utensils, to introduce the concept of sustainability. The trio will discuss how sustainable development has become increasingly important to the future of our planet and how local initiatives are beginning to make a difference.
Food, Farms and Fisheries – Feb. 7 at 7 p.m. (EST)
This session will focus on sustainable agriculture and the most prolific yet endangered food source for the planet's population, the world's fisheries. The discussion will also further examine sustainable practices at W&L. Chelsea Fisher, assistant professor of environmental studies, will explore the relationship between farming and the environment, not only currently but historically. Niquole Esters '04, senior director of development for Conservation International, will focus on our global oceans and conservation measures to sustain and increase the world's fisheries. Kim Hodge, W&L's director of sustainability initiatives and education and member of the Virginia Department of Education's Environmental Education Advisory Committee, will discuss how W&L has adopted several sustainable practices and how the university is educating its students about sustainability.
Planet Water: Pollution – Feb. 15 at 7 p.m. (EST)
Lisa Greer, professor of geology with a research interest in coral reefs, will discuss how climate change and the increasing pollution of our oceans affect coral reefs' health and why that matters. Environmental Studies Director Robert Humston will discuss the nation's freshwater sources and how recent discoveries of polluted drinking water sources are causing serious alarm among urban populations. Laura Henson Strickler '08 will discuss the work of the National Oceanic and Atmospheric Administration and the international challenges of monitoring the health of our oceans.
Alternative Energy Sources: The Path of Sustainability – Feb. 22 at 7 p.m. (EST)
Bill Hamilton, professor of biology, will provide an overview of energy resources with questions concerning the supply of each resource and its impact on our global environment. Two W&L alumni with a close interest in energy will follow with insights on current developments in the decarbonization of energy and solar industries. Bryant Fulk '08 will discuss efforts by major commercial firms to achieve net zero in their impact on the environment, while Erik Curren '87 will focus on the rapid development of solar technology.
Financial Realities: Can We Afford a Sustainable Future? – Feb. 28 at 7 p.m. (EST)
In the concluding session, speakers will address the financial questions surrounding sustainability. W&L economics professor Jim Casey '91 will survey the various cost/benefit analysis components of sustainable development, both nationally and globally. Kurt Harrison P'23, co-head of the Global ESG & Sustainability Practice at Russell Reynolds Associates, will review Wall Street's investment movement based on environmental, social and governance considerations (ESG). Alex Prather '14 is currently earning a dual MBA/MPA at MIT's Sloan School of Management and Harvard's Kennedy School. She has extensive experience in the climate technology and climate policy sectors of the venture capital industry. Her special focus is on the assessment and funding of new technical innovations for carbon removal from Earth's atmosphere.
Learn more about this program and other opportunities from W&L's Office of Lifelong Learning here.