Student Research: The Life and Times of Chauncey Belknap

Chauncey Belknap, a law clerk to U.S. Supreme Court Justice Oliver Wendell Holmes, is the subject of a two-year research project by law students Lizzy Williams '17L and Jess Winn '17L.
"During those six months, he read something like 50 books, learned French, and wrote about things Holmes assigned him to read and their discussions of those readings. Every entry is about this amazing intellectual journey he is on."

— Lizzy Williams '17L
A U.S. Supreme Court with only eight justices. A country mired in controversy over its role in international affairs. Disputes over voting rights and the minimum wage.
This could be today, but instead, this is the backdrop for the one hundred year old diary of Chauncey Belknap, a law clerk for U.S. Supreme Court Justice Oliver Wendell Holmes. Belknap and his diary are the focus of a research project by third-year law students Lizzy Williams and Jess Winn, who will soon publish an article on their work in the Journal of Supreme Court History.
Williams and Winn, who will graduate in May, began working on Belknap's diary with visiting professor Todd Peppers at end of their 1L year. Belknap served as a law clerk to Justice Holmes beginning in 1915, and according to Peppers, is one of the first law clerks to be used by a Justice in the way that is common today.
"Justice Holmes was the first Justice to use clerks for more than just shuffling paper," said Peppers. "Law clerks like Chauncey Belknap did research and wrote memos on cert petitions for cases under consideration by the Court, aiding the Justices just as law clerks do today."
Belknap grew up in New York and attended Princeton and then Harvard Law School. He arrived in the nation's capital in the midst of the Progressive Era. Belknap's diary covers a six month period of his life in Washington, where he lived with other young thinkers and professionals in the famous DuPont Circle residence, the House of Truth.
The first task for Williams and Winn was to decipher the century-old document, working from a photocopy of the original. Belknap's handwriting is difficult to read, and beyond that, much of the journal is written in shorthand.
"Luckily, we were able to search online and find someone, in Canada as it turns out, who was proficient in Pitman shorthand," said Winn.
Once transcribed and analyzed, the diary opened a window into a unique place and time for Williams and Winn. Belknap wrote about many of the key issues of the day in his writings, including the debate on voting rights for women and labor disputes over the length of the work day. He also covered the controversial appointment of Louis Brandeis to the Supreme Court. Brandeis was named to fill an empty slot following the death of Justice Joseph Rucker Lamar, a graduate of W&L Law. Lamar's long illness had left the Court operating with only eight justices for the better part of a year.
Beyond the legal and political intrigue of the day, Belknap's daily routine revealed a life unencumbered by the distractions of modern technology.
"During those six months, he read something like 50 books, learned French, and wrote about things Holmes assigned him to read and their discussions of those readings," said Williams. "Every entry is about this amazing intellectual journey he is on."
The cultural and social norms of the time are also revealed in many of Belknap's entries. For example, the diary begins with the news that President Woodrow Wilson is getting remarried, and, in the minds of some, doing so too soon after the death of his first wife. Belknap relates that Justice Holmes had checked with the Chief Justice if it was appropriate for Holmes's wife to send Wilson's fiancé a note of congratulations and good wishes.
As a young intellectual living in Washington, Belknap lived a privileged life, full of dinner parties and other social events. Winn said it was fun to step back in time and imagine Belknap in 1915 taking a long walk along an undeveloped Potomac River.
"It's such an interesting historical reflection," said Winn. "Every time I look at the diary I learn something new or better understand some nuance of the era."
For Williams and Winn, who are involved with the German Law Journal and have participated in a myriad of other activities at W&L, working on such a long term project has provided both continuity to and sometimes even a respite from the rigors of law school.
"Reading the diary was addicting," said Winn. "I wish everyone Chauncey mentioned in his journal had a diary I could read."
But for now they will have to set aside Belknap, who died in 1984 in New York at age 92 after a long and distinguished legal career. Williams is headed to New York where she will be an associate at Sullivan & Cromwell. Winn will be heading west, closer to home, for a clerkship with Judge Rosanna Peterson in the Eastern District of Washington.
Perhaps they will keep journals.
BLSA Wins Small Chapter of the Year, Moot Court Team Headed to Nationals
The Washington and Lee School of Law Black Law Students Association (BLSA) traveled to the Mid-Atlantic Black Law Student's convention this February and brought home several honors.
BLSA teams competed in both moot court and mock trial competitions while at the convention. The team of Tejkaran Bains '17L and Caitlin Peterson '19L placed second in moot court, earning a spot in the national competition next month in Houston. The moot court team of Kja Harper-GoPaul '17L and Angelique Rogers '19L were semi-finalists in the regional competition.
In addition, Tejkaran Bains was named best oralist for the competition. In all, there were 13 teams representing schools from across the mid-Atlantic region.
Also, for the second year in a row, W&L's BLSA chapter was recognized as "small chapter of the year" by the national organization.
This is the sixth year teams from W&L have competed in the BLSA moot court and mock trial competitions. W&L teams have advanced to nationals every year.
W&L Law's Seaman on Voter Fraud Claims
The following opinion piece by Chris Seaman, Associate Professor of Law at Washington and Lee, appeared in the Roanoke Times on February 19, 2017, and is reprinted here by permission.
The Harmful Myth of Widespread Voter Fraud
The 2016 election has been thrust back into the headlines with President Trump's unsupported claim of "massive" voter fraud and promise to conduct a "major investigation." But academics who have studied this issue, election administrators, and even President Trump's own lawyers already agree: There is no evidence of widespread voter fraud.
We have been down this road before. During the administration of President George W. Bush, the Justice Department conducted a wide ranging, five-year investigation into claims of voter fraud after the hotly contested 2000 election, but ultimately ended up with little to show for it. This inquiry did not turn up any instances of widespread conspiracies of voter fraud, nor did it find any evidence that fraud impacted congressional or statewide elections. Instead, only a few dozen individuals — out of hundreds of millions of votes cast nationwide — were charged with election-related violations, most of which involved mistakes regarding voter registration forms or voter eligibility rules.
Academic and other nonpartisan studies also have concluded that widespread voting fraud simply does not exist. In one of the most comprehensive studies of this issue, law professor and former Deputy Assistant Attorney General Justin Levitt found only 31 credible instances of voter impersonation nationwide out of over 1 billion votes cast between 2000 and 2014. In other words, an average voter is much more likely to be struck by lightning than to have someone attempt to defraud them out of a ballot. An analysis of news reports by the Washington Post found only four documented instances of voter fraud during the 2016 election, out of 136 million votes cast nationally. (For comparison, President Trump's narrow margin of victory states like Wisconsin, Michigan and Pennsylvania involved tens of thousands of votes.) Similarly, researchers at Dartmouth College recently conducted a county-by-county statistical analysis of the 2016 presidential election compared to past national elections and found no evidence of noncitizen voting, dead people voting or tampering by election officials. They concluded that "voter fraud concerns fomented … by the Trump campaign are not grounded in any observable features of the 2016 presidential election."
State election officials, who are in perhaps the best position to investigate these sorts of claims, also agree that there is no evidence to support the White House's allegations. And even President Trump's own lawyers have decisively rejected the existence of alleged voter fraud. In a court filing in the Michigan recount lawsuit brought by Green Party candidate Jill Stein, Trump's lawyers argued a recount was unnecessary because "all available evidence suggests that the 2016 was not tainted by fraud or mistake."
Perpetuating the spurious myth of large-scale voting fraud harms our democratic system. False allegations of massive voter fraud have been invoked by Republican-led legislatures in states like Pennsylvania, Texas, Wisconsin and Virginia to pass strict new photo identification requirements for voting. In addition, states like Kansas, Arizona and Alabama have sought to require proof of citizenship based upon unfounded claims of extensive voting by non-citizens. Last year, a three-judge federal court found that the North Carolina legislature engaged in intentional discrimination against African-Americans when it imposed new barriers to voting, including a photo identification requirement, rejecting the state's claim that these measures were needed to combat voter fraud. Other courts have struck down some of these laws, finding that they disproportionately impact vulnerable groups like the elderly, the poor and racial minorities, but others remain in force, disenfranchising thousands of eligible voters. Moreover, false allegations of extensive voter fraud may increase public cynicism regarding elections and elected officials, discourage citizen participation in the political process and harm the image of the United States abroad by lending support to claims of authoritarian and other non-democratic regimes that we fail to practice what we preach.
To be sure, our election system is not flawless. Studies have shown that state election officials sometimes fail to timely remove deceased people from the voting rolls, and several million people—including some senior White House officials—are still registered to vote in multiple states, even years after moving. But there is no evidence to support claims that errors in state registration databases are resulting in significant amounts of double voting or voting by dead people. Instead, our greater concern should be that over 50 million eligible voters are not even registered. We should be looking for way to make voting easier, not harder. False claims of widespread voter fraud undermine this important goal.
Chris Seaman teaches election law at Washington and Lee University School of Law and has written several articles regarding the history, enforcement, and future of the Voting Rights Act.
Stacey LaRiviere '17L for the Commonwealth

Jury trials for both civil and criminal cases are increasingly rare, especially for law students. But 3L Stacey LaRiviere got the chance to try a case before a jury while working for the Roanoke City Commonwealth's Attorney.

Jury trials for both civil and criminal cases are increasingly rare, as lawyers and litigants often choose settlement to avoid costly trials and unpredictable outcomes. As such, it is even more unlikely for a law student to argue a jury trial. Few have had the opportunity in the past two decades, but that is exactly what third-year law student Stacey LaRiviere got the chance to do.

LaRiviere is a graduate of The College of William and Mary, where she majored in government. A member of the Student Assembly, Stacey served as the Secretary of Public Affairs, where she lobbied the General Assembly and the local city council on issues important to the college. Named a Governor's Fellow for the Commonwealth of Virginia, LaRiviere served for the Secretary of Public Safety. She has long been focused on a career of service to the Commonwealth through the law.

LaRiviere got her first taste of courtroom experience this fall as part of W&L's prosecutor externship program led by Adjunct Professor and Buena Vista Commonwealth's Attorney (CA) Chris Russell. LaRiviere spent two days a week in Roanoke City's Commonwealth Attorney's Office last semester.  Using her third-year practice certificate, Stacey tried misdemeanor cases, bond hearings, and preliminary hearings in felony cases in general district court, and conducted bond appeals in circuit court.

Then, late in the semester, Stacey was assigned a case involving petit larceny, third or subsequent offense, a felony charge. She had about two weeks to prepare for trial. The store where the theft occurred no longer had video evidence. Emboldened by this development, the defense attorney requested a jury trial.

"The Commonwealth Attorney's Office learned the case was definitely going to be heard by a jury the day before the case was set," said LaRiviere. "We were prepared for this possibility, but we figured the defense would waive jury and agree to a bench trial at the last minute, due to the nature of the evidence and the additional time and expense associated with jury trials."

However, a pretrial motion by the defense resulted in sentences for the defendant's prior petit larceny convictions to be redacted. A jury was empaneled and sworn, and LaRiviere presented the Commonwealth's evidence, including eye witness accounts from the store's loss prevention officer.  After the defendant elected to testify in her defense, LaRiviere was able to elicit self-incriminating statements from her on cross-examination. The jury returned a unanimous decision for the prosecution, taking about an hour to decide the guilt phase of the case.

"While nervous, I was thrilled to have the chance to try a jury trial under the supervision of a highly experienced and dedicated Assistant Commonwealth's Attorney, Chrystal Smith," said LaRiviere. "In preparation for trial, we interviewed witnesses, made a site visit, discussed voir dire, practiced openings, directs, crosses, and closings in the hope that our preparation would ultimately result in a just outcome. [Commonwealth's Attorney] Don Caldwell offered great leadership and support during the trial preparation process and throughout the externship experience."

LaRiviere has focused her legal education on gathering as much trial-related experience as possible. She has taken classes in evidence, criminal procedure, criminal regulation and vice, and Virginia law and procedure. In addition, she has taken a number of practice simulation classes covering appellate advocacy, trial advocacy, and advanced family law. She currently serves as Senior Articles Editor on the Journal of Civil Rights and Social Justice, Vice Chair of the Moot Court Board, and Co-Chair of the Pro Bono Board.

Upon graduation, LaRiviere will be a judicial law clerk for Rossie D. Alston, Jr., a judge on the Virginia Court of Appeals, in Manassas, Virginia. LaRiviere sees her collective law school experiences as preparation for her intended career in public service.
W&L's Christopher Bruner Delivers Keynote Address in London
Christopher Bruner, the William Donald Bain Family Professor of Corporate Law at Washington and Lee, delivered the keynote address at a conference titled "International Financial Services and Small States" on January 30, 2017.  He also participated in a closing reflections panel on January 31.
Hosted by the global law firm Wilmer Cutler Pickering Hale and Dorr LLP, and co-sponsored by the Centre for Small States at Queen Mary University of London, the Caribbean Export Development Agency, and Fran Hendy Attorneys, the conference focused on international financial centers in small jurisdictions, the international tax reform agenda and its impact on such centers, and potential opportunities for such centers.  Participants included public officials; representatives of multilateral organizations, including the OECD and the Commonwealth; consultants; and lawyers and economists from both academia and the private sector.
Bruner's keynote address presented the argument developed in his recently released book, Re-Imagining Offshore Finance: Market-Dominant Small Jurisdictions in a Globalizing Financial World (OUP 2016).  In the book, he advances a new theoretical framework to refine the analysis of small jurisdictions active in cross-border finance and direct that analysis toward more productive inquiries, proposing a new concept better capturing the characteristics, competitive strategies, and market roles of those achieving global dominance in the marketplace – the "market-dominant small jurisdiction" (MDSJ). Professor Bruner identifies the central features giving rise to such jurisdictions' competitive strengths – some reflecting historical, cultural, and geographic circumstances, while others reflect development strategies pursued in light of those circumstances.
Through this lens, Bruner evaluates a range of small jurisdictions that have achieved global dominance in specialized areas of cross-border finance, including Bermuda (insurance), Dubai (Islamic finance), Singapore (wealth management), Hong Kong (Mainland finance), Switzerland (cross-border banking), and Delaware (business entity organization).  He further tests the MDSJ concept's explanatory power through a broader comparative analysis, and he concludes that the MDSJs' significance will likely continue to grow – as will the need for a more effective means of theorizing their roles in cross-border finance and the global dynamics generated by their ascendance.
Read more about Professor Bruner's scholarship here.
Former Ambassador to Nicaragua to Speak at Law School

Dr. Francisco Fiallos, Nicaragua's former Ambassador and Minister of Foreign Affairs, will present on international law and global issues.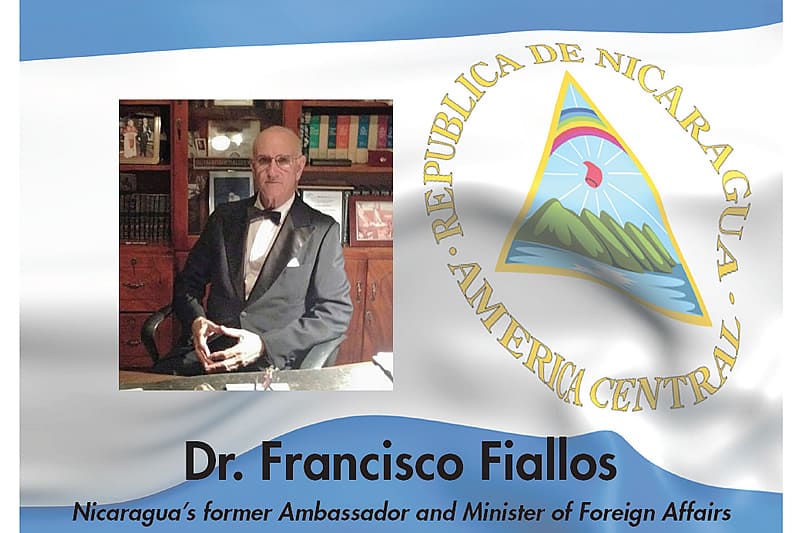 On Wednesday, February 8, 2017 at 3:00 PM in the Millhiser Moot Court Room, Dr. Francisco Fiallos, Nicaragua's former Ambassador and Minister of Foreign Affairs, will present on international law and global issues at Washington and Lee University School of Law.
The presentation is sponsored by the Latin American Law Students Association and the Transnational Law Institute. Prof. Mark Drumbl will moderate the discussion. For more information, contact Tamra Harris at harris.t@law.wlu.edu.
Sebghatullah Ebrahimi '10L: Compliance Officer with Relief International

Six years after receiving an LL.M. degree from W&L Law, Sebghatullah Ebrahimi has returned to the U.S. to continue his legal career with an international humanitarian organization in Washington, D.C.

Sebghatullah Ebrahimi was one of two Afghan law students who came to W&L Law in 2009 to complete a Masters in U.S. Law degree, hoping that exposure to U.S. laws and legal systems would help stabilize his home country's legal sector. Now, after six years, Ebrahimi is back in the U.S., and recently began work for Relief International, a humanitarian, non-profit agency providing emergency relief, rehabilitation, and development assistance to victims of natural disasters and civil conflicts.

Ebrahimi and fellow student Mohammad Asif Ehsan came to the U.S. in 2009 under the auspices of the Public-Private Partnership for Justice Reform in Afghanistan, a joint effort between the U.S. State Department's Bureau of International Narcotics and Law Enforcement Affairs and the American legal community. Ebrahimi  previously worked in Afghanistan with the United Nations Entity for Gender Equality as a program officer and with the United States Agency for International Development (USAID's) Land Titling and Economic Restructuring in Afghanistan program as a senior legal advisor.

"Getting the chance to further my legal knowledge at W&L School of Law was a great opportunity to expand my legal expertise and the first step to build my international career experience," says Ebrahimi. "At W&L I interacted with students from different cultures and I was able to learn a lot."

After completing his L.L.M. degree at W&L Law, Ebrahimi returned home where he resumed work with the United Nations and the USAID, managing multi-million dollar rule of law, law reform and human rights projects. However, because of security challenges, he was compelled to leave Afghanistan and move to the U.S.

Ebrahimi has eleven years of experience with the UN, USAID, NGOs and government. He has extensive expertise in coordinating and planning multi-million dollar grants and contracts from design to implementation, as well as monitoring and evaluating projects from a compliance perspective.  Most of his experience has been in the field, especially in Afghanistan, and focused on human rights, law reform, humanitarian efforts and development.

In late 2015, because of security challenges that he faced, he emigrated to the U.S. with his family. He recently started working for Relief International as a Grants and Contracts Officer dealing with compliance issues in Asian, including Afghanistan. Working for a worldwide, non-profit organization in the heart of Washington, D.C. has been a dream job for Ebrahimi.

"It was quite challenging to find a decent position that would match with my qualifications, expertise and legal knowledge," says Ebrahimi. "The process of getting this job was very competitive, but it is a challenging and rewarding position."

In the years to come, Ebrahimi plans to obtain a J.D. degree as he continues his quest to become a notable U.S.-trained lawyer.
W&L BLSA Goes National

A Q&A with Maureen Edobor, Attorney General for NBLSA

Maureen Edobor '17L, from Dallas, is a graduate of the University of Texas.  Before attending law school, she worked as a national field fellow for the Alliance for Citizenship, an organization that promotes fair immigration reform. This year, she is serving as the attorney general for the National Black Law Students Association. In this Q&A, Edobor talks about how she got involved with BLSA and pursued a leadership position at the national level.

When did you first learn about BLSA?

I actually had not heard about BLSA until I was admitted and the admissions office put me touch with a current student, Hernandez Stroud '15L. I knew W&L was a great law school with successful alumni all over the country, but knowing there was this affinity group I could be a part of was really important in my decision to attend W&L. I didn't get that kind of connection from any other school.

What role does BLSA serve at W&L?

BLSA is an organization that strives to create culturally responsible and academically adept law students who can go out and do great things in the community. On the campus level, we provide mentoring to new students about academics and career opportunities, and we also plan social events. In addition, we encourage students to get involved with the regional and national organization through community service projects as well as moot court and mock trial competitions.

Teams from W&L have made the national finals every year since we began competing, and we were the 2015 national champions in mock trial. Next month we will send two mock trial and two moot court teams to the regional competition in Pittsburg and then hopefully on to the national finals in Houston.

How did you get involved with NBLSA?

When I was a 1L, my mentor Jasmine Brooks '15L encouraged me to apply for a position with the national organization. I was named the Virginia sub-regional director and basically served as a liaison between all the BLSA chapters in Virginia, planning community service projects and an academic retreat for 1Ls.

I decided to run for the national office of attorney general the next year because I felt it would a great professional development opportunity. Many of the law students to hold this position go on to advocacy careers on Capitol Hill, which is my ultimate career objective. I ran against three other people for the position, and in addition to filling out a lengthy application, I had to give a speech and participate in a debate at the national convention.

What projects have you worked on as NBLSA's attorney general?

The attorney general is basically the advocacy voice of organization. I have worked on policy statements about issues that are important to black community, and I coauthored an amicus brief to the U.S. Supreme Court in Buck v Davis, a case involving racial bias. I planned panel discussions for the Congressional Black Caucus convention and press conferences in conjunction with national executive board meetings in different cities. I have also worked on several public comments to regulatory bodies on such issues as the new ABA rule on bar passage, wireless availability in public housing and raising the age of majority. The position covers a wide swath of areas and requires a tremendous amount of work.

What are your plans following law school?

I am currently in the running for two fellowships, one with a criminal justice reform organization in St. Louis and another with the Poverty and Race Research Action Council. I have also accepted a judicial clerkship with Judge Pam White '77L in Baltimore City Circuit Court. I am happy to have options.
Justice Ginsburg to Speak at VMI, W&L Feb. 1

The public event will be at VMI's Cameron Hall. It is free, with seating available on a first come, first served basis. The events at W&L are closed to the public and to the media.

U.S. Supreme Court Justice Ruth Bader Ginsburg will participate in a public on-stage interview as part of a visit to Washington and Lee University School of Law and Virginia Military Institute on Feb. 1.

The public event will be at VMI's Cameron Hall.   It is free, with seating available on a first come, first served basis.  No tickets are required.  The event begins at 11:15 a.m., and doors to the building are expected to open at about 10 a.m. Overflow viewing of the event will be available in Gillis Theatre in Marshall Hall.

Large groups are asked to call 540-464-7361 to provide information about the number of people and vehicles they will bring. Attendees are asked to minimize the items they bring to facilitate security screening. Backpacks and other large bags are prohibited. Cameras and cellphones are allowed.

Additional information about the public event, the only event Ginsburg will hold at VMI, will be provided on the VMI website (www.vmi.edu) as it becomes available.

The events at W&L are closed to the public and to the media.

When she was appointed by President Bill Clinton in 1993, Ginsburg became only the second female justice, after Sandra Day O'Connor, in the history of the Supreme Court. Along with Sonia Sotomayor and Elena Kagan, she is now one of three women serving on the nation's highest court.

Throughout the course of her professional life, the now 83-year-old Ginsburg has been an advocate for women's rights and gender equality. In the 1970s, she co-founded the women's rights project at the American Civil Liberties Union and later became the organization's general counsel. Also during that decade, she became the first woman to earn tenure as a professor at her alma mater, Columbia Law School. At the time she entered academia, at Rutgers University in 1963, there were fewer than 20 female law professors in the United States.

In 1980 President Jimmy Carter appointed Ginsburg to the U.S. Court of Appeals for the District of Columbia Circuit, a position she held until her appointment to the Supreme Court 13 years later.

In 1999, she won the American Bar Association's Thurgood Marshall Award for her contributions to gender equality and civil rights.

NOTE TO EDITORS: News media organizations interested in covering the VMI event are asked to contact Maj. John Robertson, (robertsonjr@vmi.edu, 540-464-7366). Media inquiries for the W&L School of Law should be directed to Peter Jetton, senior director of law communications (pjetton@wlu.edu, 540-461-1326).
Law School MLK Day Panel to Examine Voting Rights
Washington and Lee University School of Law will observe Martin Luther King Jr. Day with a panel discussion examining voting rights. The panel, titled "Voting Rights in a 'Post-Racial'/'Post-Civil Rights' Era" is scheduled for Monday, January 16 at noon in the Millhiser Moot Court Room, Sydney Lewis Hall on the campus of Washington and Lee.
Panelists for the event are Atiba Ellis, Professor of Law, West Virginia University College of Law; Luis Fuentes-Rohwer, Professor of Law and Harry T. Ice Faculty Fellow, Indiana University Maurer School of Law; Margaret Hu, Associate Professor of Law, Washington and Lee University School of Law; and Mark Rush, Director of International Education and Stanley D. and Nikki Waxberg Professor of Politics and Law, Washington and Lee University. W&L Law professor Chris Seaman will moderate and Dean Brant Hellwig will provide opening remarks.
This event is free and open to the public. A complete schedule of events and ticket/RSVP information for the University's celebration of the life of Martin Luther King Jr. can be found at https://www.wlu.edu/student-life/culture-and-diversity/annual-programs/martin-luther-king-jr-birthday-celebration.