Fairfield to Give Talk in Honor of Bain Family Professorship
Joshua Fairfield, William Donald Bain Family Professor of Law, will give a talk on Thursday, March 29 at 4 p.m. in Lewis Hall Classroom C in honor of his professorship.
In his lecture, Fairfield will tackle the question of whether the law keep up with technological change. If legal rules follow historical trends, they will continue to lag behind technological advances. Fairfield will explore new ways of looking at law, and new ways of engaging with legal questions, that may help law to remain relevant in the face of rampant scientific progress.
Fairfield is a nationally recognized scholar on privacy, electronic commerce, online economics, virtual worlds, electronic payments, and cryptocurrencies. He came to Washington and Lee in 2007 as an Associate Professor of Law. Prior to joining the faculty at W&L, Fairfield served as Associate Professor of Law for two years at Indiana University School of Law's Bloomington campus.
During his time at W&L, Fairfield has earned many notable awards. In 2012-2013, he was awarded a Fulbright to conduct research related to trans-Atlantic privacy law at the Max Planck Institute in Germany. In 2013, he was elected into the American Law Institute (ALI) and he received the W&L Law Lewis Prize for Excellence in Legal Scholarship. In 2014-2015, he was recognized as the Ethan Allen Faculty Fellow for Scholarship. In 2012, Fairfield earned the Jessine Monaghan Faculty Fellowship for Teaching, and in 2010, he was recognized as the Huss Faculty Fellow for Law and Technology. In addition to numerous important publications over the years, Fairfield recently published a book with Cambridge University Press title "Owned: Property, Privacy and the New Digital Serfdom," which has garnered praise from privacy law experts around the country and coverage in the mainstream media.
The Bain Family Professorship was established by W. Donald Bain, Jr. '49L of Spartanburg, SC in honor of his father, William Donald Bain. A native of Rochelle, Ill., Don Bain came to the W&L School of Law after earning a B.S. in economics from the University of Pennsylvania's Wharton Business School. He had a successful business career including more than 30 years at Moreland Chemical Co., where he rose to the rank of CEO. He merged Moreland with McKesson Corp. in San Francisco, eventually retiring as vice president and general manager of McKesson's industrial chemical division.
A lifelong supporter of education, Bain has been particularly generous with W&L Law. In addition to this  professorship, Bain has supported the Steinheimer Professorship, the Class of 1949 Law Fellowship, the Law Library and the Law Annual Fund. He has been a participant or chair of numerous alumni chapter and reunion committees. For his dedicated service, Bain was awarded W&L's Distinguished Alumni Award in 1987 and inducted as an honorary member of Order of the Coif in 2007.
W&L Law's Mark Drumbl Involved in Major UN Initiative Addressing Child Terrorists
Mark Drumbl, Class of 1975 Alumni Professor at Washington and Lee University School of Law, is involved in the legal content of a new book launched last month at the United Nations entitled "Cradled by Conflict: Child Involvement with Armed Groups in Contemporary Conflict."
Together with Professor Gabor Rona of Cardozo Law School, Drumbl co-chaired an experts meeting held in Tarrytown (just outside New York City) in August 2017 in which nearly 30 experts on counter-terrorism, children's rights, decommission of children, and military rules of engagement participated from across the globe.
For the UN project, Drumbl and Rona co-wrote a chapter entitled "Navigating Challenges in Child Protection and the Reintegration of Children Associated with Armed Groups." This chapter identifies the intersections between international law and the ability of states to detain, prosecute, and engage children associated with armed groups politically determined to be 'terroristic' or 'violent extremist' in nature.
"The key argument is that there is no principled basis to distinguish such children, when illegally recruited, from children associated with armed groups or armed forces generally," says Drumbl. "What is more, state actors need to take into account the 'best interests of the child' maxim in their interactions with such children which, in turn, is a solid guard against recidivism or recruitment tactics that such terroristic actors deploy."
Drumbl and Rona urged policymakers that international law on these topics was quite clear, so the challenge lay in implementation and enforcement.
At a follow-up event in New York in February 2018, some participants shared findings from their field research in Syria, Iraq, and Mali and considered, within the frameworks provided by law, programmatic guidance for practitioners working to protect children and to help release them from such groups.
At W&L, Drumbl serves as Director of the University's Transnational Law Institute. His research and teaching interests include public international law, global environmental governance, international criminal law, post-conflict justice, and transnational legal process. In addition to numerous articles, book chapters and other scholarly works, he is the author of "Reimagining Child Soldiers" and "Atrocity, Punishment, and International Law."
Virginia Festival of the Book to Feature Work by W&L Law Professor
The Virginia Festival of the Book, the long-running literary celebration produced by the Virginia Foundation for the Humanities, has announced this year's line-up, and a book edited by Washington and Lee law professor Russell Miller is among the featured works.
"Privacy and Power: A Transatlantic Dialogue in the Shadow of the NSA-Affair," published by Cambridge University Press, examines U.S. and European views on privacy and intelligence gathering in the wake of Edward Snowden's disclosures of NSA surveillance programs. Miller contributed to and edited the volume, which also includes contributions from four other W&L faculty members: Roger Crocket (German/Russian), Sarah Horowitz (History), and law professors Joshua Fairfield and Margaret Hu.
Now in its 24th year, the Virginia Festival of the Book brings together writers and readers to promote and celebrate books, reading, literacy, and literary culture over five days. The Festival offers about 250 programs, most of them free, in bookstores, libraries, theaters, schools and other venues in and around Charlottesville and Albermarle County, Virginia. The Festival is the largest community-based book event in the Mid-Atlantic region and has attracted audiences of more than 20,000 for each of the past thirteen years.
The Festival runs from March 21 through March 25. The discussion of "Power and Privacy" is scheduled for Friday, March 23 at 10:00 a.m. at the UVa Harrison Institute/Small Special Collections, UVa Central Grounds, 160 McCormick Rd, Charlottesville.
According to Miller, Edward Snowden's leaks exposed fundamental differences in the ways Americans and Europeans approach the issues of privacy and intelligence gathering.
"The American perspective is that Europeans should 'grow up', while Europeans think the Americans should learn to 'obey the law'," says Miller.
Featuring chapters from leading commentators, scholars and practitioners from both sides of the Atlantic, the book documents and explains these differences of opinion and analysis. The book opens with a collection of chapters acknowledging that Snowden's revelations require a rethinking of the prevailing theories concerning privacy and intelligence gathering, explaining the differences and uncertainty regarding those aspects. A range of experts reflect on the law and policy of the NSA-Affair, documenting its fundamentally transnational dimension from the point of view of domestic and international legal regimes. The final chapters explain the dramatic transatlantic differences that emerged from the NSA-Affair with a collection of comparative cultural commentary.
The book is available for purchase online from Cambridge University Press at http://go.wlu.edu/powerandprivacy.
Law Students Reflect on Shepherd Internships
Second-year law students Bethny Barrett and Lauren Bennett both organized summer internships through the Shepherd Program, which helped fund their summer work positions. Through the Shepherd Internship Program, students work with agencies that fit their intellectual interests in order to develop their experience and skills for future civic involvement and employment and to benefit under-resourced members of society. Below, Bethny and Lauren each offers some thoughts about the nature of their summer work.
Bethny Barrett
Last summer, I interned with the Women's Center for Advancement (WCA) in Omaha, NE. In that position, I served survivors of sexual assault, domestic violence, and human trafficking through family and immigration law. Working in a small nonprofit allowed me to interact one-on-one with clients, to attend court, and to work on a variety of projects. I feel exceeding lucky to have spent my summer with the WCA. In my first summer, I landed my dream job.
My experience from last summer has influenced my course work and my next career moves. For instance, my 2L classes have largely focused on areas of law that uniquely impact women, such as employment, health, abortion, and family law. This summer, I will be working on female-focused policy reform and litigation advocacy. WCA taught me how to provide legal services to clients in crisis. Though the work could be challenging and sometimes draining, the internship confirmed that I can and should work in women's nonprofit organizations.
Without Shepherd funding, I would not have been able to afford a nonprofit internship. I am focused on public interest work, but such work imposes a financial burden. Shepherd offered financial assistance as well as a community of other students going through similar internships. During the Shepherd Closing Conference, law students and undergraduate students shared stories about their organizations. These stories demonstrated the overwhelming commitment to serving others that can sometimes be overshadowed by day-to-day responsibilities, and, for that reason, I value my participation in the Shepherd program.
Lauren Bennett
The Shepherd Higher Education Consortium on Poverty Program made my 1L summer job possible. This past summer, I worked at the Mecklenburg County Public Defenders Office. The Shepherd Program funded my summer experience and gave me opportunities to become more informed about ways to diminish poverty through professional, civic, and political engagement.
During my internship, I worked firsthand with individuals from impoverished backgrounds. I discovered the many economic injustices within the criminal justice system, and I want to continue fighting these injustices as I pursue a career as a Public Defender. I am thankful to the Shepherd Program for not only funding my summer experience, but also giving me opportunities to further understand various deep-rooted effects of poverty.
Through the Shepherd Closing Conference, I was able to learn from other student's summer experiences. This year's conference theme–Criminal Justice, Poverty, and Race–aligned well with my summer experience. In years past the theme of the Symposium has related to topics such as Childhood Literacy and Food, Nutrition, and Health of Low Socioeconomic Families.  It was great to listen to presentations from other students who participated in the program and to gain insight from their experiences.
I would highly recommend applying to the Shepherd Program to any W&L law student who is interested in a legal field that provides services to individuals of low socioeconomic status.
Experience, W&L Law: Inside the Black Lung Clinic with Dowin Coffy '18L
Dowin Coffy is a Registered Nurse and third year law student. He is devoted to understanding the finance, delivery and regulation of healthcare. This year, he is serving as a student attorney in the Black Lung legal clinic, which assists coal miners and survivors who are pursuing federal black lung benefits.
Why did you choose the Black Lung Clinic for your clinical experience?
I chose this clinic because healthcare is the most regulated industry in the United States, and I wanted experience dealing with a regulatory agency. The formal name for this clinic is the Advanced Administrative Litigation Clinic, and in that capacity, we deal with the United States Department of Labor and their adjudicative procedures under the Black Lung Benefits Act.
I also wanted to utilize my knowledge as a healthcare clinician. I figured there would be a lot of medical terminology and medical records that I would have to read. In addition, I just like helping others, and I appreciate the fact that I am making a tangible difference in the lives of others.
Describe a typical week in the clinic.
It can be chaotic at times. We deal with real and established law firms, who have real lawyers.
I personally have 5 cases that I am expected to keep a handle on. We have many deadlines as well as correspondence from lawyers and clients that we are expected to keep up with.
We are also constantly developing additional evidence in order to support our case. This consists of gathering evidence from hospitals, combing through doctor's records for evidence of things such as right-sided heart failure, smoking history or lung cancer. We also have to grasp the pathophysiology of pneumoconiosis and understand how tests that establish total disability, such as a pulmonary function test, are administered and what the results mean.
In addition, we practice direct and cross-examinations for court proceedings. These are recorded, and Prof. MacDonnell, the clinic director, provides feedback. There is also a great deal of writing, including briefs and memos. The typical time commitment is expected to be 20 hours per week.
What has been hardest about your work in the clinic?
This clinic is one of the most time-consuming that the school offers. It demands that one develop an erudite understanding of pneumoconiosis and other medical diseases. The case files are huge, and there is a voluminous amount reading involved. There can also be weeks, such as when I was preparing to do a deposition of a doctor, which can consume all of your time. But you do have real clients with pecuniary interests in these matters.
In what ways has your clinical experience added value to your legal education?
If I had to work on a black lung case in a real administrative hearing tomorrow, I am confident that I could do a good job. I have improved tremendously in oral advocacy from the time I began, and my understanding of administrative adjudications has been greatly enhanced.
How is your participation in the clinic helping you achieve your professional goals?
I chose to attend law school to develop the requisite skills to become a credible professional, and my professional goals are being advanced with each passing week. I am a big believer that in life, experience is the best teacher.
BLSA Moot Court Team Advances to Nationals
The Washington and Lee School of Law Black Law Students Association (BLSA) moot court team has advanced to the national competition following a third place finish at Mid-Atlantic Frederick Douglass Moot Court Competition.
In addition, the school's BLSA chapter was recognized as "small chapter of the year" by the national organization.
W&L fielded two teams for the moot court competition, and students also competed in the mock trial competition at the regional conference, held in Portsmouth, Virginia on Feb. 7-11. The team of 2L Angelique Rogers and 1L Junior Ndlovu advanced. They will head to Brooklyn in March for the national competition.
This is the seventh year teams from W&L have competed in the BLSA moot court and mock trial competitions. W&L teams have advanced to nationals every year.
Experience, W&L Law: A Week in the Immigrant Rights Clinic
3Ls Kendall Manning and Aileen Almonte are student attorneys in the Immigrant Rights Clinic at W&L Law. Below they provide a snapshot into a typical week working in the clinic, one of six live-client clinics students can choose from to fulfill their actual practice requirement, a key part of W&L's experiential curriculum.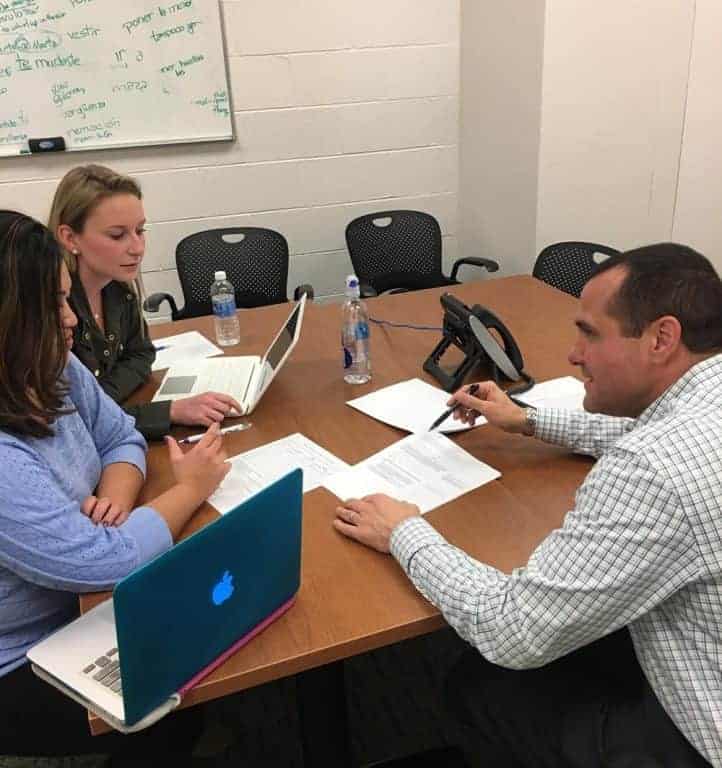 Day 1: Supervision Meeting with Professor Baluarte
Each team has a weekly 1-hour supervision meeting with Professor Baluarte to discuss the status of our cases. We talk about our client interactions, reasoned approaches to research and fact investigations, and the strategic decisions we make based on client consultations and research. In anticipation of these meetings, we submit a memo describing our objectives for the meeting and any work we need Professor Baluarte to review. Here, he is giving us feedback on a brief we submitted for our main asylum case.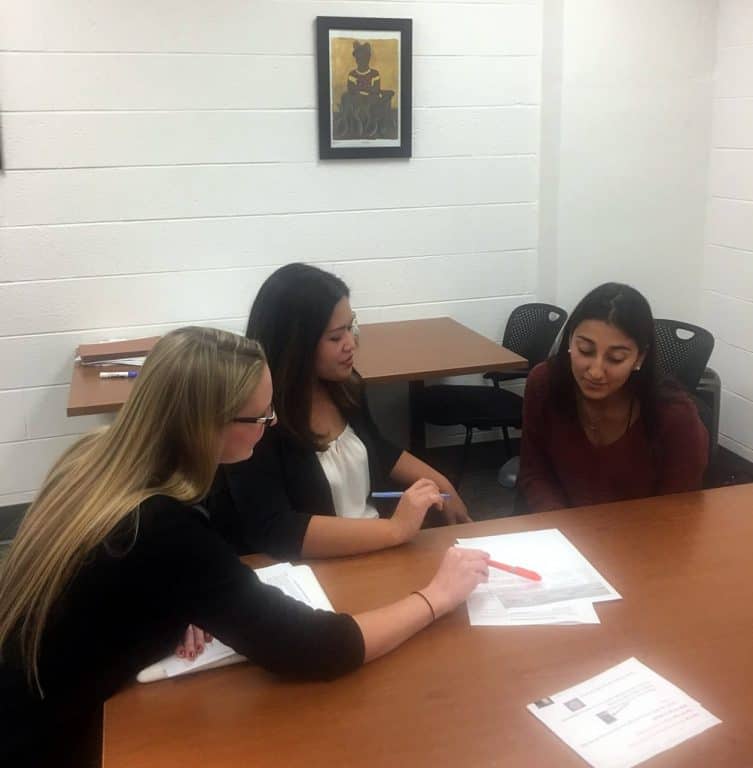 Day 2: Counseling Simulation Session with Celia Simulada
Professor Baluarte assigns simulated interviews and counseling sessions to help us prepare for our client meetings. In this simulation, we are advising Celia Simulada (a native Spanish speaker and undergraduate student at W&L) on the costs and benefits of applying for asylum, as a young woman from Honduras. Beforehand, we prepared a counseling plan to anticipate the challenges we would  face counseling a client on the benefits and disadvantages of her case. We then record our counseling session so that we can review the tape afterward and reflect on our performance. Watching ourselves on screen really helps us to observe our facial expressions and body language and realize the things we must improve upon for our real client sessions.
Day 3: Working on a Green Card Application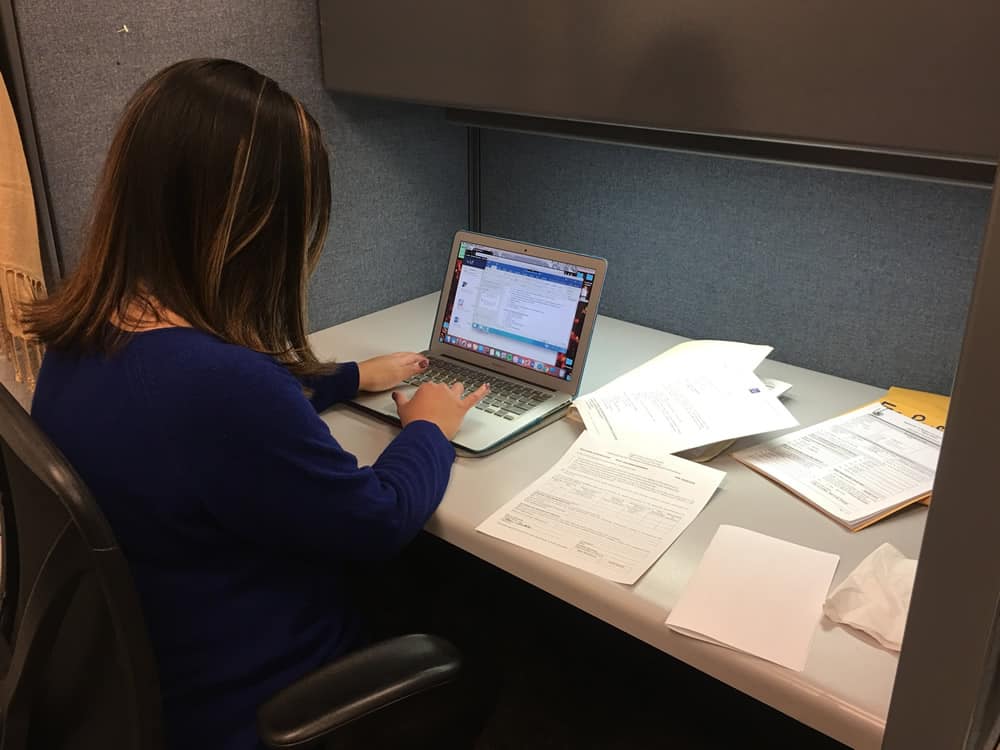 IRC students are typically assigned cases involving female survivors of domestic abuse, unaccompanied children in removal proceedings, and refugees fearing severe harm in their home country. We're each responsible for managing client communications and meetings, as well as communicating with immigration authorities on our clients' behalf.  As IRC students, we are also responsible for researching and meeting all filing deadlines, and counseling clients about these processes along the way.
When we are not meeting with our clients or talking to them over the phone, we are working on their applications and supplemental materials. Here, Aileen works on a Form I-485 for a client who recently became eligible to apply for a green card after she was granted a U-Visa and remained in the United States for three years.
Day 4: Oral Advocacy Simulation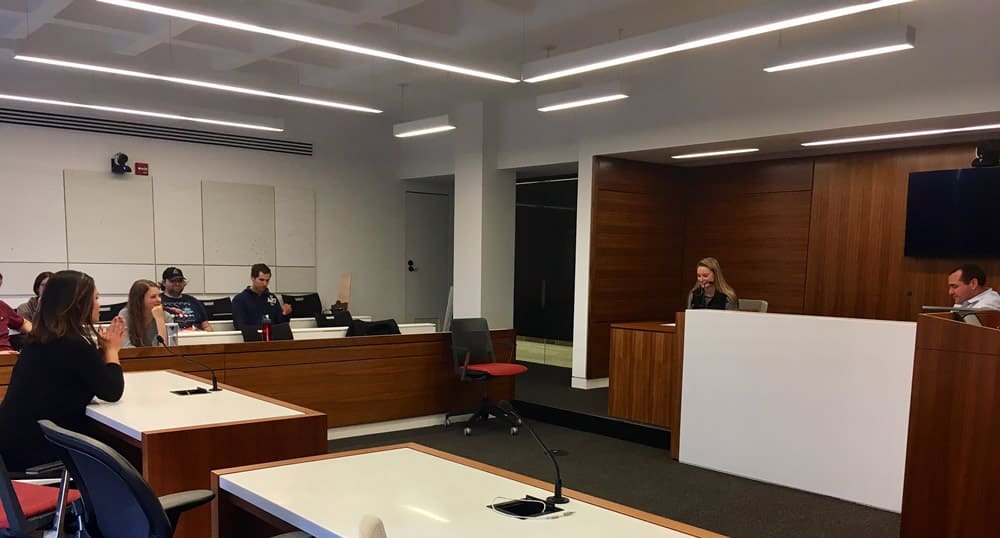 Every Wednesday from 2:00-3:55 p.m., the entire clinic comes together to discuss issues common to all our cases. During these sessions, we discuss fundamental lawyering skills and values, and we put those skills and values into practice through simulated exercises. Because we are responsible for representing our clients in Arlington Immigration Court and Virginia state court, we must prepare and submit all motions, briefs and evidence; prepare witnesses; and conduct hearings.
Here in the Mock Trial Room, we used our seminar session to present a direct examination of our client and closing argument. Professor Baluarte served as the presiding judge, while our IRC classmates observed and critiqued our performance from the gallery. Afterward, we listened to everyone's feedback on how to improve our oral advocacy skills and make our client's case most appealing in court.
Day 5: Immigrant Rights Law Symposium
A recent week was capped off with a day-long law symposium examining President Trump's immigration related executive orders. Prof. Baluarte worked with the W&L Law Review to organize the event, and we were able to hear about the work of the top immigration advocates and scholars from across the U.S.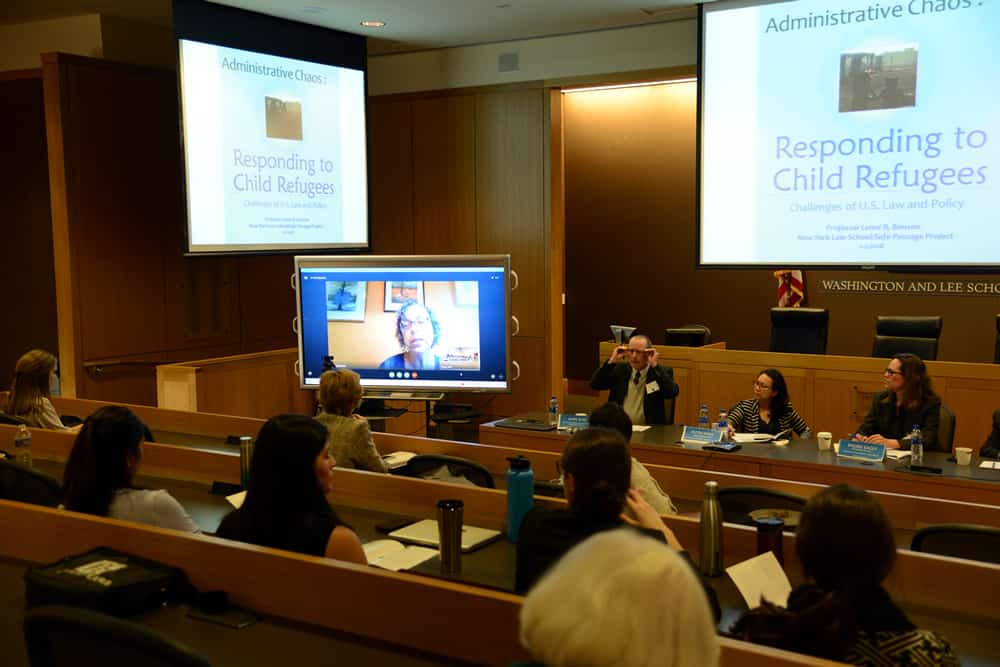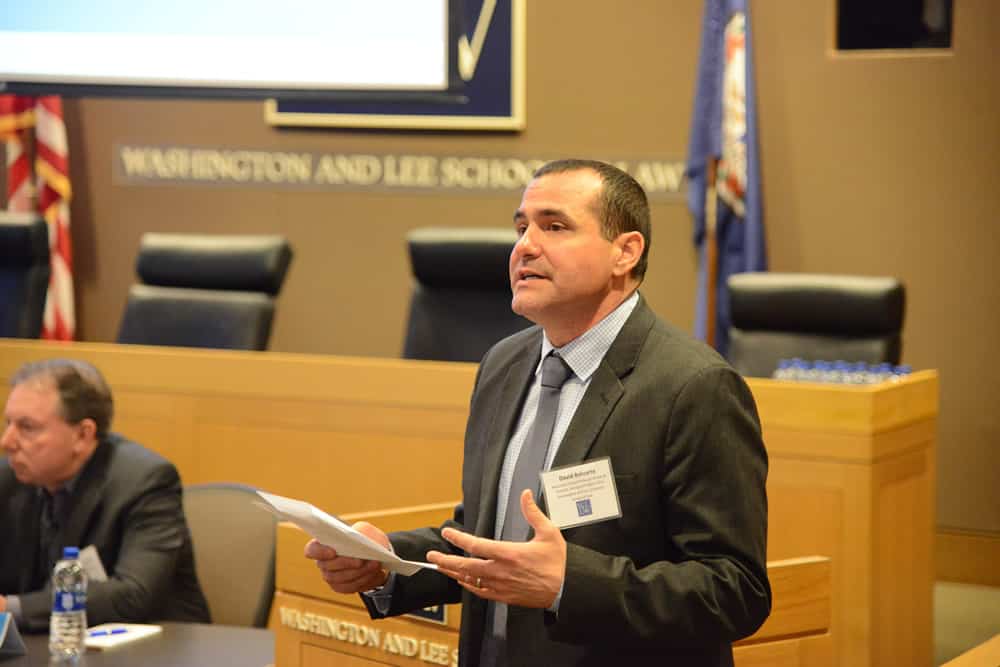 Estate Planning Expert Mary Mancini Joins W&L Law as Millhiser Professor of Practice
Mary Ann Mancini, a partner at Loeb & Loeb in Washington, DC and an expert in Trusts and Estates, has joined Washington and Lee School of Law as the Millhiser Professor of Practice for the 2018 spring semester.
Prof. Mancini is teaching one of the school's practice simulation classes, which are a hallmark of W&L's innovative experiential curriculum. The class, Tax Planning for the Closely Held Business Owner, brings together intensive study and practice in two complex areas of the law: estate planning and business planning. As part of the class, students will develop an overall business plan that addresses tax issues, business issues, personal and family issues, and business succession issues that often arise when planning for a client with a closely held business.
"The Millhiser Professorship provides our students an unmatched opportunity to learn from top practitioners in their fields," said Brant Hellwig, dean of W&L Law. "Such experiences are critical for our students as they complete their journey from student to practicing lawyer, and we are grateful to the Millhiser family and Mary Mancini for making this possible."
The Rochelle and Thomas McN. Millhiser 81L Professorship of Practice supports a distinguished professor of practice who teaches in the experiential curriculum, with a preference for someone who teaches in the area of Trusts and Estates. The Professorship was created through the generosity of Shelly and Tom Millhiser 81L of Delray Beach, Florida and the McGue Millhiser Family Trust.
At Loeb & Loeb, Prof. Mancini's practice focuses on advising high net worth families and individuals who reside in the U.S. and internationally. Her clients include leaders of Fortune 100 companies and their families, as well as families whose wealth is more privately held and, in many cases, based on real estate ownership.
"As a practitioner, it is exciting to know that W&L is providing such hands-on experience to their law students," said Mancini. "The emphasis on a practical application of the law is excellent preparation for the first year associate and will allow them provide valuable service for their clients sooner than most law school graduates."
Prof. Mancini is a nationally recognized expert in techniques that utilize life insurance in estate and business plans, such as insurance trusts, split dollar and deferred compensation arrangements, and life settlements. Prof. Mancini represents fiduciaries and beneficiaries in trust and estate matters before the Internal Revenue Service and in administration and litigation matters, and works with many private trust companies, family offices, and national and international bank trust departments.
W&L Law Students Work to Free Ethiopian Political Prisoner
In early January, the Prime Minister of Ethiopia announced that political prisoners would be freed and a notorious detention center would be closed in an attempt to end protests and violence that have engulfed the country since 2015.
Washington and Lee law students taking part in the school's Criminal Tribunal practicum hope that their client, Bekele Gerba, will be among those eventually set free.
Gerba is one of Ethiopia's most prominent opposition leaders and former head of the Oromo Federalist Congress Party. The Oromo are Ethiopia's largest ethnic group, and human rights groups have condemned the Ethiopian government for persecuting the Oromo for many years.
As part of the Transnational Criminal Tribunal class, six students were assigned to assist with the filing of a complaint before the African Commission on Human and Peoples' Rights in the case of Bekele Gerba Et Al Vs. The Republic Of Ethiopia. According to Dr. Henok Gabisa, a visiting academic fellow at W&L Law who co-teaches the Criminal Tribunal class, the Commission is a continent wide tribunal with a Quasi-Judicial human rights mandate located in The Gambia, West Africa.
Dr. Gabisa is an expert on the Oromo dispute in Ethiopia and commented on BBC World Service Radio about the Prime Minister's decision.
"The decision of the PM is step forward, but it does not represent a shift in policy nor could it be seen as a new political chapter in the country," said Gabisa. "The announcement fails to guarantee a non-repetition of future harassment or rearrests of the political prisoners. The primordial problems still remain. Repressive laws are still in place; the judiciary remains one of the major political tools of repression."
The students working on the complaint were Austin Woodside '18, Jacquelin Hacker '18, Jonathan Murphy '18, Michael Cruz '19, Timur Dikec '19, and Sally Harper '19. They traced witnesses and testimonies of Ethiopian torture survivors, some of whom are now exiled in Kenya, Egypt, Germany and other countries. Among the witnesses the students traced in search of testimony was a recent survivor of Mediterranean boat tragedy who left Ethiopia after months of torture in detention.
The Transnational Criminal Tribunal Law Practicum, led by Prof. Speedy Rice, is one of the innovative practice-based classes created at W&L a decade ago under the auspices of the School's Transnational Law Institute (TLI). The goal of such courses is to equip the students with hands on experience in international criminal law, human rights law and access to justice.
Students in the class have worked directly with U.S. military defense counsels representing alleged 9/11 mastermind Khalid Sheik Mohammed before the U.S. Military Commission. Students have also worked for the International Criminal Court's Office of Public Defense and Special Tribunal for Lebanon, both seated in The Hague.
Finding Passion and Purpose in the Law An externship in DC gave Ali Hakusui '18L a chance to do something different, and find new meaning in the law.
Ali Hakusui, a 3L from Haverhill, Massachusetts, received her undergraduate degree from Bates College. She spent the fall semester in the DC as a law clerk in the policy office of the National Asian Pacific American Bar Association (NAPABA).
Everyone has occasional instants of conscious awareness that force them to pause and take inventory of the choices that led to that moment. I had one when I was holding a ACLU "No Muslim Ban Ever" sign over my head, spending the better part of my lunch hour chanting and marching alongside hundreds of other people. The leaders among the crowd were dressed in casual attire, sporting graphic t-shirts that added more verbiage to the sea of quotes being carried or worn. A few Vietnam-Era protesters had dusted off their tie-die to join the effort. Others, like myself, were in business formal. If not for the posters, a bystander would probably have assumed we had been swept away by the crowds on the way to a working lunch.
And so, in a swarm of varying archetypical demonstrators, I reflected on everything that had led me to this scene. I was never someone that you would call a "social justice warrior": I spent my college years in the apolitical vacuum of a lab and my law school years pursuing a career in the private sector. At some point last spring, I realized the DC externship program could be my last chance to try something completely different, like public interest/non-profit work. I wanted to do something meaningful.
I enjoyed organizing minority affinity groups as a student, so I applied to be the law clerk in the policy department of the National Asian Pacific American Bar Association (NAPABA). I had worked with NAPABA in my capacity as President on their law student affiliate, the National Asian Pacific American Law Student Association (NAPALSA), but only to plan our yearly joint convention. I knew NAPABA had a policy department, though the specificities of what the branch did was a mystery to me.
On my first day, my supervising attorney talked me through what the policy department does: the attorneys draft legislation, coordinate the NAPABA yearly policy resolutions, issue press releases, author reports, and generally garner support for various causes. NAPABA is a non-partisan organization, which adds an extra layer of complexity to the job. The energy in the office was unlike anything I had experienced: Someone was cursing down the hall about the latest round of edits to a report, the next office over someone else was listening House floor hearing, and[almost] every time the president tweeted out an executive order, there was a moment of chaos as the policy machine rushed to respond. The office was alive with passion.
That passion was contagious. The months I spent with NAPABA gave me invaluable experience. I drafted bill summaries, penned the memo supporting a pro-PSLF (public service loan forgiveness) policy resolution, attended the ACS Supreme Court Preview and the 60th Anniversary for the Commission on Civil Rights, used my Bluebook to cite my way to an acknowledgement on the 2017 NAPABA Language Report, and even got to research a comedian. At the NAPABA Convention in November, I was surrounded by more than 2,200 Asian Pacific American attorneys and filled with a sense of community and purpose.
My semester ended with sobering task: drafting language for a bill that will prevent Korematsu v. US from being used a legal precedent. Walking through the failures of our justice system is a necessity if we, as a nation, are to grow into a better country. Going forward in my career, I may not be the person on the ground, going tête-à-tête for a more compassionate world, but I want to do everything I can to support those who dedicate their lives to this work. This semester showed me that I can find my passion in a legal career, and I will never forget that.