Law School MLK Day Panel to Examine Voting Rights
Washington and Lee University School of Law will observe Martin Luther King Jr. Day with a panel discussion examining voting rights. The panel, titled "Voting Rights in a 'Post-Racial'/'Post-Civil Rights' Era" is scheduled for Monday, January 16 at noon in the Millhiser Moot Court Room, Sydney Lewis Hall on the campus of Washington and Lee.
Panelists for the event are Atiba Ellis, Professor of Law, West Virginia University College of Law; Luis Fuentes-Rohwer, Professor of Law and Harry T. Ice Faculty Fellow, Indiana University Maurer School of Law; Margaret Hu, Associate Professor of Law, Washington and Lee University School of Law; and Mark Rush, Director of International Education and Stanley D. and Nikki Waxberg Professor of Politics and Law, Washington and Lee University. W&L Law professor Chris Seaman will moderate and Dean Brant Hellwig will provide opening remarks.
This event is free and open to the public. A complete schedule of events and ticket/RSVP information for the University's celebration of the life of Martin Luther King Jr. can be found at https://www.wlu.edu/student-life/culture-and-diversity/annual-programs/martin-luther-king-jr-birthday-celebration.
Career Paths: Chi Ewusi '17L

3L Chi Ewusi spent the summer working for the Pillsbury law firm in their Washington, D.C. office.

Chi Ewusi is a graduate of the University of Phoenix from Moorestown, NJ. At W&L Law, she serves as a Law Ambassador and as the executive editor of the German Law Journal. This summer, she worked for the Pillsbury law firm in their Washington, D.C. office.

How did you find/get this position?

I attended a Black Law Students Association (BLSA) job fair. BLSA-affiliated students get to attend members-only job fairs that take place across the country. I interviewed with Pillsbury at one in Washington, D.C. I received a callback and then accepted an offer for summer employment early on in my 2L year.

Describe your work experience.

My work experience was varied and fast-paced. Summer associates initially received assignments from a database but, as the summer continued, we began to solicit work more organically. This more "free market" approach taught us to develop relationships, pursue our individual interests, and practice time management. Most of my assignments came from the following sections: Global sourcing (think technology transactions and licensing agreements), corporate and securities, and nuclear energy. Pillsbury's D.C. office performs litigation, transactional, and regulatory work, so I received a healthy dose of all three. Beyond assignments, our program was packed with summer associate events—think fancy meals and shows throughout the city.

What were some skills you developed this summer?

I learned time management and people management skills. I really learned to balance expectations, find allies and mentors in the workplace, and practice making the lives of the associates and partners around me as easy as possible.

What classes or experiences were useful in preparing you for the summer work?

My journal experience helped prepare me for summer work—both the practice of being detail-oriented and the handling of large volumes of documents without feeling overwhelmed. Class-wise, international business transactions, securities regulation, and American Public Law Process (APLP) were especially helpful.

What surprised you about the work you did this summer?

The variety and scope of my assignments was surprising. My 1L summer, I mostly just wrote legal memos and did some minor document review. At Pillsbury, I worked on business development matters, prepared regulatory filings, participated in deal closings, drafted sections of contracts, and even went to Capitol Hill to meet with representatives about a new construction project.

What was your favorite aspect of this summer work experience?

The first week of my program, the White House announced sanctions against Vietnam were being lifted (in conjunction with President Obama visiting the country). The international trade group at Pillsbury contacted me to write a blog about the legal ramifications of the lift. The firm published my work and even put my name in the byline.

Has this experience helped you figure out post graduate plans, and if so, how?

My summer at Pillsbury helped me figure out what type of legal work I like and prepared me for the pace of a large law firm. I was able to use my experience and contacts at Pillsbury, as well as my experience with a "free market"/open assignment environment, to secure a position at Kirkland & Ellis in Houston, TX, which is where I'll be after graduation.

How do you think this experience will shape the rest of your time at W&L Law?

Working at Pillsbury has taught me to think beyond legal theory and hypotheticals. I am increasingly focused on being client-oriented and practical. It has tied in nicely with the third-year experience here at W&L Law.
W&L Team Headed to National Finals of NYC Bar Moot Court Competition

Third year law students Max Gottlieb, Bo Mahr and Jenna Lorence will represent W&L Law at the national finals of the NYC Bar Moot Court Competition.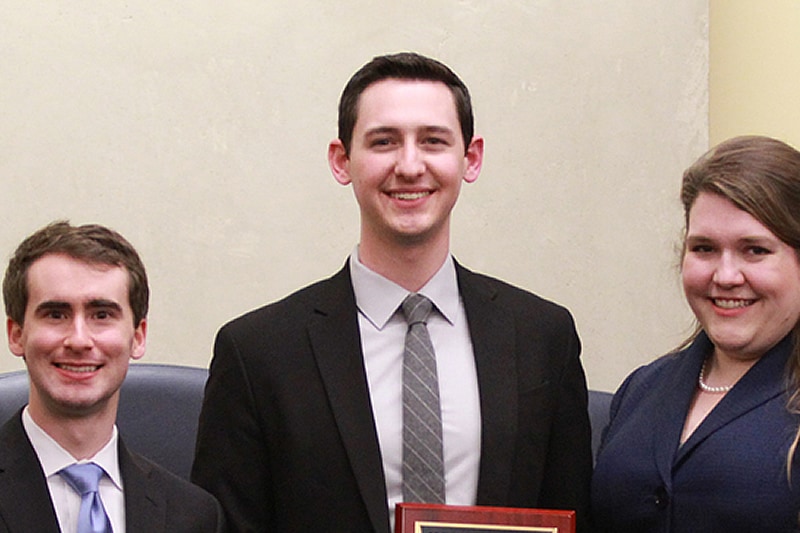 Third year law students Max Gottlieb, Bo Mahr and Jenna Lorence placed second at the New York City Bar Association's regional moot court competition this fall. Lorence was also named best oralist in the final round. The team will represent W&L Law at the national finals in January. Congrats and good luck!
W&L Law Students Organize International Anti-Corruption Conference

The students are participating in an innovative practice-based course that engages them in research and analysis of international acts pertaining to good governance and corruption.

Six Washington and Lee law students traveled to Albania this semester for an anti-corruption conference they helped organize as part of an innovative practicum course.

The course, titled "Anti-corruption Law and Global Good Governance," engages students in problem-based learning concerning the United Nations Convention Against Corruption (UNCAC), the United States Foreign Corrupt Practices Act (FCPA) and UK Bribery Act. It is taught jointly with students from University of Tirana Law School in Albania using facilities and remote technology available at W&L Law.

As part of the course, the W&L students undertook extensive legal and factual analysis on corruption and good governance issues in the Caribbean and Pacific Islands and then presented those findings at the conference in Albania.

The students partnered with the United Nations Office on Drugs and Crime; the Rule of Law and Anti-Corruption Center in Doha, Qatar; the Public Affairs Section of the U.S. Embassy in Albania and the University of Tirana Law Faculty in planning and executing the conference, which brought together about 50 European professors who teach anti-corruption law in their universities. The W&L students spoke at the conference and also served as rapporteurs, or official reporters, on different sessions. The students who participated are Thomas DeMatteo '17L, Tacho Fernandez Sanchez '17L, Solomon Gonzalez '17L, Andrew Smeltzer '17L, Hollie Webb '18L, and John Fluharty '17L. Katie Sheild '18L also traveled with the group, providing administrative support for the conference.

During their stay in Albania, the students met with the Chief Justice of Albanian Supreme Court and discussed the prospect and challenges of judicial reform in the country.  They also shared their experience from Washington and Lee Law's clinical legal education with students and faculties at Tirana University's newly established criminal law clinic.

Disclaimer: This event is partially funded by the Public Affairs Section of the US Embassy in Tirana. The opinions, findings and conclusions or recommendations expressed herein are those of the author/s and do not necessarily represent those of the Department of State.
The DC Program: Andrea Marshall '17L Gets "The Talk"

3L Andrea Marshall interned with the EPA while participating in W&L Law's Program in DC, a one-semester, residential program that gives W&L students practice experience in the nation's capital.

Andrea Marshall is currently a third year law student originally from the New York City area. At the law school she is a Law Ambassador, a Managing Online Editor for the Washington and Lee Law Review, and a Senior Articles Editor for the German Law Journal. Andrea is interested in environmental and international law and will be working for the Sierra Club as a Legal Fellow in Washington, D.C. after graduation.

On my third day of work I received the "FIFRA 101" talk. Let me explain. I am currently working as a Law Clerk at the United States Environmental Protection Agency (EPA) in their Office of Enforcement and Compliance Assurance (OECA). To further confuse you, I work within the Office of Civil Enforcement (OCE) in the Waste and Chemical Enforcement Division (WCED) specifically working in the Pesticides and Tanks Enforcement Branch (PTEB). Yes, I have a list of acronyms written on a sheet of paper I keep on a wall next to my desk.

I am a 3L in W&L Law's D.C. Externship Program. As a prospective student way back in 2014, I found myself captivated by the idea that I would get real life work experience in my third year of law school. It factored into my decision to attend W&L Law. When spring semester of 2L year arrived, I knew there was nothing I would rather do than apply to the D.C. program and take advantage of the endless opportunities D.C. affords fledgling law students. Though it was hard to leave Lexington and the incredible community I have at W&L, I am thoroughly enjoying big city life and my work experience here this semester.

Which brings me back to FIFRA 101. FIFRA is the Federal Insecticide, Fungicide, and Rodenticide Act,  enacted with the goal of regulating and controlling pesticides and pesticide products in the U.S to protect human health and the environment. As I've learned during my weeks here, there are a lot of things that qualify as pesticides and many ways those pesticides can hurt you.

When I arrived on my first day, I had all the first day nerves, excitement, and disorientation. Would I be prepared? Would I get interesting assignments? What would my supervisors think of my work? Compounding my nervousness was the fact that I was computer-less for about two weeks due to government bureaucracy. However, on my third day of work, an attorney cared enough to take two hours out of his day to give me the FIFRA 101 talk. Not only did he walk me through the entire history of the Act, he pointed out specific sections for me to focus on, he notated and highlighted important points in the Act, and he threw in a bit about EPA structure and networking strategies to top it all off. It was a tremendous learning experience, one that is difficult to simulate in a classroom setting.

Thinking about graduating in May 2017 and leaving the comfort and security of Lexington is overwhelming and, at times, downright scary. But thanks to my experience at EPA through the D.C. Program, I've come to realize that people in the "real world" want to see you succeed. They are willing to help you and work with you, even in an agency as large as EPA and in a city as big as D.C. Though it took another week and a half for me to get a computer and get beyond FIFRA 101, I won't forget the effort attorneys put in to make me feel welcome and situated here at EPA.
Tax Clinic Students Release Guides for Taxpayers

The guides help with a variety of tax issues, including determining filing status and information about claiming children as dependents.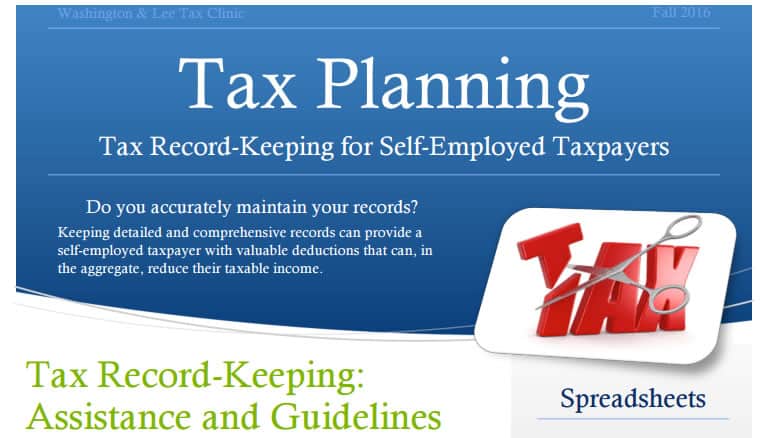 Students in the Tax Clinic at Washington and Lee University School of Law have released a series of guides to help taxpayers.
The guides were produced to help with a variety of tax issues.  Third-year law students Arthur Vorbrodt and Zachary Imboden, for example, produced a guide to help self-employed taxpapers with record keeping.
"Ideally, the taxpayer will use each sheet, some for each month and some for other variables, such as per customer or per job," said Imboden. "At the end of the tax year, if the taxpayer has continually kept consistent and accurate records using this packet, we hope it will lead to an easier and more efficient filing process."
Students in the tax clinic work with low-income taxpayers to help resolve disputes with the IRS. The students also work on advocacy projects, such as taxpayer guides. Other projects published this semester include guides about innocent spouse relief, prepared by Mikail Clark; subordinating a federal tax lien, by Christian Addison; determining filing status, by Lucas Barta; failure to file a timely return, by Lucas Barta; claiming children as dependents, by Abby Mulugeta; and tax credits for families, by Ashly Slisz.
The tax guides are available online at https://law.wlu.edu/clinics/tax-clinic/advocacy-projects.
The Problem of Asylum Free Zones

Immigrant Rights Clinic director David Baluarte will present at a hearing of the Inter-American Commission on Human Rights to discuss the growth of asylum-free zones.

Among the many immigration issues facing the U.S., the lack of a consistent treatment of asylum seekers is a growing problem, one that might put the U.S. in violation of regional and international human rights obligations.

In some jurisdictions, immigration judges and prosecutors have applied sub-regulatory rules, without legal justification, to create asylum free zones, spaces where asylum seekers are systematically denied protection. According to Washington and Lee law professor David Baluarte, who directs the school's Immigrant Rights Clinic, research has shown a troubling trend line in some jurisdictions in the United States that deny nearly every claim for asylum they hear.

"Today in Atlanta, a non-citizen fleeing life threatening violence has a near zero chance of receiving protection due to practices by immigration judges and prosecutors," says Baluarte. "The situation has deteriorated to the point where the United States is in violation of binding refugee law obligations."

Baluarte joined a group of immigration practitioners and scholars to petition the Inter-American Commission on Human Rights, a division of the Organization of American States (OAS), to grant a hearing on the issue. The group argues that the existence of jurisdictions where asylum seekers have no hope of international protection violates the American Declaration on the Rights and Duties of Man and requires the U.S. government to design corrective actions to come into compliance with its human rights obligations.

"Our hope is to get the OAS to investigate this matter and re-frame it from an issue of discretionary administrative procedure to one of fundamental human rights," added Baluarte.

The hearing will take place on Dec. 9.
A Dream Job and a Landmark Case

As the Secular Society Women's Rights Legal Fellow for the ACLU of Virginia, Deady '11L works on issues related to gender equality, reproductive rights and LGBT discrimination.

Gail Deady '11L came to law school to fight for civil liberties and gender equality. Little did she know that five years after graduation one of her cases would be heading to the U.S. Supreme Court.

Deady, a legal fellow at the ACLU of Virginia, is one of the attorneys representing Gavin Grimm, the Virginia high school student at the center of a dispute over bathrooms and transgender rights. The High Court added the case to its docket in October, and it is likely to be one of the most anticipated decisions of the current term.

While in law school, Deady pursued practice experiences that allowed her to advocate for issues affecting women. She interned with Rappahannock Legal Aid her 1L summer and spent her 2L summer and an externship during her 3L year with the Central Virginia Legal Society, handling a range of family law and domestic abuses matters.

Beyond affirming her commitment fighting for women's issues, these placements gave Deady a great deal of real-world experience.

"I was allowed to represent clients in hearings and get a lot of courtroom exposure," says Deady. "I realized I really liked litigation and wanted to do that after graduation."

However, like most of her classmates graduating at the height of the legal recession, Deady had trouble finding opportunities for legal aid fellowships or post grad clerkships. Luckily, her small section professor from her first year was able to connect Deady with a former student at a midsize firm in Richmond, which ultimately led to a job offer with the litigation group at the firm, McCandlish Holton.

In all, Deady spend three and half years at the firm doing mostly tort defense, starting with small scale bench trials in district court, and moving up to bigger cases in federal court after she proved herself. She also kept up an active pro bono practice focused on women's rights law, and when an opportunity to join the ACLU of Virginia opened up in early 2015, she jumped at the offer.

"To do women's rights work for the ACLU was like a dream come true," says Deady.

As the Secular Society Women's Rights Legal Fellow, Deady works on issues related to gender equality, reproductive rights and LGBT discrimination. In addition to case work, Deady lobbies for legislative change, and is also authoring a white paper exploring why the fastest growing prison population in Virginia and the nation is women.

The headline-making Grimm case was waiting on Deady's desk the day she started her new job.

"At the time, I don't think anyone realized how far the case would go," says Deady, whose role in the case in similar to that of a second chair at trial. She does most of the work on the ground in Virginia, gathering information and helping draft briefs for the hearings in federal court. Oral arguments are handled by litigators in the ACLU's New York office, most notably Joshua Block, who is a senior staff attorney at the ACLU Lesbian, Gay, Bisexual, and Transgender Project.

In December of 2014, the school board of Gloucester County adopted a bathroom policy requiring students use bathrooms corresponding with their biological sex. A motion for preliminary injunction filed by the ACLU was denied in district court, but that decision was overturned in August of 2016 following a hearing by the U.S. Court of Appeals for the Fourth Circuit. Deady had just begun the discovery process when the U.S. Supreme Court decided to take the case following a petition from the school board. Oral argument will take place in spring 2017.

"It's really been a crash course in appellate practice and procedure for me," says Deady, noting the speed with which the case has moved through the judicial system. "For a case to advance this far in less than two years and to be able to experience all those stages in pretty unique."

Deady says working with the seasoned attorneys from the ACLU as they prepared for argument in the Fourth Circuit was a great learning experience and helped tremendously as she prepared for oral argument in another case before the Virginia Supreme Court earlier this year.

In Luttrell v. Cucco, Deady represented an ex-husband who was suing to have his spousal support agreement modified since his ex-wife was cohabitating with someone, in this case, another woman. A circuit court had concluded that only opposite-sex couples can cohabit in a relationship analogous to marriage, as determined by Virginia statute, and so Mr. Luttrell had no grounds to change the support agreement.

"It was actually a pretty typical ACLU case," says Deady. "We weren't representing the group that is most often discriminated against, but we were pointing out the inequality of the situation."

Deady won the case with a 7-0 decision.

Deady's ACLU fellowship will last three years, after which she hopes to continue working on women's rights and LGBT issues.

"It is humbling and such a privilege to be able to do this kind of work," she says. "You get to do something that makes a real difference in people's lives, and that's not something every lawyer gets to experience."
W&L Law Professor's New Book Examines Small Jurisdictions in Cross-Border Finance

A new book by Washington and Lee law professor Christopher Bruner explores how "offshore" financial markets emerged and rose to prominence.

The 2016 release of the so-called "Panama Papers" detailing the financial holdings of numerous politicians and affluent individuals from around the world, and recurrent news accounts of companies such as Apple reducing their tax liabilities through foreign subsidiaries, have shone a bright light on the mysterious world of "offshore" finance.  Trillions of dollars are now held outside New York, London, and other major-market financial centers, and a handful of small jurisdictions have accordingly become major players in cross-border corporate and financial services.

A new book by Washington and Lee law professor Christopher Bruner explores how these "offshore" financial markets emerged and rose to prominence. Titled Re-Imagining Offshore Finance: Market-Dominant Small Jurisdictions in a Globalizing Financial World, the book is now available from Oxford University Press.

The secrecy and opacity associated with these small jurisdictions have led critics to claim that they profit solely by facilitating money laundering and tax evasion. Others respond, however, that such jurisdictions offer real and legitimate benefits, including specialized expertise and increased competition, as well as financial and regulatory innovations.

Given the controversy, Bruner says the time is ripe for a thorough analysis of these growing markets.

"The nature, legal status, and market roles of small jurisdictions remain under-theorized," says Bruner. "Lacking a sufficiently nuanced framework to describe their functions in cross-border finance – and the peculiar strengths of those achieving global dominance in the marketplace – it remains impossible to evaluate their impacts in a comprehensive manner."

In the book, Bruner advances a new conceptual framework to refine the analysis and proposes a new concept that better captures the characteristics, competitive strategies, and market roles of those achieving global dominance in the marketplace – the "market-dominant small jurisdiction" (MDSJ).  Bruner's account focuses on the central features giving rise to the MDSJs' strengths – some reflecting historical, cultural, and geographic circumstances, while others reflect development strategies responding to those circumstances – and emphasizes their striking ability to bridge major-market economies and financial centers.

Through this lens, Bruner evaluates a range of small jurisdictions that have achieved global dominance in specialized areas of cross-border finance, including Bermuda, Dubai, Singapore, Hong Kong, Switzerland, and Delaware.

"The MDSJs' significance will likely continue to grow," Bruner concludes, "as will the need for a more effective means of theorizing their roles in cross-border finance and the global dynamics generated by their ascendance."

Re-imagining Offshore Finance is now available from Oxford University Press, as well as Amazon and other booksellers.

Praise for Re-Imagining Offshore Finance

"Christopher Bruner's important and timely book convincingly argues that we need to take seriously a handful of small jurisdictions that, for better and worse, have managed to compete for ever-increasing shares of the market for cross-border finance.  Through a careful study of the institutional features of a number of jurisdictions, Bruner identifies a special group, 'market-dominant small jurisdictions,' that have excelled in this competition, and distills the essential factors leading to their success.  This is a major contribution to the literature."

Erin O'Hara O'Connor, Dean and McKenzie Professor of Law,
Florida State University College of Law

"Are tax havens good or bad?  Professor Bruner brings a fresh new perspective to this tantalizingly simple question in his book Re-Imagining Offshore Finance. By engaging an impressively broad scope of literatures and breaking through old, unhelpful labels, Bruner is able to identify fascinating new themes in offshore tax and financial competition. In bringing to light the concept of 'market-dominant small jurisdictions,' Bruner helps move the intellectual debate forward in a truly novel and important way."

Adam Rosenzweig, Vice Dean for Academic Affairs and Professor of Law,
Washington University School of Law

About the Author

Christopher M. Bruner is the William Donald Bain Family Professor of Corporate Law at Washington and Lee University, where he also serves as Director of the Frances Lewis Law Center. His teaching and scholarship focus on corporate law and securities regulation, and he has been a visitor to the law faculties of the University of Cambridge, the University of Hong Kong, the University of Leeds, the University of Sydney, the University of Toronto, the National University of Singapore, and the Southwest University of Political Science and Law (Chongqing, China). He has twice traveled to the Russian Federation at the invitation of the U.S.-Russia Foundation for Economic Advancement and the Rule of Law (USRF) to participate in discussions with commercial court judges and economic ministry officials regarding Russian corporate law reform and potentially useful models from U.S. corporate and securities law.  Bruner received his A.B., M.Phil., and J.D. from the University of Michigan, the University of Oxford, and Harvard Law School, respectively.

Bruner's first book, Corporate Governance in the Common-Law World: The Political Foundations of Shareholder Power (Cambridge University Press, 2013), has been called "a revelation" and "a work of monumental significance and scholarly craft," and has been translated into Chinese (Cambridge University Press & Law Press China, 2016). In the book, Bruner develops a new political theory to explain why shareholders in the U.K. and other common-law jurisdictions are both more powerful and more central to the aims of the corporation than are shareholders in the U.S. He argues that relatively robust social welfare protections in the U.K., Australia and Canada have freed up their corporate legal systems to focus more intently on shareholder interests without giving rise to "political backlash" – because other legal structures accommodate the interests of employees.
W&L Negotiations Team Wins Regionals, Headed to National Championships

The W&L Law team of Thomas Griffin '18L and Stephen Edwards '18L will compete at the ABA National Negotiations Competition in February.

The Washington and Lee School of Law team of Thomas Griffin '18L and Stephen Edwards '18L will compete at the American Bar Association's National Negotiations Competition, to be held in Chicago in February.

The ABA-sponsored competition begins in the fall each year with school-based competitions, followed by regional tournaments. The competition tests students' practical legal skills by emphasizing teamwork and the ability to solve disputes in a negotiation, pre-trial setting.

Griffin and Edwards secured an invitation to Nationals following a first place finish at the regional competition held this month in Baltimore. At regionals, they topped 25 teams across three rounds of negotiations.

At the national competition, the W&L team will face off against teams from law schools spread across the ABA's ten student division regions.

During the negotiations competitions, teams of students acting as lawyers for opposing parties receive confidential information about how they can best represent their clients' interests. The teams work together in a limited time frame to find a compromise that is acceptable to both of their clients.

Negotiation is one of several ABA-sponsored competitions that help students develop the kind of practice skills they will employ as professional attorneys. Other competitions include Appellate Advocacy, Mock Trial, Mediation, and Client Counseling.

For more information about Moot Court at Washington and Lee Law School, please visit http://law.wlu.edu/mootcourt.