Linda Greenhouse to Deliver Annual Tucker Lecture at W&L Law
Renowned journalist Linda Greenhouse will deliver this year's Tucker Lecture at Washington and Lee University School of Law.
The lecture will take place Thursday, Oct. 11 at 4:00 p.m. in the Millhiser Moot Court Room, Sydney Lewis Hall on the campus of Washington and Lee. The title of Greenhouse's talk is "The Supreme Court's Challenge to Civil Society."  This event is free and open to the public.
Greenhouse is currently the Joseph Goldstein Lecturer in Law and Knight Distinguished Journalist in Residence at Yale Law School. She covered the U.S. Supreme Court for The New York Times between 1978 and 2008 and continues to write a biweekly op-ed column on law as a contributing columnist.
Greenhouse received several major journalism awards during her 40-year career at the Times, including the Pulitzer Prize (1998) and the Goldsmith Career Award for Excellence in Journalism from Harvard University's Kennedy School (2004). In 2002, the American Political Science Association gave her its Carey McWilliams Award for "a major journalistic contribution to our understanding of politics."
Her books include a biography of Justice Harry A. Blackmun, "Becoming Justice Blackmun"; "Before Roe v. Wade: Voices That Shaped the Abortion Debate Before the Supreme Court's Ruling" (with Reva B. Siegel); "The U.S. Supreme Court, A Very Short Introduction," published by Oxford University Press in 2012; and "The Burger Court and the Rise of the Judicial Right," with Michael J. Graetz, published in 2016. Her latest book is "Just a Journalist: Reflections on the Press, Life, and the Spaces Between," published by Harvard University Press in 2017.
Greenhouse is president of the American Philosophical Society, the country's oldest learned society, which in 2005 awarded her its Henry Allen Moe Prize for writing in jurisprudence and the humanities. She also serves on the council of the American Academy of Arts and Sciences, the national Senate of Phi Beta Kappa, and is one of two non-lawyer honorary members elected to the American Law Institute, which in 2002 awarded her its Henry J. Friendly Medal.
She is a 1968 graduate of Radcliffe College (Harvard) and earned a Master of Studies in Law degree from Yale Law School (1978), which she attended on a Ford Foundation fellowship.
The Tucker Lecture at Washington and Lee School of Law was first established by the W&L Board of Trustees in 1949 to mark the bicentennial of the University and the centennial of the Law School. It was named after John Randolph Tucker, hired in 1870 as the second teacher in legal education and named the first dean of the Washington and Law University School of Law in 1893.
Charles Grant '91L Named Board President of Tennessee Legal Aid Society
Legal Aid Society of Middle Tennessee and the Cumberlands, the state's largest nonprofit law firm, has appointed Charles K. Grant as its new board president. Grant is a 1991 graduate of Washington and Lee School of Law and a member of the Law Council.
Grant previously served as vice president of the board, and his term as president will last through 2020.
Grant is a shareholder at Baker, Donelson, and a member of its board of directors. His practice focuses on complex employment litigation, including FLSA collective actions, general business litigation and representation of licensed professionals before licensing boards. A prominent lawyer and veteran litigator, Grant has tried more than 50 jury trials to verdict in federal and state courts and represented clients in mediation and arbitration proceedings.
Grant is a past president of the Nashville Bar Association and has been the recipient of several prestigious awards, including the Napier-Looby Bar Foundation's Trailblazer and A.A. Birch Outstanding Public Service awards, the Nashville Bar Association's Pro Bono Lawyer of the Year Award, the Tennessee Bar Association's Harris Gilbert Pro Bono Award and the ACLU of Tennessee's Bruce Kramer Cooperating Attorney Award.
Grant has been listed in Mid-South Super Lawyers every year since 2006 in the area of Employment Litigation Defense, in The Best Lawyers In America in the areas of Employment Law – Litigation and Employment Law – Management every year since 2014, and in the Nashville Business Journal's "Best of the Bar" six times, most recently in 2018.
Covering 48 counties in the state, Legal Aid Society of Middle Tennessee and the Cumberlands advocates for fairness and justice under the law. The nonprofit law firm offers free civil legal representation and educational programs to help people in its region receive justice, protect their well-being and support opportunities to overcome poverty.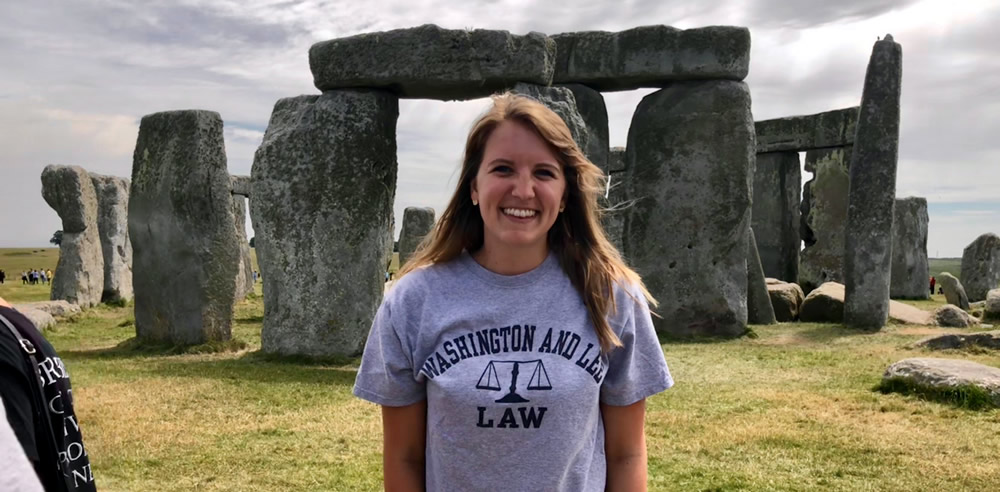 Finding Your Path Kristen Mynes '19L spent her summer in Germany with Jones Day, getting a new perspective on the law and her career plans.
Kristen L. Mynes is a Washington and Lee third-year law student. Kristen spent her summer abroad in Frankfurt, Germany. As a centrally located city, Frankfurt allowed Kristen to travel and take her W&L gear on many adventures across Europe.
This summer, I worked for Jones Day in Frankfurt, Germany. Jones Day partners with the German Law Journal at W&L Law each year to host the Transatlantic Seminar, which brings together German and American students at their Frankfurt office. As a member of the German Law Journal, I had the opportunity to partake in the Transatlantic Seminar during my spring break this year, and I was happy to return to work with the firm for the summer.
At Jones Day, I worked on projects from both the Banking, Finance & Securities practice and the Mergers & Acquisitions practice. I had never worked for a law firm before and found this experience valuable to improve my versatility as a law student. Since I truly enjoyed my contracts class during my first year, this let me exercise those skills and use them in a work environment.
I joined Jones Day without having taken many (read: any) business law courses. I prepared for the job by reading a couple "in a nutshell" books and borrowing outlines. Fortunately, my supervisors were helpful and made a point to teach me how to write documents, what certain terms meant, and how the relationships between businesses operated. I learned about a new sector of the law and tried to gain as much knowledge as possible while I was there.
Undoubtedly, the best part of my summer was my ability to travel across Europe. I spent long hours at the firm during the week but reserved my weekends for travel. Beyond that, I truly enjoyed looking at the law from a new perspective. Although I worked on international law, the Germans approach the law differently than American lawyers—and law students—do. Working in a different legal system and with lawyers who were trained differently than me was incredibly valuable because it encouraged me to evaluate legal problems in a new way going forward. The Germans are very formulaic and scientific as it regards the law, so I have tried to incorporate that into my legal analysis.
Finally, although I enjoyed my time abroad and with Jones Day, I now know that I am not cut out for transactional work. I know I want to be in the courtroom and litigating, so I am now pursuing career opportunities that reflect this interest. I will begin litigating while working with the U.S. Attorney's Office and the Veterans Practicum during this school year. I have tailored my schedule to reflect this interest otherwise as well—adding classes such as appellate advocacy and electronic discovery. I am looking forward to finishing my last year at W&L while I explore my interests and see what my next step in my career will be.
Two Law Alumni Named 2018 Leaders in the Law
Channing J. Martin, an attorney with Williams Mullen, and Marie Washington, from the Law Office of Marie Washington, have been named to the 2018 class of Leaders in the Law by Virginia Lawyers Weekly.
Martin, a 1975 graduate of the College and 1979 graduate of the School of Law, is a partner in the Richmond office of Williams Mullen and chair of the Environment and Natural Resources Group. He counsels clients on a wide variety of environmental issues and represents them before regulatory agencies and courts on such matters as the Clean Air and Water Acts, CERCLA, RCRA, Brownfields redevelopment and wetlands.
Martin is listed in The Best Lawyers in America (2007-present) and was named the Best Lawyers 2013 Richmond "Environmental Lawyer of the Year."  He has been recognized by Chambers USA as a leading environmental attorney in the United States since 2004. Active in community affairs, Martin is a former chair of the board of United Way of Greater Richmond and Petersburg and was the campaign chair of the 2004 United Way campaign.
At her Warrenton, Virginia law practice, Washington represents clients in a wide array of matters, including contracts, business, criminal violations, domestic relations and estate planning. She is an active member of the Virginia State Bar, the Virginia Women Attorneys Association, Virginia Association of Criminal Defense Lawyers, the Northern Virginia Black Attorneys Association, and the Fauquier & Prince William County Bar Associations. Washington served on the Virginia State Bar Mandatory Continuing Legal Education Board from 2011 to 2014. She currently serves on the Board of Governors for the Litigation Section of the Virginia State Bar.
Washington is an active community volunteer and has served on the board for Fauquier Faith Partners, Inc., Salvation Army, Warrenton United Methodist Church, and Boys and Girls Club of Fauquier County. She currently serves on the Board of Directors for the Fauquier Health Senior Living and on the advisory Board for the Mental Health Association of Fauquier County. She also received a distinguished service award in 2010 at the Young Lawyers Conference of the Virginia State Bar for developing a CLE and for her charitable work of organizing the No Bills Night and Wills for Heroes program for her local community.
Leaders in Law recognizes those across the commonwealth who are setting the standard for other lawyers in Virginia. The honorees are chosen for their outstanding contributions to the practice of law in Virginia, significant achievements through the practice of law, leadership in improving the justice system and important contributions to Virginia's legal community and/or the community at large.
Virginia Lawyers Weekly is the commonwealth's top source of legal information for practicing attorneys, providing a traditional weekly newspaper as well as online news. The newspaper reports all decisions issued by the Supreme Court of Virginia, the Virginia Court of Appeals and the 4th U.S. Circuit Court of Appeals. News coverage highlights developments in case law, changes to court rules, verdict and settlement reports, bar-discipline notices and all other news vital to Virginia lawyers.
Success at the Firm As a summer associate with Epstein Becker & Green in New York City, John Milani '20L learned how to manage expectations in a fast-paced corporate law environment.
John Milani is a second year law student from Armonk, New York. He graduated from Cornell University in 2017 with a degree in Industrial and Labor Relations. At W&L, John is a Kirgis Fellow, a Sports Czar, and an executive board member for Phi Alpha Delta.
What did you do for work this summer?
This summer, I was a summer associate at Epstein Becker & Green, PC in New York City. During the ten-week program, I gained exposure to corporate labor and employment and health care matters with four other summer associates.
Describe your work experience.
Though I was assigned to the labor and employment group, I worked primarily with attorneys in both that group and the health care group. I researched labor and employment case law to assist senior attorneys in pending matters. Some of the issues I researched were health care insurance discrimination policies, the legalization of marijuana in Massachusetts and employer drug testing policies, and updates to local 2018 minimum wage rates. I also researched and co-authored several blog posts and articles for the firm's publications.
The firm did a fantastic job of providing us with varied work and helping us meet attorneys in both practice groups—as such, I learned a lot about health care work, too. I was able to see how my contributions to a project impacted the advice and strategy developed by the other attorneys with whom I worked on the project.
My summer culminated in the opportunity to participate in the cross-examination of a key witness in a FINRA arbitration for which the attorneys had been preparing for months.
What were some skills you developed this summer?
This summer, I gained valuable insight into how law firms operate, how to succeed in a fast-paced, corporate environment, and how to manage the expectations of other attorneys, both at the associate and partner level, as a junior associate.
I honed the skills in research and writing I learned as a 1L to draft memoranda and synthesize hours of research into a cohesive work product. I also developed organizational and communication skills which allowed me to meet deadlines and communicate promptly with assigning attorneys about my work. These skills and tips will be invaluable as I progress in my legal career.
What classes or experiences were useful in preparing you for the summer work?
Although all of my courses 1L year served me well, I found administrative law and professional responsibility to be most substantively useful. First, having learned the basics of the administrative process, rulemaking, and the role of federal agencies, I felt prepared to track and understand developing laws, a task instrumental in both employment and health care work.
Second, professional responsibility taught me the fundamentals of law firm administration. Simple things like billing hours and checking for conflicts of interest came naturally to me having learned their true importance in school. I was pleased that I was able to then see how these principles applied in a practice.
What surprised you about the work you did this summer?
What most surprised me about my work this summer was the responsibility I had as a first year. Working with senior and junior attorneys alike on client deliverables, I truly contributed to the firm's work product. I think this is a unique and valuable experience to have as a 1L, especially because it put into perspective for me the opportunities and challenges associated with working in a legal environment.
What was your favorite aspect of this summer work experience?
The favorite part of my summer was working with the other EBG attorneys. They were friendly, supportive, and interested in my professional development. I felt comfortable walking into attorneys' offices, both senior and junior, to clarify assignments and inquire about their practice areas, challenges they face, and their careers. Their perspectives are invaluable for me going forward in shaping my career path.
Has this experience helped you figure out post graduate plans, and if so, how?
Working at EBG confirmed my interest in working at a corporate firm. I plan to pursue a position in corporate labor and employment and health care law next summer and beyond
How do you think this experience will shape the rest of your time at W&L Law?
My experience has inspired me to pursue coursework in labor and employment and health care law, as well as the moot court competition. I also plan to pursue more transactional coursework like negotiations to understand better the other side of corporate legal practice.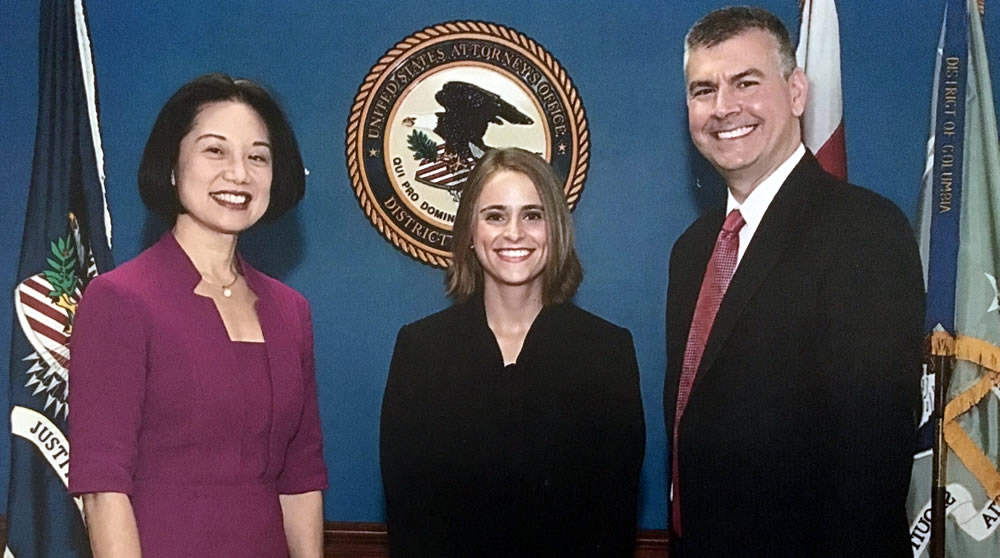 One Profession, Many Jobs Blair Barker '20L split her summer between a small firm in Chattanooga and the U.S. Attorney's Office in D.C.
Blair Barker grew up in Chattanooga, Tennessee. She attended Jacksonville State University where she majored in Criminal Justice and played on the soccer team. At W&L Law, she is Vice President and Treasurer of PILSA.
What did you do for work this summer?
For the first month of summer, I clerked for a small disability law firm. For the remainder of my summer, I interned for the U.S. Attorney's Office in D.C. in the Felony Major Crimes Division.
How did you find/get this position?
I received the firm job from an alumnus that lives in my hometown. He heard that someone from Chattanooga went to W&L Law and asked me to reach out to him. I mass applied to U.S. Attorney's offices and District Attorney's offices in all of the cities in which I potentially wanted to live. I came across the D.C. office application online and submitted my materials.
Describe your work experience.
I worked in two very different environments this summer. During my time at the firm, I was essentially assigned one major research assignment by one of the partners. The assignment started out small, but kept expanding. I wrote a memo about what I found at the end of the summer for the partner to potentially use in an article.
During my time at the U.S. Attorney's office, I was able to work directly with the attorneys on cases. I watched officer body cam footage of defendant's arrests, listened to jail calls, prepared memos to be used in trial, researched statutes, and wrote a few motions that were filed in court. I had the opportunity to observe trials from motion hearings all the way to closing statements.
What were some skills you developed this summer?
My research skills developed the most over the course of the summer. I became more efficient at finding the answer I needed throughout the summer. My legal writing improved as well. I think by observing how the attorney's conducted themselves and having to communicate with them, I became more effective at communicating like a lawyer.
What classes or experiences were useful in preparing you for the summer work?
Legal research and legal writing were by far the most useful for me this summer. I also used what I learned in Administrative Law during my time at the small law firm. Criminal Law was the most useful during my time at the U.S. Attorney's Office.
What surprised you about the work you did this summer?
I was surprised at how much preparation is required to get a case ready for trial. I was also surprised at how much trust the attorney's placed in the interns in finding the answer to their research question or addressing all of the arguments defense counsel made in motions.
What was your favorite aspect of this summer work experience?
My favorite aspect of this summer was being able to go to court to watch anything from day to day hearings to trials. I also enjoyed being able to observe a civil trial and compare it to a criminal trial.
Has this experience helped you figure out post graduate plans, and if so, how?
This summer exposed to two very different types of work. Being afforded the opportunity to work in two different environments affirmed what I do and do not want to do.
Three W&L Law Alumni Make Listing of Most Influential Black Lawyers
Three graduates of Washington and Lee University School of Law have been named to Savoy Magazine's list of Most Influential Black Lawyers of 2018. Kevin Clunis and Ashley Taylor, both members of the Law Class of 1993 appear on the list, as does James Williams, from the Law Class of 1998.
According to the publication, which "drives positive dialogue on and about black culture," the listing showcases African-American men and women who have been recognized for their legal leadership and expertise in national and global-leading corporations.
Clunis is Group Vice President of Legal and Compliance at Ross Stores, Inc., where he leads a team of attorneys and compliance professionals and oversees a broad mandate of legal matters. Prior to Ross, Clunis served in senior legal roles at the Colgate-Palmolive Company and American Airlines. He also served as a trial attorney with the City of Chicago's Law Department and started his legal career a criminal prosecutor. He served as Board Member of the Association of Corporate Counsel – Greater New York Chapter, an Advisory Board Member of Legal Outreach and a member of the New York City Bar Diversity Committee.
Taylor is a Partner in the Consumer Financial Services practice at Troutman Sanders. His primary focus is on federal and state government regulatory and enforcement matters involving state Attorneys General, the Consumer Financial Protection Bureau and the Federal Trade Commission. He serves as a member of the firm's Executive Committee and Partner Compensation Committee. Drawing upon his experience as a Deputy Attorney General for the State of Virginia, Taylor has developed an extensive consumer practice with regard to the consumer financial services industry, including advising debt buyers, debt collectors, payment processors, credit reporting agencies, and auto finance companies on regulatory and compliance issues.
Williams is a Partner at Chehardy Sherman Williams, where he leads a trial team that implants with existing legal counsel to give clients undeniable firepower in jury trials. Having litigated cases in 15 different states and Milan, Italy, Williams has consistently won significant jury trials for defendants in America's most liberal venues and for plaintiffs in America's most conservative venues. His national accolades include being named Top 100 High Stakes Litigators, Nation's Top One Percent, Super Lawyers, Top 100 Trial Lawyers, Top Trial Lawyers in America, and Bet-the-Company Litigators. Williams represented Louisiana Supreme Court Justice Bernette Johnson against the State of Louisiana, which attempted to block her ascension to Chief Justice. He argued and won her case in United States District Court, making her Louisiana's first African-American Chief Justice.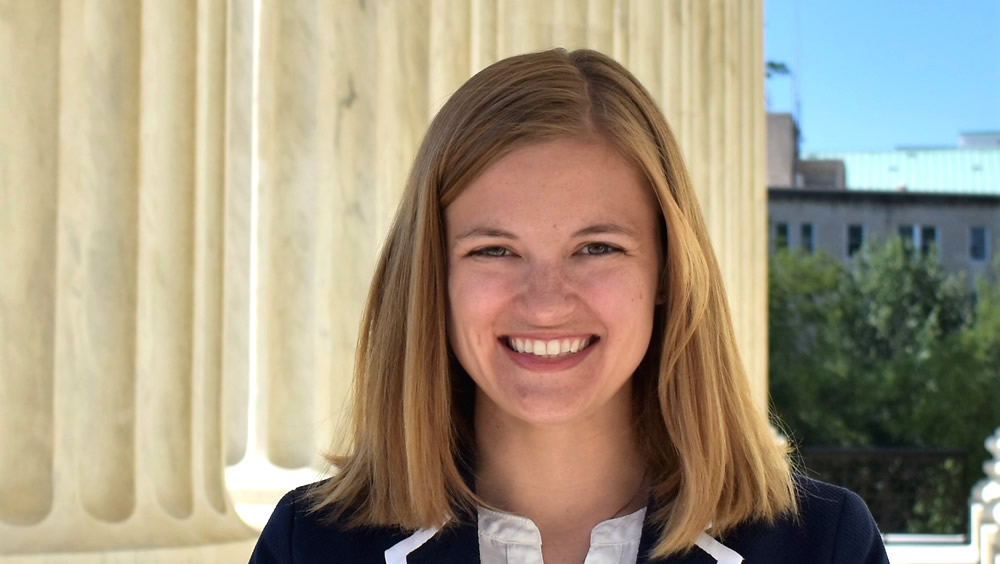 Access to Education Carrie Macon '20L worked with the Guardian ad Litem education team at the Children's Law Center in Washington, DC this summer.
Carrie Macon is a second-year law student from Murfreesboro, Tennessee. She graduated from the University of Tennessee-Knoxville in 2011 with a degree in Political Science. Prior to law school, she taught fifth grade in Nashville and Johnson City, Tennessee. At W&L Law, she is a staff writer for the Washington and Lee Law Review and a board member for the American Constitution Society.
What did you do for work this summer?
I worked as a summer law clerk for the Children's Law Center (CLC) in Washington, D.C. I specifically worked with CLC's Guardian ad Litem education team.
How did you find/get this position?
As a former teacher, I knew I wanted to do something related to education law during my first summer.  I attended the Equal Justice Works Job Fair and Conference in October, and while the Children's Law Center did not participate, attending the fair made me realize that I wanted to work in D.C.  I then found the CLC by searching for education law organizations in D.C.  When I saw that one of CLC's goals is to ensure that all D.C. children have access to quality education, I knew wanted to apply.
Describe your work experience.
My summer experience gave me the opportunity to learn about a variety of different issues D.C. families face.  Throughout the summer, I researched issues related to home-hospital instruction, the Individuals with Disabilities Act's stay-put provision, and special education transportation.  I had the opportunity to accompany attorneys to home visits, school meetings, and hearings.  Additionally, CLC hosted several trainings so that the summer clerks could learn about other pertinent topics, like D.C. housing issues and the D.C. foster care system.
What were some skills you developed this summer?
In addition to the trainings on D.C. legal issues, I participated in several trial skills trainings.  I was able to attend a D.C. Family Court training on exceptions to hearsay, and CLC's own trainings allowed us clerks to develop theories and themes of cases, write mock openings and closings, and develop mock direct and cross examination questions.  The trial skills trainings culminated in a full-day neglect trial simulation at the end of the summer.  These experiences allowed me to start to develop litigation skills.
What classes or experiences were useful in preparing you for the summer work?
Legal research and legal writing were most useful in preparing me for the summer.  I referenced my legal writing books and legal research class notes on several occasions throughout my time at CLC.  It was also helpful to have exposure to administrative law because CLC's work intersects with state agencies.
What surprised you about the work you did this summer?
I was most surprised by how dynamic direct representation can be.  Each day brought new challenges.  Within one day, I could work on research tasks, attend office or court trainings, help locate resources for clients and attorneys, reach out to clients to set up school visits, and attend school meetings.
What was your favorite aspect of this summer work experience?
My favorite aspect of this summer was that I had many opportunities to get out of the office and interact with clients.  I loved observing court hearings, school meetings, and accompanying my supervising attorney on home visits.  This allowed me to understand how my work impacted clients' lives.
Has this experience helped you figure out post graduate plans, and if so, how?
I'm still not certain what type of law I want to practice post-graduation. However, my experience did help confirm that I want to advocate for marginalized populations in some capacity.
How do you think this experience will shape the rest of your time at W&L Law?
My experience at CLC exposed me to evidence topics and trial skills that will help me in my 2L and 3L classes.  I had the privilege of observing several attorneys in different advocacy settings.  As someone who was hesitant about litigation entering law school, my summer experience has caused me to become more interested in litigation related classes.
Ethics at the Pentagon David Thompson '19L spent the summer at the Standards of Conduct Office, the senior ethics office for the Department of Defense.
J David Thompson is a 3L at Washington and Lee School of Law. He received his BS in Economics and MBA from Liberty University. Before coming to law school, David served in the U.S. Army. At W&L, he's volunteered with Washington & Lee Veterans Advocates (WLVA) and Women's Law Student Organization (WLSO). Separately, he is Co-Director of Service to School JD Operations, a Leader with Veterans for American Ideals, and a 2016 Veterans in Global Leadership Fellow. Connect with David at www.jdavidthompson.com.
What first attracted you to W&L Law?
One of the things that drew me to W&L was the focus on international law and the opportunities, while still a student, to work with faculty to make a global impact. This proved itself to be true time and time again.
Additionally, before coming to W&L I worked in the Hashemite Kingdom of Jordan.  While in Za'atari Refugee Camp, I noticed how early childhood marriage impacted women's education. A friend that I previously served with in the Army was a current student at W&L, Nick Ramos ('18L). He gave me advice on transitioning from the military to law school and recommended that I consider W&L. That night, after working in the refugee camp, I reviewed the courses and faculty at W&L. I noticed a report from Dean Bond's Human Rights Clinic titled Early Childhood Marriage and the Affect on Women's Education in Tanzania. I read the report that evening, finding that the situation was largely analogous to what we faced in Jordan for Syrian refugees. I distributed the report to the working group the next day, and we used that report as a baseline for future efforts. W&L provided benefit to me before I even applied.
What did you do this summer? How did you find/get this position?
I interned at the Office of the General Counsel (OGC), Office of the Secretary of Defense (OSD). This office is at the Pentagon, outside of Washington D.C. Particularly, I interned in the Standards of Conduct Office (SOCO), which is the senior ethics office for the Department of Defense (DoD). I found the position on USAJobs.gov.
Describe your work experience.
First, I worked in the Pentagon, which is humbling and inspiring. Being central to so many important decisions facing the world is an incredible experience. The work done by OGC has real world, operational consequences. Assisting people in decisions and legal analysis that affect so many lives is sobering. I never lost the awe of walking into the building and through the 17 miles of corridors.
Second, my office was between the offices of Secretary Mattis and the Secretary of the Army. On several occasions I ran into General Dunford (Chairman of the Joint Chiefs of Staff) at the Pentagon Gym. Having Active Army experience and serving in the Army Reserves, it is quite an experience to interact with so many Senior Executive Service (SES) and General Officers. Having the opportunity to interact with people that devoted so much of their lives to public service and the country while rising to the highest levels in the Department is an experience I probably would not have had otherwise.
What classes or experiences were useful in preparing you for the summer work?
The Office of the General Counsel for DoD is quite large, to say the least. Given the portfolio of things coming before OSD, I used a little bit from an array of classes—everything from Contracts to Mass Atrocities. Professional Responsibility proved to be one of the most beneficial classes for working in the SOCO. Administrative Law proved to be another valuable class. Through the International Criminal Tribunal, I received a small glimpse into some of the litigation work by DoD.
What was your favorite aspect of this summer work experience?
Even though I had 10 years of military experience before the internship, the breadth of issues coming before OSD shocked me. In addition to the Department's main mission, it also has hospitals, schools, family programs, and more. OGC has attorneys for all of these issues—from personnel and employment, healthcare, litigation, legislative, international, intelligence, standards of conduct, and more. The first issue I received revolved around a program to assist families with handicapped children. This was a surprise as it was not something I expected to handle when applying to the internship. Of course, it is an important issue, and I want to assist service members and their families. The range of issues I handled only grew more diverse from the start. It was incredible to be able to work on such a broad array of issues from one organization.
Additionally, I worked with some of the smartest and kindest people in the government. Secretary Mattis (DoD) takes a strong ethical stance—what he refers to as the "ethical midfield." As such, SOCO sees nearly everything that comes before the Secretary. In addition to working for one of the best Directors in the Department and a strong team, I engaged with leaders all across DoD. Everyone from Policy to Acquisitions wants to ensure they comply with the Secretary's guidance. As such, they seek out SOCO to ensure DoD is above reproach on standards of conduct. The level of access this internship enabled is well beyond what I think most internships offer.
What would you say for someone looking to intern with DoD?
Do it—especially if you're interested in working for the government. Even if someone does not want to work in DoD on traditional military type stuff, the level of access that this internship provides is amazing. In addition to everyone you meet working at the Pentagon, I met with the House Armed Service Committee, House Office of Legal Counsel, White House Situation Room, White House General Counsel, White House Military Office, and others. Even if a person does not want to handle the traditional military type work, there are lawyers that handle all the aforementioned areas.
Working at OGC, OSD enables one to contribute to public service while still a law student. The impact you get to have on issues of national and transnational importance is unparalleled. Further, this internship puts you in the GS system and provides a security clearance, which assists for employment with other government agencies. I really cannot recommend this internship enough.
How do you think this experience will shape the rest of your time at W&L Law?
Beyond my last year at W&L, I think the experience of working at OGC, OSD will, to varying extents, shape my personal and professional life. First, I made friends and colleagues with other incredible interns and employees at DoD. I am truly grateful and a better person for having met and worked for them. Second, the leadership lessons and commitment to service is something that I always appreciate. Third, the incredible support by Secretary Mattis for ethical leadership and recognition that public service is a sacred trust between me and people that will never meet me is something that cannot be understated. This work reconfirmed that I need work that is impactful and meaningful. I am a values-driven person, and working in an organization with shared values enables both the organization and me to thrive.
A View of the Court Kate Murphy '20L spent her summer on both sides of the bench, working for the Supreme Court of Virginia and the U.S. Attorney's Office.
Kate Murphy is a second year law student from Richmond, Virginia. She graduated in 2016 from the University of Virginia with a degree in History and Government. She spent a year between undergrad and law school working as a paralegal at the Department of Justice in Washington DC. At W&L Law, she is Co-President of the Pro Bono Board, a staffwriter for the Journal of Civil Rights and Social Justice, and a member of the Women in Law Society.
What did you do for work this summer?
This summer, I split my time between the Supreme Court of Virginia and the U.S. Attorney's Office in Newport News. I spent May and June in the Chief Staff Attorney's Office in the Supreme Court and July at the U.S. Attorney's Office.
How did you find this position?
I got both of these positions from GPIIP, the government interview program in February. I also talked to older W&L students who had worked there in the past to learn more about the positions and the interview process.
Describe your work experience.
At the Supreme Court, the majority of my work was reviewing criminal petitions for appeal and drafting memoranda explaining why the court should or should not hear the cases. I would read through the transcripts from the lower court to summarize the relevant facts, summarize each side's argument, the relevant law, and my suggestion as to whether the case had merit to be heard. The final result was that the justices only had to read my four page summary of the case rather than hundreds of pages of transcripts and briefs. While at the Court, I also got to hear oral arguments and writ panels, conduct research into actual innocence DNA preservation, meet the Justices, and learn more about Virginia's appellate system.
At the U.S. Attorney's Office, I conducted legal research for pending cases and drafted motions and responses to the court. I also got to prepare witnesses and exhibits for a trial and spend a lot of time in the district court with various pre- and post-trial hearings. The majority of my work focused on drug related charges, but I also got exposure to white collar crime and gang cases.
What were some skills you developed this summer?
The Supreme Court was incredible for improving my writing skills. Trying to condense hundreds of pages of material into a couple pages was daunting at times, but my mentor gave me detailed feedback which helped me write concise and eloquent memos.
The U.S. Attorney's Office also greatly helped my legal research skills. The attorneys frequently needed information about complex and developing areas of law, so I had to work efficiently to find cases with similar fact patterns to support their arguments. A lot of my time was spent researching the Fourth Circuit and then putting the information I found into drafts of motions or memos explaining the law to the attorneys.
What classes or experiences were useful in preparing you for the summer work?
In both internships, I was working on criminal cases so criminal law was incredibly beneficial. Legal research and writing were also essential to both of the internships as the majority of my work was research and writing based. However all of my classes were useful while listening to the oral arguments in the Supreme Court, because the June session had cases that touched on property, contracts, professional responsibility, criminal law, administrative law, and civil procedure. It was incredible to see topics we had discussed in class come to life in the oral arguments.
What surprised you about the work you did this summer?
I was definitely surprised by how much I had learned in one year of law school and how much it related to the work I did this summer. I was a little unsure of how easily the skills I learned as a 1L would transfer to a work environment but was happy to see that I could handle the work and had learned much more than I had realized in a year. While my work delved into more complicated material than I had seen in school and classes I had not yet taken, such as constitutional law and criminal procedure, I was able to use the foundations I had learned in school to research these areas and find the answers I needed.
What was your favorite aspect of this summer work experience?
At the Supreme Court, I loved getting to know the Justices. All of the Justices that live in the Richmond area took the time to meet the interns over lunch or dessert. It was amazing to get to know more about their careers, and they all gave thoughtful advice for our futures. I also loved getting to present one of my cases orally to Justices Mims and McCullough. It was a great experience to work on my oral advocacy in front of two distinguished justices–especially when they agreed with my analysis of the case!
My favorite part of the U.S. Attorney's Office was getting to spend the majority of my time in court. I got the opportunity to see everything from a guilty plea, misdemeanor docket, arrangement, and sentencing. I loved getting to know more about the federal system and see the behind the scenes work that goes into the cases. The best part was getting to discuss what I had just seen with the attorneys and get their insight into the cases.
Has this experience helped you figure out post graduate plans, and if so, how?
This summer definitely confirmed that I enjoy litigation and would like to continue into that field. I was interested in litigation before law school, but getting to see it from a variety of scenarios confirmed that it would be a great path for me. I'm still interested in exploring more transactional work, but I am glad to know how much I enjoy litigation and practicing in Virginia.
How do you think this experience will shape the rest of your time at W&L Law?
This summer definitely showed me the importance of clear writing and oral advocacy and how it can determine the fate of a case. I am looking forward to more chances to improve my writing at W&L by taking writing seminars and writing a note and improving my oral advocacy through the various competitions in the fall.