Gaining Work and Life Experience in Sydney Soon Ho spends his days in Australia studying at the University of Sydney and interning at Greencross Limited, Australia's largest pet care company.
Now that I have been living in Sydney for almost two months, I am happier than ever before! Just imagine, every day you wake up in the morning with sunshine gently touching your face, and head to a lecture with a fresh iced long black (equivalent to black coffee in America) in your hand. After my classes, I usually go to Broadway Mall, located about eight minutes away from the campus, and have a good meal from Din Tai Fung, one of the best Taiwanese's chain restaurants in the world, Istanbul that sells gourmet Turkey food, or other restaurants. Of course one must try one of the most "Sydney-ish" dishes, fish and chips!
If I were to choose my favorite Aussie dish, it would be fish and chips with calamari as an appetizer. I was amazed by the high quality of seafood Sydney provides. They use fresh fish and squid and I am not sure whether this is an Australian thing or not, but they indeed use fresh ingredients in whatever they serve in restaurants! I am a food enthusiast and I am enjoying every meal here in Sydney.
The Sydney Internship and Study Abroad Program (SISAP) allows every student to experience an internship while receiving an education at the University of Sydney. I am currently interning as a financial analyst at a company called Greencross Limited, the largest pet care company in both Australia and New Zealand. I am truly enjoying my internship experience so far because I learn something new every day, which makes me look forward to going to work.
I work every Thursday and Friday. There is not a strict dress code, but I usually wear a suit and tie. On the way to work, I drop by the coffee shop close to the subway station and line up with tons of other people who are also getting an iced long black. I then ride a train packed with people going into the city.
I remember my very first day of my internship at Greencross Limited. My advisor, who is the head of financial planning and analysis, welcomed me and showed me around the company. I was introduced to all the teams in the company such as marketing, products and sales, human resources, finance, accounting, and others. Learning about the different teams was helpful to understand how the company operates. My supervisor then asked me, "I have a meeting in 5 minutes, and I heard that it will be something about new investment. Do you want to come?" Without any hesitation, I replied, "Yes."
Four directors and one consultant were already in the conference room to discuss an investment opportunity on a starting project. I was very frightened once I stepped into the room, as I had never experienced anything similar to this before. They eased the atmosphere of the meeting as I was asked to introduce myself. After the meeting, my supervisor asked me what I thought about the meeting and I honestly answered that it was really interesting, but at the same time was very confusing. He paused for a moment and informed me that I would be working on this project from now on. Since then, I have assisted him in investment forecasting. While I learn something new every day at work, I have also utilized all the knowledge that I learned from school. I actually emailed one of my W&L professors because I was so thankful to be taught all the useful materials that can be applied to a real-life situation. From this internship, I realize how fortunate I have been to receive a great education at W&L and have decided not to waste any of the experiences that I am gaining in Sydney.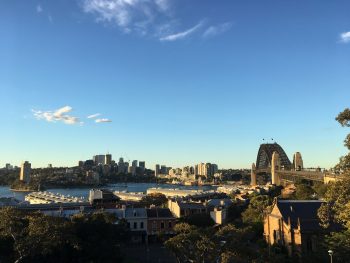 If I had to choose my most memorable experience during my college years, without a doubt I would say studying abroad in Sydney. I have really enjoyed my time here and I am at a point where I am feeling a mixture of sadness and excitement because I know this time will end in a couple of months. I encourage other students to apply to this program, and I can promise that it will be one of the best decisions they make in their college career.
If you know any W&L students who would be great profile subjects, tell us about them! Nominate them for a web profile.
About Soon Ho
Major: Accounting and Business Administration
Hometown: Suwon, South Korea