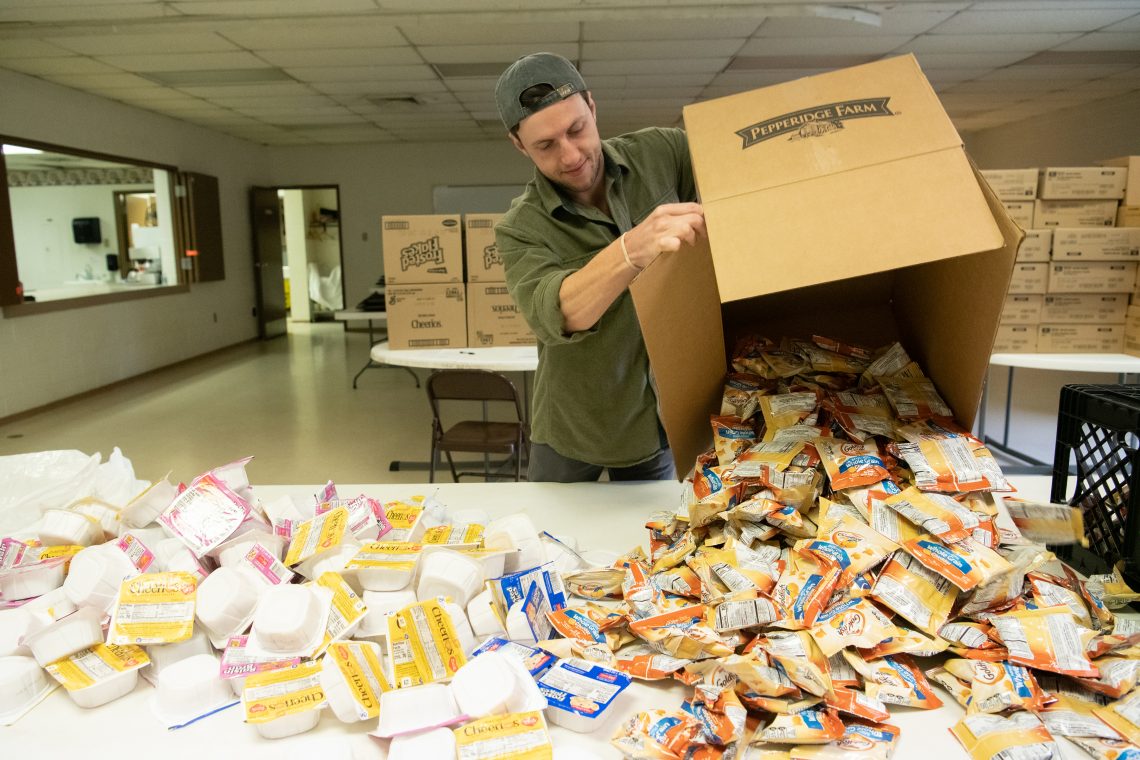 Stepping Up to Help Out During the COVID-19 pandemic, members of the Washington and Lee University community are finding ways to lend a hand with community relief efforts.
"The entire W&L community is stepping up. It is a small town, so I think people are eager to find a way to serve the community in any way they can."

~ Jen Handy, Rockbridge Area Relief Association
Most of the campus is eerily empty as a result of the COVID-19 crisis, but members of the Washington and Lee University family have been working behind the scenes to make snack packs for the Campus Kitchen Backpack Program, donate excess food from Dining Services, deliver senior food boxes for the Rockbridge Area Relief Association (RARA), and find other ways to help support members of the local community.
"The entire W&L community is stepping up," said RARA Executive Director Jen Handy. "It is a small town, so I think people are eager to find a way to serve the community in any way they can."
The long-term closure of Virginia public schools means that more children need food than ever before, and because millions of Americans are out of work, families need help stocking their cupboards. Ryan Brink '18 (pictured above headline), coordinator of the Campus Kitchen at W&L (CKWL), responded by adapting both the Backpack Program and the Food Pantry.
The Backpack Program, which supplies children with backpacks full of snacks every weekend, usually serves kids in preschool and elementary school who qualify for free or reduced-price meals. Brink revamped that program to serve any student who receives meals at school, and he expanded eligibility to any student under the age of 18.
As a result of those changes, the Backpack Program, which usually serves about 775 per week, is now serving about 1,300 students. "I expect that number to keep growing as the economic impact continues," Brink said.
Most of the CKWL budget goes to purchasing food for the backpacks, such as single-serving cereal portions, packages of instant oatmeal, peanut butter crackers, whole wheat goldfish crackers and applesauce. Because of increased demand, Brink said, they have limited items to five per bag instead of the usual six, but he hopes to secure emergency grant funding that would allow them to increase the quantity and quality of food.
In the absence of W&L students, CKWL is down to a small but essential group of volunteers who meet in small groups in the Community Table space to form an assembly line and stuff the backpacks each week. The packs are distributed every Friday.
"It's been a really positive response from the community in terms of people's willingness to help and show up where they are needed," Brink said. "It is really positive and impactful, and I hope that continues."
Staff in Dining Services at W&L have reached out to help both CKWL and RARA by identifying and donating food that would otherwise go to waste without the student body there to eat it. Dining Services usually serves about 3,000 meals per day to students and had ordered accordingly prior to the campus closing.
Woody Harris, a cook in the Marketplace who volunteers in the community, said that over 10 days in March, Dining Services donated 136 pounds of cheese, 150 gallons of milk, more than 150 loaves of bread, and many cases of fresh produce to CKWL, RARA and Project Horizon.
"We're really trying to help people get as much fresh food as they can in their hands," Harris said.
He said it helps that W&L is keeping employees on the payroll during the pandemic even though some only have enough work to do one shift per week. He has used his extra time to serve as a liaison between Dining Services and the local relief organizations. "I'd rather get sick doing something like this than sitting at home," he said.
Harris said the next step will be an inventory of the deep freezers in Evans Hall and the Marketplace to identify other items that can be donated. "It might be flash-frozen produce, but that is just as good as fresh," he said.
The food pantries run by CKWL and RARA have seen an extraordinary increase in demand over the past several weeks. Those pantries usually allow folks to shop the shelves because, as Handy said, there is dignity in choosing your own food. To maintain social distancing requirements, those pantries have switched to a drive-through model, with groceries ordered in advance and then delivered to the customer's car. For the first week after switching to a drive-through model, Handy said, RARA distributed about 10 tons of food. "We had 70 cars on one Wednesday alone."
Handy and Brink, who are both members of the Rockbridge Hunger Coalition, coordinated the transition to drive-through services. The two have also worked together to disseminate information about food assistance for all of the relevant organizations. "We have been strategizing almost constantly since this started," Handy said, "and it is a wonderful collaboration."
RARA usually depends on some W&L students to volunteer, but since students have been sent home and retired volunteers need to stay home to stay well, W&L faculty, staff and law students have stepped up to fill the gap. That includes staff from Office of Community-Based Learning, which frequently partners with RARA for community service projects that double as learning experiences for students.
"Tammi Hellwig realized very quickly that we lost a lot of students, and that was a lot of labor we were used to," Handy said. "Tammi is helping to deliver senior food boxes and Emily Kohl is helping with logistics. They were really quick to realize that part of being a good community partner is realizing that when we make room for students to do community-based learning and they are pulled away, it can cause a big infrastructure problem. Their understanding and reaching out to ask how they could help was huge." Additional staff from the CBL office have also contributed in a remote capacity.
Another W&L employee who has been eager to help is Manager of Photography Kevin Remington. Remington had to cut short a staff sabbatical project in Nepal because of the COVID-19 outbreak and was quarantined in a single room at his house for two weeks after his return.
As soon as his quarantine ended, Remington started what he is calling the Lex Porch Pix project. Remington takes photos of Lexington residents on their front porches (from a safe distance), then sells those photos to the subjects and donates 50% of the proceeds to RARA. Handy said those funds will be earmarked for what is destined to be the next big need: eviction prevention.
"Washington and Lee has been very proactive." Handy said. "I think everybody just really wants to love on this community in any way they can."
Want to Help?
The Campus Kitchen at W&L accepts donations of food, but monetary donations are more helpful at this time. For more information about giving to CKWL, visit the Campus Kitchen donation page.
To volunteer with or donate funds to the Rockbridge Area Relief Association, visit the RARA website. You may also send checks to Rockbridge Area Relief Association, P.O. Box 640, Lexington, Va. 24450 or call 540-463-6642 for additional information.
Community members also have started a Facebook group to disseminate information about other ways to help. Find it under Rockbridge Community Aid Covid-19: Guidance on how to help.
Find Kevin Remington's Lex Porch Pix project on Instagram: @lexporchpix