Former W&L Trustee Thomas C. Frost Jr. '50 Dies at 90 The San Antonian native served on the board from 1972-1982.
Thomas C. Frost Jr., a former W&L trustee from 1972 to 1982, died Aug. 10, 2018. He was 90. He graduated from W&L in 1950 with a B.S. in commerce, summa cum laude.
"Tom was a legend in San Antonio, serving in leadership positions on a number of civic and professional organizations," said President Will Dudley. "Over the years he remained keenly interested in W&L, and when I met him last March he spoke fondly of his time as a trustee and with real enthusiasm about the university's current goals and future prospects. We are grateful for his dedication to his alma mater and for his wise counsel."
A native San Antonian, Frost was the fourth generation of his family to oversee the bank founded by his great-grandfather, Col. T.C. Frost, in 1868. He began his banking career in 1950, starting as assistant cashier in Frost's Foreign Department and becoming president in 1962. He retired in 1997, after 35 years at the helm of Cullen/Frost.
During Texas' economic downturn in the 1980s, Frost oversaw the bank's growth, and its transition into a publicly traded company on the New York Stock Exchange in 1997. Of the top 10 banks in Texas in 1980, only Frost Bank emerged from that turbulent decade without a merger or outside assistance. Frost emphasized banking relationships rather than transactions and often answered his own phone. He cherished his employees and regarded them as the front line to excellent service.
Frost served in leadership positions for numerous professional organizations, including SBC Communications Inc., the Federal Reserve Bank of Dallas, the San Antonio Branch of the Federal Reserve Bank, the Federal Advisory Committee of the Federal Reserve System, the Association of Reserve City Bankers, the Texas Bankers Association and the San Antonio Clearing House Association. He was instrumental in helping orchestrate the signing of the North American Free Trade Agreement in San Antonio in 1982.
Frost also supported community development in San Antonio, with service on the boards of the San Antonio Medical Foundation, the Texas Research and Technology Foundation, the Southwest Texas Methodist Hospital, Southwest Foundation for Biomedical Research, Southwest Research Institute and on the Executive Committee of the San Antonio Livestock Exposition. He also served on the boards of Project Quest, the McNay Art Museum, the Free Trade Alliance of San Antonio and the YMCA.
Fluent in Spanish and an aficionado of Mexican culture, he co-founded the United States-Mexico Chamber of Commerce in Washington, D.C., and was a member of the U.S.-Mexico Commission for Educational and Cultural Exchange (Fulbright-Garcia Robles Commission). He received the Aguila Azteca medal, the highest honor the government of Mexico confers on a non-Mexican citizen.
Frost was deeply involved with educational endeavors, including the University of Texas at San Antonio, Austin College, the University of Texas Health Science Center at San Antonio, the National University of Mexico (UNAM) Foundation and the Texas Independent College Fund. He received an honorary Doctor of Laws degree from Austin College and an Honorary Doctor of International Relations degree from the University of the Americas in Mexico City.
He is survived by his wife of 67 years, Patricia "Pat" Holden Frost; his sons, Tom C. Frost III and his wife Meaghan, Bill H. Frost and his wife Tanya, Don B. Frost and his wife Lou Celia, and Pat B. Frost and his wife Kelley; 13 grandchildren; and two great grandchildren.
W&L's Benefiel Discusses Ancient Graffiti Project on Virginia's Public Radio Benefiel explains how she has spent more than a decade studying what the people of Pompei and Herculaneum wrote on their walls.
Rebecca Benefiel, professor of classics at Washington and Lee University, discusses her research and ongoing Ancient Graffiti Project on WVTF Virginia's Public Radio. During the broadcast, Benefiel explains how she has spent more than a decade studying what the people of Pompei and Herculaneum wrote on their walls.
"There were public inscriptions that were painted on building facades – high up in large letters by people whose job it was to post inscriptions for public consumption, and this included the advertisements for gladiatorial games and campaign posters for people who were running for political office," said Benefiel.
Listen to the interview here.
'A Seriously Huge Operation' W&L Campus Kitchen summer interns practice leadership development through community service.
Since its inception 12 years ago, Campus Kitchen at W&L (CKWL) has hired interns every summer. Those students assist with the day-to-day functioning of the organization so that it can efficiently address food insecurity in Rockbridge County.
The organization serves Lexington, Natural Bridge and Buena Vista, recovering and reusing food that otherwise would have been wasted to create balanced meals for low-income members of the community.
The three W&L interns this summer were Rosalie Bull '20, Robert Moore '20 and Nathan Brewer '19. CKWL also has collaborated with other organizations, such as the Shepherd Higher Education Consortium on Poverty, AmeriCorps and local high schools to engage students from outside the W&L community. This year's AmeriCorps VISTA intern was Madeline Fuentes '21, a student at the University of Vermont.
During the academic year, plenty of student leaders and volunteers help with planning, cooking and delivering meals. During the summer, however, these duties are shouldered by a handful of interns. We spent one day this summer shadowing the four interns who worked hard not only to fill hungry bellies, but to spread joy in the local community.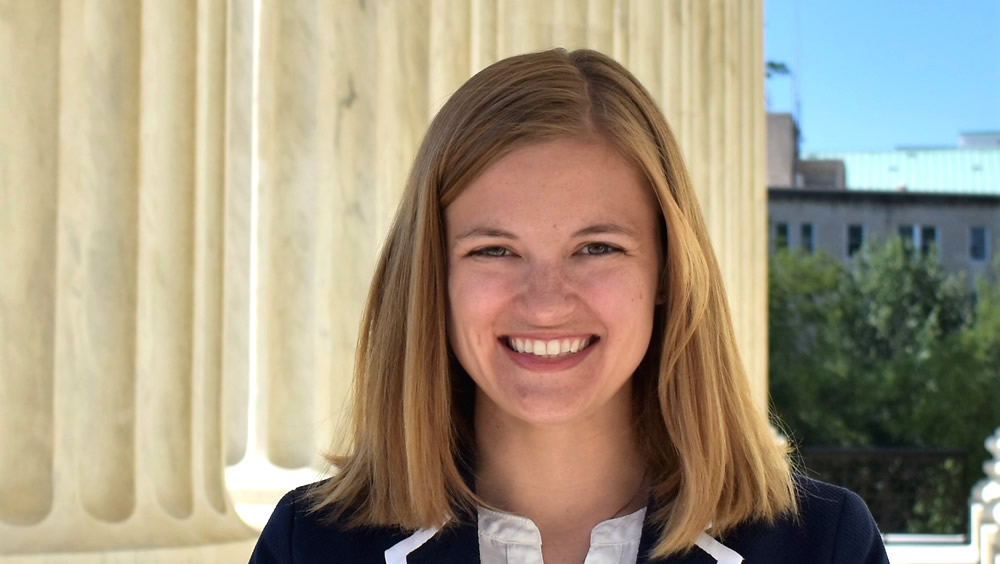 Access to Education Carrie Macon '20L worked with the Guardian ad Litem education team at the Children's Law Center in Washington, DC this summer.
Carrie Macon is a second-year law student from Murfreesboro, Tennessee. She graduated from the University of Tennessee-Knoxville in 2011 with a degree in Political Science. Prior to law school, she taught fifth grade in Nashville and Johnson City, Tennessee. At W&L Law, she is a staff writer for the Washington and Lee Law Review and a board member for the American Constitution Society.
What did you do for work this summer?
I worked as a summer law clerk for the Children's Law Center (CLC) in Washington, D.C. I specifically worked with CLC's Guardian ad Litem education team.
How did you find/get this position?
As a former teacher, I knew I wanted to do something related to education law during my first summer.  I attended the Equal Justice Works Job Fair and Conference in October, and while the Children's Law Center did not participate, attending the fair made me realize that I wanted to work in D.C.  I then found the CLC by searching for education law organizations in D.C.  When I saw that one of CLC's goals is to ensure that all D.C. children have access to quality education, I knew wanted to apply.
Describe your work experience.
My summer experience gave me the opportunity to learn about a variety of different issues D.C. families face.  Throughout the summer, I researched issues related to home-hospital instruction, the Individuals with Disabilities Act's stay-put provision, and special education transportation.  I had the opportunity to accompany attorneys to home visits, school meetings, and hearings.  Additionally, CLC hosted several trainings so that the summer clerks could learn about other pertinent topics, like D.C. housing issues and the D.C. foster care system.
What were some skills you developed this summer?
In addition to the trainings on D.C. legal issues, I participated in several trial skills trainings.  I was able to attend a D.C. Family Court training on exceptions to hearsay, and CLC's own trainings allowed us clerks to develop theories and themes of cases, write mock openings and closings, and develop mock direct and cross examination questions.  The trial skills trainings culminated in a full-day neglect trial simulation at the end of the summer.  These experiences allowed me to start to develop litigation skills.
What classes or experiences were useful in preparing you for the summer work?
Legal research and legal writing were most useful in preparing me for the summer.  I referenced my legal writing books and legal research class notes on several occasions throughout my time at CLC.  It was also helpful to have exposure to administrative law because CLC's work intersects with state agencies.
What surprised you about the work you did this summer?
I was most surprised by how dynamic direct representation can be.  Each day brought new challenges.  Within one day, I could work on research tasks, attend office or court trainings, help locate resources for clients and attorneys, reach out to clients to set up school visits, and attend school meetings.
What was your favorite aspect of this summer work experience?
My favorite aspect of this summer was that I had many opportunities to get out of the office and interact with clients.  I loved observing court hearings, school meetings, and accompanying my supervising attorney on home visits.  This allowed me to understand how my work impacted clients' lives.
Has this experience helped you figure out post graduate plans, and if so, how?
I'm still not certain what type of law I want to practice post-graduation. However, my experience did help confirm that I want to advocate for marginalized populations in some capacity.
How do you think this experience will shape the rest of your time at W&L Law?
My experience at CLC exposed me to evidence topics and trial skills that will help me in my 2L and 3L classes.  I had the privilege of observing several attorneys in different advocacy settings.  As someone who was hesitant about litigation entering law school, my summer experience has caused me to become more interested in litigation related classes.
Ethics at the Pentagon David Thompson '19L spent the summer at the Standards of Conduct Office, the senior ethics office for the Department of Defense.
J David Thompson is a 3L at Washington and Lee School of Law. He received his BS in Economics and MBA from Liberty University. Before coming to law school, David served in the U.S. Army. At W&L, he's volunteered with Washington & Lee Veterans Advocates (WLVA) and Women's Law Student Organization (WLSO). Separately, he is Co-Director of Service to School JD Operations, a Leader with Veterans for American Ideals, and a 2016 Veterans in Global Leadership Fellow. Connect with David at www.jdavidthompson.com.
What first attracted you to W&L Law?
One of the things that drew me to W&L was the focus on international law and the opportunities, while still a student, to work with faculty to make a global impact. This proved itself to be true time and time again.
Additionally, before coming to W&L I worked in the Hashemite Kingdom of Jordan.  While in Za'atari Refugee Camp, I noticed how early childhood marriage impacted women's education. A friend that I previously served with in the Army was a current student at W&L, Nick Ramos ('18L). He gave me advice on transitioning from the military to law school and recommended that I consider W&L. That night, after working in the refugee camp, I reviewed the courses and faculty at W&L. I noticed a report from Dean Bond's Human Rights Clinic titled Early Childhood Marriage and the Affect on Women's Education in Tanzania. I read the report that evening, finding that the situation was largely analogous to what we faced in Jordan for Syrian refugees. I distributed the report to the working group the next day, and we used that report as a baseline for future efforts. W&L provided benefit to me before I even applied.
What did you do this summer? How did you find/get this position?
I interned at the Office of the General Counsel (OGC), Office of the Secretary of Defense (OSD). This office is at the Pentagon, outside of Washington D.C. Particularly, I interned in the Standards of Conduct Office (SOCO), which is the senior ethics office for the Department of Defense (DoD). I found the position on USAJobs.gov.
Describe your work experience.
First, I worked in the Pentagon, which is humbling and inspiring. Being central to so many important decisions facing the world is an incredible experience. The work done by OGC has real world, operational consequences. Assisting people in decisions and legal analysis that affect so many lives is sobering. I never lost the awe of walking into the building and through the 17 miles of corridors.
Second, my office was between the offices of Secretary Mattis and the Secretary of the Army. On several occasions I ran into General Dunford (Chairman of the Joint Chiefs of Staff) at the Pentagon Gym. Having Active Army experience and serving in the Army Reserves, it is quite an experience to interact with so many Senior Executive Service (SES) and General Officers. Having the opportunity to interact with people that devoted so much of their lives to public service and the country while rising to the highest levels in the Department is an experience I probably would not have had otherwise.
What classes or experiences were useful in preparing you for the summer work?
The Office of the General Counsel for DoD is quite large, to say the least. Given the portfolio of things coming before OSD, I used a little bit from an array of classes—everything from Contracts to Mass Atrocities. Professional Responsibility proved to be one of the most beneficial classes for working in the SOCO. Administrative Law proved to be another valuable class. Through the International Criminal Tribunal, I received a small glimpse into some of the litigation work by DoD.
What was your favorite aspect of this summer work experience?
Even though I had 10 years of military experience before the internship, the breadth of issues coming before OSD shocked me. In addition to the Department's main mission, it also has hospitals, schools, family programs, and more. OGC has attorneys for all of these issues—from personnel and employment, healthcare, litigation, legislative, international, intelligence, standards of conduct, and more. The first issue I received revolved around a program to assist families with handicapped children. This was a surprise as it was not something I expected to handle when applying to the internship. Of course, it is an important issue, and I want to assist service members and their families. The range of issues I handled only grew more diverse from the start. It was incredible to be able to work on such a broad array of issues from one organization.
Additionally, I worked with some of the smartest and kindest people in the government. Secretary Mattis (DoD) takes a strong ethical stance—what he refers to as the "ethical midfield." As such, SOCO sees nearly everything that comes before the Secretary. In addition to working for one of the best Directors in the Department and a strong team, I engaged with leaders all across DoD. Everyone from Policy to Acquisitions wants to ensure they comply with the Secretary's guidance. As such, they seek out SOCO to ensure DoD is above reproach on standards of conduct. The level of access this internship enabled is well beyond what I think most internships offer.
What would you say for someone looking to intern with DoD?
Do it—especially if you're interested in working for the government. Even if someone does not want to work in DoD on traditional military type stuff, the level of access that this internship provides is amazing. In addition to everyone you meet working at the Pentagon, I met with the House Armed Service Committee, House Office of Legal Counsel, White House Situation Room, White House General Counsel, White House Military Office, and others. Even if a person does not want to handle the traditional military type work, there are lawyers that handle all the aforementioned areas.
Working at OGC, OSD enables one to contribute to public service while still a law student. The impact you get to have on issues of national and transnational importance is unparalleled. Further, this internship puts you in the GS system and provides a security clearance, which assists for employment with other government agencies. I really cannot recommend this internship enough.
How do you think this experience will shape the rest of your time at W&L Law?
Beyond my last year at W&L, I think the experience of working at OGC, OSD will, to varying extents, shape my personal and professional life. First, I made friends and colleagues with other incredible interns and employees at DoD. I am truly grateful and a better person for having met and worked for them. Second, the leadership lessons and commitment to service is something that I always appreciate. Third, the incredible support by Secretary Mattis for ethical leadership and recognition that public service is a sacred trust between me and people that will never meet me is something that cannot be understated. This work reconfirmed that I need work that is impactful and meaningful. I am a values-driven person, and working in an organization with shared values enables both the organization and me to thrive.
From Politics to Park Ranger Studying the unlikely combination of geology and politics prepared Nova Clarke '96 for a career as an award-winning environmental educator.
Miami native Nova Clarke '96 and her parents appreciate the irony of this city girl becoming a refuge ranger. "My parents really don't know how I became a ranger," Clarke says, laughing. "I am much more of an outdoors person than when I was growing up. I've discovered I prefer more rural areas with less people and more nature. That's a big change from growing up in Miami."
Clarke serves as education specialist and refuge ranger at Black Bayou Lake National Wildlife Refuge, in Monroe, Louisiana. In February, the Louisiana Wildlife Federation named her Conservation Educator of the Year for her environmental education programming at Black Bayou as well as for
her outreach work in the community.
Growing up, Clarke was set on becoming a lawyer. But that idea started fading at W&L when she took David Harbor's introduction to geology. "I ended up taking more geology classes and did a Spring Term field-mapping class out West, and fell in love with the West," she says.
Clarke double-majored in politics and geology and environmental studies and became involved with the Outing Club. "That got me outside and exposed to nature," she says.
From Politics to Park Service
On the political side, she took part in two Washington Term experiences, one with the AFL/CIO and the other with the White House. "From that internship, I flew to Alaska and did an internship in the summer with the University of Alaska," she says. "It was around then I realized I didn't want to go to
law school."
She landed her first job with the National Park Service in 1998 as a seasonal ranger in Colorado and stayed with that organization until 2012. During that time, she worked at a variety of sites, including Utah's Canyonlands National Park, Arizona's Rainbow Bridge National Monument, and the Tuskegee (Alabama) Institute National Historic Site.
She began working as an interpretive ranger at Black Bayou, part of the U.S. Fish & Wildlife Service, five and a half years ago. "A big part of my job is education," she says, adding she often works with schoolchildren on field trips. "It's important to get kids outside and connected to the environment."
Many of her interactions include two non-venomous Louisiana pine snakes. "They do road trips with me to meet all the kids," she says. "We also have a small exhibit with animals that includes three little alligators."
One of her biggest passions is getting people outside at night to explore the dark "so they can realize the dark is not scary. There are lots of stars," she says. "I do a lot of night programs like frog walks, monthly full-moon walks, and a haunted nature trail at Halloween."
Self-Reliance
Through her work as a ranger, she's discovered she's much more independent than she thought. "I have a lot of self-reliance now," she says. "I've figured out who I am." During her time at W&L, she was an outspoken liberal. "I was always the weirdo," she says. "I keep in touch with Professor William F. Connelly Jr., in the Politics Department, who was my Washington Term advisor. Politically, we butted heads a lot."
Her experiences at W&L have been invaluable in her life and work. "I've learned to listen to other people and realize that everyone has their own valid opinion and that you treat everybody as an equal. You don't judge," she says. "Those lessons make it easier for me to do my job now."
More About Nova
FAVORITE PROFESSORS: William F. Connelly Jr., the John K. Boardman Jr. Professor of Politics; Edgar Spencer '53, Ruth Parmly Professor of Geology Emeritus; and David Harbor, professor of geology. "All three had a huge role in how I ended up doing what I do."
FAVORITE CLASS: Geology classes, "because they got me outside."
ACCOMPLISHMENTS: She was one of the founding members of the Habitat for Humanity chapter at W&L. She also was president of the College Democrats her senior year.
A View of the Court Kate Murphy '20L spent her summer on both sides of the bench, working for the Supreme Court of Virginia and the U.S. Attorney's Office.
Kate Murphy is a second year law student from Richmond, Virginia. She graduated in 2016 from the University of Virginia with a degree in History and Government. She spent a year between undergrad and law school working as a paralegal at the Department of Justice in Washington DC. At W&L Law, she is Co-President of the Pro Bono Board, a staffwriter for the Journal of Civil Rights and Social Justice, and a member of the Women in Law Society.
What did you do for work this summer?
This summer, I split my time between the Supreme Court of Virginia and the U.S. Attorney's Office in Newport News. I spent May and June in the Chief Staff Attorney's Office in the Supreme Court and July at the U.S. Attorney's Office.
How did you find this position?
I got both of these positions from GPIIP, the government interview program in February. I also talked to older W&L students who had worked there in the past to learn more about the positions and the interview process.
Describe your work experience.
At the Supreme Court, the majority of my work was reviewing criminal petitions for appeal and drafting memoranda explaining why the court should or should not hear the cases. I would read through the transcripts from the lower court to summarize the relevant facts, summarize each side's argument, the relevant law, and my suggestion as to whether the case had merit to be heard. The final result was that the justices only had to read my four page summary of the case rather than hundreds of pages of transcripts and briefs. While at the Court, I also got to hear oral arguments and writ panels, conduct research into actual innocence DNA preservation, meet the Justices, and learn more about Virginia's appellate system.
At the U.S. Attorney's Office, I conducted legal research for pending cases and drafted motions and responses to the court. I also got to prepare witnesses and exhibits for a trial and spend a lot of time in the district court with various pre- and post-trial hearings. The majority of my work focused on drug related charges, but I also got exposure to white collar crime and gang cases.
What were some skills you developed this summer?
The Supreme Court was incredible for improving my writing skills. Trying to condense hundreds of pages of material into a couple pages was daunting at times, but my mentor gave me detailed feedback which helped me write concise and eloquent memos.
The U.S. Attorney's Office also greatly helped my legal research skills. The attorneys frequently needed information about complex and developing areas of law, so I had to work efficiently to find cases with similar fact patterns to support their arguments. A lot of my time was spent researching the Fourth Circuit and then putting the information I found into drafts of motions or memos explaining the law to the attorneys.
What classes or experiences were useful in preparing you for the summer work?
In both internships, I was working on criminal cases so criminal law was incredibly beneficial. Legal research and writing were also essential to both of the internships as the majority of my work was research and writing based. However all of my classes were useful while listening to the oral arguments in the Supreme Court, because the June session had cases that touched on property, contracts, professional responsibility, criminal law, administrative law, and civil procedure. It was incredible to see topics we had discussed in class come to life in the oral arguments.
What surprised you about the work you did this summer?
I was definitely surprised by how much I had learned in one year of law school and how much it related to the work I did this summer. I was a little unsure of how easily the skills I learned as a 1L would transfer to a work environment but was happy to see that I could handle the work and had learned much more than I had realized in a year. While my work delved into more complicated material than I had seen in school and classes I had not yet taken, such as constitutional law and criminal procedure, I was able to use the foundations I had learned in school to research these areas and find the answers I needed.
What was your favorite aspect of this summer work experience?
At the Supreme Court, I loved getting to know the Justices. All of the Justices that live in the Richmond area took the time to meet the interns over lunch or dessert. It was amazing to get to know more about their careers, and they all gave thoughtful advice for our futures. I also loved getting to present one of my cases orally to Justices Mims and McCullough. It was a great experience to work on my oral advocacy in front of two distinguished justices–especially when they agreed with my analysis of the case!
My favorite part of the U.S. Attorney's Office was getting to spend the majority of my time in court. I got the opportunity to see everything from a guilty plea, misdemeanor docket, arrangement, and sentencing. I loved getting to know more about the federal system and see the behind the scenes work that goes into the cases. The best part was getting to discuss what I had just seen with the attorneys and get their insight into the cases.
Has this experience helped you figure out post graduate plans, and if so, how?
This summer definitely confirmed that I enjoy litigation and would like to continue into that field. I was interested in litigation before law school, but getting to see it from a variety of scenarios confirmed that it would be a great path for me. I'm still interested in exploring more transactional work, but I am glad to know how much I enjoy litigation and practicing in Virginia.
How do you think this experience will shape the rest of your time at W&L Law?
This summer definitely showed me the importance of clear writing and oral advocacy and how it can determine the fate of a case. I am looking forward to more chances to improve my writing at W&L by taking writing seminars and writing a note and improving my oral advocacy through the various competitions in the fall.
W&L Professor Ted DeLaney to Address Opening Convocation DeLaney's talk is titled "W&L History: Traditions, Transformations and the Consequences of Change."
Theodore C. DeLaney Jr. '85, associate professor of history at Washington and Lee University, will address W&L's 2018 Fall Convocation at 5:30 p.m. on Wednesday, Sept. 5. Delaney's talk is titled "W&L History: Traditions, Transformations and the Consequences of Change."
A Lexington native, Ted DeLaney began his career at W&L in 1963 as a lab technician in the Biology Department, where he spent the next 20 years. He enrolled as a full-time student at the age of 40.
"Toward the end of those 19 years [working at W&L], I started taking one class per term for credit — it was a little-known benefit that W&L employees had. I was the only person who had ever done it," said DeLaney. "By that time, it must have been about 13 years after the admission of the first black student."
He graduated with a B.A. in American history, cum laude, in 1985. He also earned 15 undergraduate summer school credits from Virginia Military Institute.
DeLaney taught at The Asheville School, a residential secondary school in western North Carolina, before earning his Ph.D. in American history from The College of William & Mary. He taught at W&L from 1991 to 1993, then was an instructor at the State University of New York – Geneseo.
DeLaney returned to W&L as an assistant professor of history in 1995. He has since taught Colonial North America, Comparative Slavery in the Western Hemisphere, African-American History, Civil Rights, and Gay and Lesbian History.
He served as head of the History Department from 2008-2013, and as co-founder and director of the Africana Studies Program. In addition, he has served on numerous committees, including the Commission on Institutional History and Community. He plans to retire at the end of this academic year, and part of his speech will enumerate the various capacities he has held at W&L over the course of his 55-year affiliation.
"To have Ted DeLaney deliver the Convocation address this year is such a great occasion," said Provost Marc Conner. "No one has a more penetrating sense of W&L's history and character than Professor DeLaney. His vision for W&L has always been for it to be the best it can be, and he has contributed to that vision substantially in so many ways. I am eager to hear his perspective on our institutional history and his assessment of what we have done well, and where we can do better."
Fall Convocation is the traditional opening of Washington and Lee's academic year. This year will mark the university's 269th academic year and the 169th year of the School of Law. Convocation, which is free and open to the public, will be held on the Front Lawn. In case of inclement weather, the event will move to Marshall Hall for Leadership & Ethics at Virginia Military Institute.
The Convocation address will be streamed live online at https://livestream.com/wlu/fall-convocation-2018.
President Dudley's Response to the Report of the Commission on Institutional History and Community
Today, President Dudley shared his response to the Commission on Institutional History and Community's report.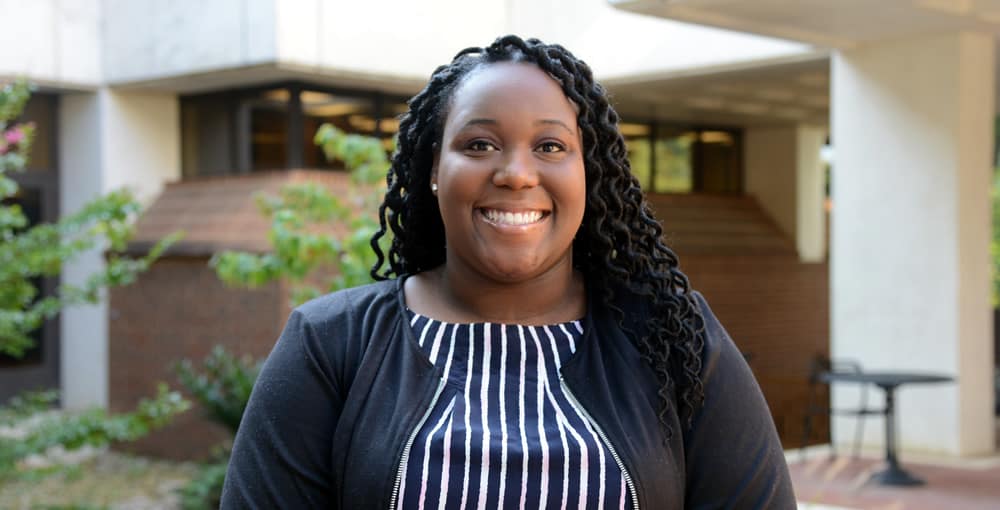 In the Office of the Public Defender Rashanna Butler '20L split her summer between public defender offices in Lexington and Roanoke.
Rashanna Butler is from Atlantic City, NJ. She attended Fairleigh Dickinson University, where she received a BA in Criminal Justice with a minor in Forensic Psychology.  At W&L she serves on the Black Law Student Association's executive board as the treasurer, and she is a proud member of the Pro-Bono Board.
What did you do for work this summer?
I decided to split my summer to make it more beneficial. I interned for the Roanoke Public Defender's Office and the Staunton Public Defender's Office. Both offices are under the Virginia Indigent Defense Commission. The Roanoke office serves Roanoke City, and the Staunton office serves Lexington, Buena Vista, Rockbridge County, Augusta County, Staunton, and Waynesboro. I began my summer with the Roanoke office in May and transitioned to the Staunton office in July. The Staunton office has a satellite office in Lexington, where I spent the majority of my time.
How did you find/get this position?
I got the Roanoke position through Professor Mary Natkin. I mentioned to her that I was interested in interning at a public defender office, and she put me in contact with a classmate of hers, which led to a phone interview and job offer. During the semester I met with Ms. Andrea Hilton from the Office of Career Strategy, and she helped me compile a list of the public defender offices that I would apply to. I got the Staunton position by calling the office and asking what their internship program entailed. When my call was returned, it became an impromptu phone interview.
Describe your work experience?
I observed general district, juvenile and domestic relations, and circuit courts. I researched legal issues and wrote memos to aid attorneys with their cases. I also reviewed body cam and patrol car footage. I accompanied the attorneys to visit their clients in the jails and sat in on client meetings. I compiled discovery materials for the attorneys. I reviewed complaints and warrants for issue spotting. I attended trainings and performed various clerical duties. A normal day consisted of reviewing the calendar before court, meeting with clients, meeting with the commonwealth attorneys to discuss options, plea deals, and so on.
What were some skills you developed this summer?
My writing improved with the memos I provided to the attorneys. My research skills were strengthened because the time frame that I was given during the school year to complete a project was reduced to half. My communication skills were enhanced because I saw the importance of being precise with statements made to clients, commonwealth attorneys, and the court. Being able to express yourself in a short amount of time is vital because you may only have a brief moment to speak, and the most important points should be made first. For example, if a client is in court for failure to pay fines, the lawyer should lead with the fact that the client lost his or her job versus how the client used to be a good Samaritan.
What surprised you about the work you did this summer?
I was surprised to find out how small the legal community is. Also, I was surprised to see the amount of negotiating before and during court between the defense attorneys and the commonwealth attorneys.
What was your favorite aspect of your summer work experience?
My favorite aspect was being able to ask tons of questions to the lawyers I shadowed. There are many aspects of the court system, legal arguments, and lawyering techniques that I didn't understand, and I had an open space for questions and answers.
Has this experience helped you figure out your post graduate plans, and if so how?
I knew going into law school that I wanted to be a public defender, and this experience solidified that decision. I was able to see up close the amount of work and dedication that a public defender must give to their caseload. Working so closely with the public defender offices, I experienced the good and the bad days. I know that being a public servant is a higher calling I would like to answer after law school.
How do you think this experience will shape the rest of your time at W&L Law?
I have been offered the opportunity to continue my internship at the Lexington office, which I accepted. This summer's experience will help me continue with my classes not only from a student's perspective, but also from a perspective of someone who has hands on experience in the courts.