The Board of Trustees' Decision Regarding Building Names on Campus The Board has decided to rename two buildings and endorse two changes in Lee Chapel.
To: The W&L Community
From: J. Donald Childress '70, Rector of the Board of Trustees, and William C. Dudley, President
Date: October 9, 2018
President Dudley's response in August to the report of the Commission on Institutional History and Community conveyed both the Board's decision to retain the names of Lee Chapel and Lee House and our intention to discuss the naming of other campus buildings at our October meeting.
This weekend, members of the Board met with students and faculty to gather input from the campus community, which we considered along with feedback we received from many alumni who have communicated with us about these issues over the past several months.
As a result of our deliberations, the Board of Trustees decided to make the following changes to building names:
Robinson Hall will be renamed Chavis Hall in recognition of the first African-American to receive a college education in the United States. John Chavis graduated from Washington and Lee's predecessor, Washington Academy, in 1799.
Lee-Jackson House will be renamed Simpson House in recognition of the first woman to become a tenured professor at the university. Pamela Hemenway Simpson, who died in 2011, served as associate dean of the college and played a critical role in the university's transition to co-education in the mid-1980s, chairing the Co-Education Steering Committee from 1984 to 1986.
The Board of Trustees also endorsed two changes to Lee Chapel, which will be enacted immediately:
Portraits of Robert E. Lee and George Washington in civilian clothing will replace the portraits of Lee and Washington in military uniforms that currently hang in Lee Chapel.
The doors to the statue chamber in the 1883 addition to Lee Chapel will be closed during university events.
The Director of Institutional History, once hired, will lead us in exploring how we can best reclaim the original vision of the chapel that President Dudley outlined in August.
We appreciate the seriousness and thoughtfulness with which our fellow trustees have approached these matters. On behalf of the Board, we want to express our gratitude to all of those members of the community who contributed to our deliberations, through countless letters and conversations over the summer and on campus this weekend. We are fortunate to be part of a community that cares deeply about this institution and is so dedicated to its continued success.
Preparing for Florence
Monday, Sept. 17
University and local officials continue to monitor Tropical Depression Florence as it moves through our area. The National Weather Service has issued a Flood Advisory for the City of Lexington and Rockbridge County until 12:00 p.m. today. There is also Flash Flood Warning for our area through this evening. Please continue to monitor news and weather sources throughout the day.
Friday, Sept. 14
The GRE scheduled for Saturday, Sept. 15, in the Science Center has been cancelled.
Thursday, Sept. 13
Recent weather forecasts show a shift in the path of Hurricane Florence to the south, reducing the immediate threat of severe weather in our area. Predictions now call for rain and gusty winds in some parts of our region as early as Friday evening, with extended heavy rainfall beginning on Sunday and into early next week. Extensive and widespread flooding remains possible. 20-30 mph winds combined with already saturated ground may result in downed trees and power lines. Widespread power outages remain a concern. Please continue to monitor news and weather sources as the storm progresses.
On campus, there is a significant likelihood of flooding for Woods Creek, which may result in the closure of the Dell and the bridges and road behind Leyburn Library. Students, faculty and staff should plan to avoid the area behind Woods Creek Apartments and the library. We do not anticipate that the Woods Creek Apartments will be affected, but will continue to monitor the area and other issues around campus, and communicate additional information as needed.
If you notice flooding, leaks or clogged drainage, please report them to Public Safety at x8999 or via the LiveSafe app.
All home athletic events scheduled for the weekend have been cancelled, along with many other campus events, including Young Alumni Weekend, the Black and White Ball and the Unity Cookout. Please refer to Campus Notices, email, the university website and social media channels for updates on other events scheduled in the coming days.
Students with concerns about accessing food or temporary housing, should refer to the message below.
Tuesday, Sept. 11
Washington and Lee University and the City of Lexington are monitoring the approach of Hurricane Florence as it prepares to make landfall later this week. Updates will be posted to this page.
Virginia Governor Ralph Northam has declared a state of emergency for the entire commonwealth. Current weather predictions include both high winds and heavy rainfall in our area beginning late this week and throughout the weekend, which may result in downed power lines, widespread power outages and flash flooding. Students, faculty and staff are encouraged to monitor news and weather sources as the storm develops.
Facilities Management and Dining Services are preparing to provide emergency power and meals for students on campus in the event of severe power outages.
Many events, including Young Alumni Weekend and several athletic contests, have been cancelled in anticipation of this storm. Check the W&L website and social media channels for status updates on events scheduled in the coming days.
Information about Class Cancellations or Delays
In inclement weather, assume the university will remain open on schedule unless there is an official announcement to the contrary via General Alerts messages on text, email, the LiveSafe app and the university website. More information about the delay and closing policy and official notifications can be found at inclementweather.wlu.edu.
Please note: The university might operate on schedule, even when area schools and businesses are closed or delayed. Therefore, always check your text messages, email, the LiveSafe app and/or the W&L website for the latest update or to verify any TV/radio cancellation announcements, because public media announcements are sometimes wrong.
In Case of High Winds or Flooding:
Should a high wind or flood warning be issued, the university will issue a message via the General Alerts system. If severe flooding poses a threat to your safety inside a building, evacuate the area. If it is safer to remain inside the building, shelter in place. Contact Public Safety at (540) 458-8999 (x8999 on campus) and report the exact location and severity of the flooding. If you are stranded and need emergency assistance, dial 911.
For more information about what to do in a flood or high winds, consult W&L's Emergency Management Plan, which is also available offline via the LiveSafe app.
Traveling to and from Campus in Inclement Weather:
In remaining open, the university does not advise anyone to travel who feels that he or she cannot do so safely. All students, faculty and staff should exercise their best personal judgment with regard to their own local road conditions and other safety concerns. DO NOT ATTEMPT TO DRIVE ACROSS FLOODED ROADS.
Road conditions in and around Lexington are available at inclementweather.wlu.edu. For more information about flood and hurricane safety, visit www.weather.gov/safety.
Students should communicate directly with professors if they are unable to safely get to campus.
Faculty members are asked to be understanding about student absence. Faculty members who cannot safely travel to campus should notify their department and/or respective dean's office in a timely manner so that a notice can be posted in the classroom if possible. Faculty members also are encouraged to email their students directly if class will not be held.
Staff members should notify their immediate supervisors of their personal decisions to delay arrival or be absent. For additional information regarding the university's inclement weather policy for employees, including special instructions for essential personnel, please see pp. 86-87 of the Employee Handbook.
Preparing for a Hurricane or Flood:
Assemble an Emergency Kit, including water, nonperishable food, flashlight, batteries, and prescription medications.
Charge your cell phone.
Unplug small appliances, including stereos, TVs, electronic equipment and lamps.
Bring inside anything that can be picked up by the wind (bicycles, lawn furniture, etc.)
Turn your refrigerator and freezer to coldest setting and keep them closed as much as possible to prevent food spoilage in case of a power outage.
Pick up items on floors and store them in drawers or closets.
Move upholstered furniture away from windows.
Close and lock your windows.
Back up computer data and take a copy with you if you evacuate.
Cover your computer and other electronic equipment with plastic sheeting or large plastic garbage bags.
Be aware of changing weather conditions and monitor local news sources as the storm moves into the area.
Remember that standard insurance does not cover damage caused by flooding.
For those living off campus:
Turn off propane tanks.
Coordinate an evacuation plan with your housemates or family members.
Students who live in low-lying areas off campus should consider staying with friends on campus for the duration of the storm, or contact Student Affairs for assistance.
Fill your car's gas tank.
Avoid flash floods, underwater roads or washed out bridges. Do not drive into standing water.
Remembering 9/11 Flags were placed on the Front Lawn today to honor those whose lives were lost 17 years ago on September 11, 2001.
Flags were placed on the Front Lawn today to honor those whose lives were lost 17 years ago on September 11, 2001. Those losses include two members of the Washington and Lee family — Rob Schlegel, of the Class of 1985, who died in the Pentagon, and James Gadiel, of the Class of 2000, who died in the World Trade Center.
Rob was on the staff of the chief of naval operations at the Pentagon and had been promoted to commander just weeks prior to the attack. James worked in the equities department of Cantor Fitzgerald, on the 103rd floor of the north tower of the World Trade Center.
President Dudley's Response to the Report of the Commission on Institutional History and Community
Today, President Dudley shared his response to the Commission on Institutional History and Community's report.
Fall Academy
Fall Academy is two weeks of technology instruction, pedagogy discussions, guest speakers, and orientation sessions for new and returning faculty and staff. The 2018-19 academy will take place Aug. 20 – 31. Visit go.wlu.edu/FallAcademy to view a complete schedule of sessions and to register.
University Town Hall Breakfast The annual Town Hall Breakfast for faculty and staff will take place on Wednesday, Aug. 29, from 8:00 - 10:00 a.m. in Evans Hall, with remarks from President Dudley on key initiatives and highlights for the coming year.
The annual Town Hall Breakfast for faculty and staff will take place on Wednesday, Aug. 29, from 8:00 – 10:00 a.m. in Evans Hall, with remarks from President Dudley on key initiatives and highlights for the coming year.
Emergency Drill Notice Live Emergency Drill to Take Place on W&L's Campus August 21
On Tuesday, August 21, Washington and Lee University, in conjunction with the Lexington Police Department, the Rockbridge County Sheriff's Office, Lexington Fire & Rescue, and the Rockbridge County Department of Fire, EMS, and Emergency Management, will conduct a live emergency drill on Washington and Lee's campus. The drill, which is part of W&L's ongoing emergency preparedness program, is intended to simulate an emergency situation on campus, providing the university and local first responders an opportunity to both practice and evaluate their response to a campus emergency.
For an extended period on Tuesday morning, city and county residents may notice an increased presence of law enforcement officials and emergency vehicles in the area. In addition, nearby residents may also hear sounds related to the drill, such as simulated gunfire. If possible, please avoid visiting campus during this time. Questions or concerns should be directed to W&L's Office of Public Safety at 458-8999.
W&L's Peccie Wins Individual Title in NCAA Division III Golf Championship Generals Finish as National Runner-up
Washington and Lee sophomore Brian Peccie won the individual title and the Generals finished National Runner-up, as play finished at the NCAA Division III Men's Golf Championship held at the Grandover Resort in Greensboro, N.C. on Friday.
Peccie tied for first with Logan Young of Concordia (Texas), as both completed 72 holes at -3.  Peccie posted a 71-69-69-76—285 and Young carded a 72-69-73-71—285.
The playoff occurred in a downpour and both players made par on the par 5 18th-hole twice, before Peccie posted a third par on the par 4 10th-hole to claim the individual title.
On the 10th, Peccie put his drive in the fairway about 185 yards from the pin.  Young hit his drive into the rough and then put his second shot into a hazard left of the green, opening the door.  Peccie's second shot landed just shy of the green, about 25 feet from the pin.  He chipped eight feet past the hole and drained the par putt to claim W&L's first individual National Championship in the sport of golf and just the 16th individual National Championship in school history.
As a team, the Generals produced the highest finish in program history with the runner-up showing.  The prior best had been in 2016 when W&L tied for third overall.
Methodist claimed its 12th NCAA title, finishing the championship at +7 with a 294-287-282-296—1159.  The Generals completed the event with a 292-289-292-297—1170 (+18) to finish one stroke ahead of Texas-Tyler, which placed third.  UT-T shot 296-287-296-292—1171 (+19).
Washington and Lee featured several other solid individual showings en route to its second-place finish.  Sophomore Boyd Peete carded a 72-74-73-74—293 (+5) to tie for 18th overall out of the 96 golfers that made the cut.  Sophomore Sean Puleo and senior Luke Farley both finished in a four-way tie for 47th.  Puleo shot 73-72-79-75—299 (+11) and Farley recorded a 76-76-74-73—299 (+11).
Sophomore Robert Quinilty rounded out the Generals in the field with a 76-74-76-75—301 (+13) that tied for 54th.
Following the tournament, Peccie was named a First Team All-American and he received the Division III Arnold Palmer Award as the National Champion.
A complete list of the NCAA Division III National Champions from Washington and Lee is listed below.
Washington and Lee Individual National Champions
2018 – Brian Peccie, Men's Golf
2016 – Tommy Thetford, Men's Swimming (100 free & 200 free)
2014 – Zander Tallman, Men's Track & Field (Outdoor 400 meters)
2008 – Alex Sweet, Men's Swimming (50 free)
2006 – Emily Applegate, Women's Tennis (Singles)
2005 – Lindsay Hagerman, Women's Tennis (Singles)
1995 – Marilyn Baker & Natalia Garcia, Women's Tennis (Doubles)
1995 – Nathan Hottle, Men's Swimming (200 breast)
1990 – Bill Meadows & John Morris, Men's Tennis (Doubles)
1989 – Bobby Matthews & John Morris, Men's Tennis (Doubles)
1989 – David Olson, Men's Swimming (200 back)
1989 – John Morris, Men's Tennis (Singles)
1977 – Ben Johns & Stewart Jackson, Men's Tennis (Doubles)
1976 – John Hudson, Men's Swimming (500 free, 1650 free)
A Message from President Dudley Regarding the Report of the Commission on Institutional History and Community
To: The W&L Community
From: President Will Dudley
Date: May 18, 2018
Re: The Report of the Commission on Institutional History and Community
In August 2017, I appointed the Commission on Institutional History and Community and charged it with examining how the ways that we teach, discuss and represent our history shape our community. I asked the commission to make recommendations about how we can best present our physical campus to take full advantage of its educational potential in a manner that is consistent with our core values.
Having received the commission's report, I am sharing it with the university community in its entirety.
I would like to express my profound thanks to the 12 members of the commission for their exceptional service on behalf of the university. They embraced their daunting task with enthusiasm and performed admirably under the leadership of the chair, Brian Murchison, the Charles S. Rowe Professor of Law. I met with them last week, shortly after they submitted their report to me. It is clear that throughout this substantial undertaking, they were remarkably persistent in talking through their differences and, in the process, developed deep and abiding respect for one another. This is just as I would have expected and should serve as a model for all of us. We owe them our gratitude for the thoughtfulness of their work and the manner in which they conducted it.
The commission did extensive research and heard from more than 1,000 alumni, students, faculty, staff members and friends over the past nine months. They read the hundreds of emails that were sent, conducted on-campus listening sessions with faculty, students and staff, and held four telephone conferences for alumni. The resulting report reflects deliberation informed by both historical scholarship and a diversity of viewpoints from all corners of our community.
The commission's report is expansive in scope and rich in detail. It encompasses 118 pages, contains 31 distinct recommendations, and demands and deserves a careful reading. The commission explored our history, as I hoped it would, directly and honestly.  As the ninth-oldest institution of higher education in the country, Washington and Lee is a justifiably proud university that can withstand careful scrutiny. Indeed, we should welcome it, and the educational opportunities that it presents.
I want to emphasize that all of the commission's recommendations are just that — recommendations. Thus far, I have acted on only one, by publishing the entire document as requested.  Over the coming months, I will consider the remaining recommendations in consultation, as appropriate, with W&L's Board of Trustees, faculty, staff, students and alumni.
Those of you who have read our recently approved Strategic Plan will note that some of the initiatives it contains harmonize with recommendations made by the commission. While the two processes were conducted independently of each other, it is heartening to see a shared appreciation for our institutional strengths and an affirmation of our aspirations in both documents. All of the commission's recommendations will be considered in relation to the priorities established in the strategic plan. I promise our community that we will preserve and build upon our distinctive strengths as we pursue our aspirations.
I will be in touch again at the end of the summer to share an update on our progress. In the meantime, if you would like to provide feedback on the commission's report, we have established a special email address for your comments: CommissionReport@wlu.edu. Please include your name and class year or affiliation with the university in your message.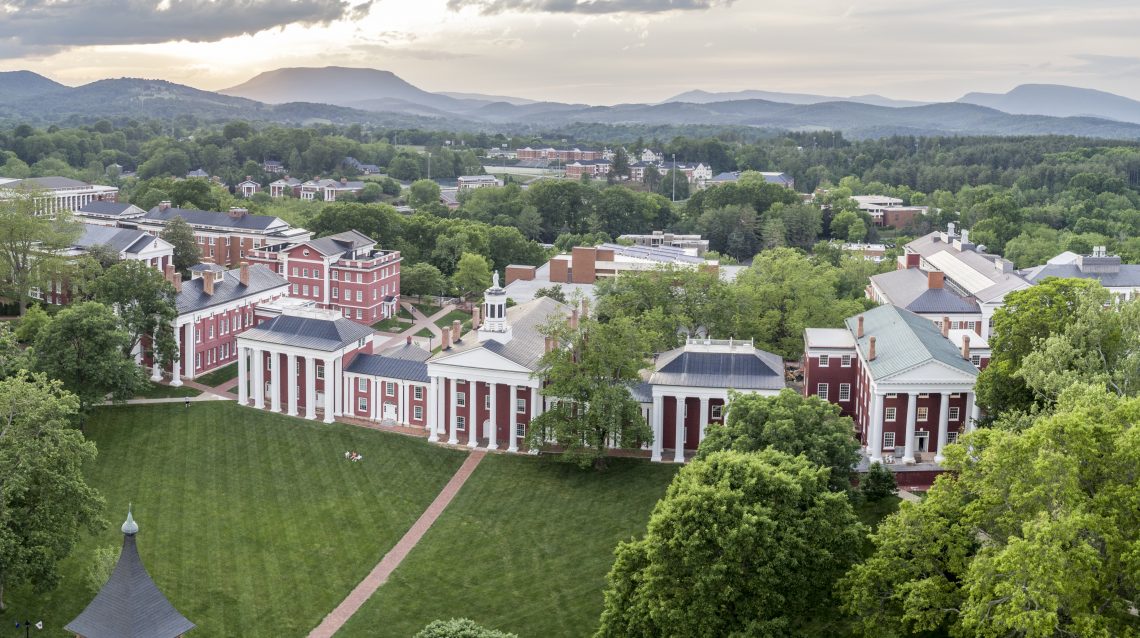 W&L's New Strategic Plan Focuses on Community, Curriculum, Citizenship and Campus
Washington and Lee University's Board of Trustees adopted a new strategic plan for the university at its meeting on Saturday, May 12. The plan calls for the university to create a more diverse and inclusive community, to build upon and strengthen W&L's distinctive curricular structure, to continue to emphasize the institution's historic goal of cultivating engaged citizenship, and to develop several new facilities while enhancing existing ones in support of the university's mission.
"We are justifiably proud of our distinctions, but never complacent," the plan's introduction states. "One of our most enduring strengths is the spirit encapsulated in our motto: non incautus futuri — not unmindful of the future — which reflects our commitment to self-examination, to asking how we can be true to ourselves while also getting better, to asking how we can contribute even more to the world that awaits our students."
The strategic plan is the result of a more than a year of campus self-study initiated by university President William C. Dudley and co-chaired by Provost Marc Conner and Vice President of Student Affairs and Dean of Students Sidney Evans, who led the effort that included faculty, staff, students, trustees and alumni.
"On behalf of the trustees, I want to thank everyone for their exceptional work on this plan," said J. Donald Childress, rector of the board and a 1970 W&L graduate. "The university has made remarkable strides over the past decade. We never want to rest on our laurels, and this ambitious and thoughtful plan will continue to push us forward."
Dudley referred to the plan's four organizing themes: community, curriculum, citizenship and campus. "Our community of trust and civility, our distinctive curriculum, our commitment to institutional citizenship for the benefit of society, and our beautiful and historic campus are a potent educational combination," Dudley said. "The plan outlines how W&L will continue to build upon these strengths to provide the best possible liberal arts education to talented students who embody the qualities of personal integrity, leadership and academic excellence."
The plan's commitment to community includes working to increase the racial, socioeconomic, and international diversity of students, faculty and staff while supporting the success of all community members. W&L will commit to need-blind undergraduate admissions, which means the university will admit the strongest applicants regardless of family financial circumstances. In addition, the plan calls for eliminating financial barriers to curricular, co-curricular and extra-curricular participation. Additional resources will be made available to the offices of Inclusion and Engagement, Student Health and Counseling, and Career and Professional Development; athletic and recreational opportunities will be augmented; and opportunities will be increased for personal and professional development for faculty and staff. W&L will add a women's varsity softball team, and The School of Law will develop a signature scholarship program.
"Creating a more diverse community at W&L is also essential to fulfilling our stated mission of preparing students for personal achievement, responsible leadership and engaged citizenship in a global and diverse society. The 21st century calls upon all of us to appreciate the value of diverse experiences, and to discover and create ways to draw upon our differences for the common good."
~ 2018 Strategic Plan
W&L's distinctive curriculum, which combines the liberal arts, pre-professional education and public service, is another focus of strategic initiatives. The university will invest in its liberal arts curriculum while supporting 21st-century science teaching and research needs, strengthening interdisciplinary education, and expanding offerings for non-majors in the Williams School of Commerce, Economics, and Politics. The plan also calls for the development of an undergraduate legal studies program.
"We must continue to invest in traditional disciplines, while also embracing the 21st century evolution of liberal education, which involves interdisciplinary inquiry, new modes of teaching, and rapidly changing technology. Doing so is critical to maintaining our position as one of the preeminent institutions of higher education in the country."
~ 2018 Strategic Plan
The third theme of the strategic plan focuses on institutional citizenship, including initiatives focused on leadership, service and civic engagement, institutional history, and environmental stewardship. The plan calls for investment in curricular, co-curricular and extra-curricular programs that encourage students to engage, to serve and to lead; the exploration of partnerships with related museums and historical sites; and continued commitment to sustainability across the campus.
"The cultivation of engaged citizenship is essential to our mission. We aim to help students become not only personally successful, but also thoughtful difference makers in their communities. Washington and Lee asks no less of itself institutionally."
~ 2018 Strategic Plan
Several facilities projects are included in the plan as elements of maintaining and enhancing the quality of the university's historic campus. These include construction of a new center for the Offices of Admission and Financial Aid; expansion and revitalization of both the existing Science Center and the Williams School; the addition of rehearsal spaces for music and the arts; development of a Center for Academic Resources and Pedagogical Excellence (CARPE) in Leyburn Library; the creation of a Center for Inclusion and Engagement in Elrod Commons; and the initiation of modern campus history museum.
"Our residence halls, dining facilities, classrooms, labs, libraries and performance spaces constitute an environment in which we strive to offer education of the highest caliber. Our natural and historic setting, which distinguishes W&L from other colleges and universities, should be presented in ways that make its appeal evident to prospective members of the community."~ 2018 Strategic Plan
The new plan builds on the success of the previous strategic plan, which was a blueprint for the university's transformative, $542-million "Honor Our Past, Build Our Future" capital campaign, completed in 2015.
"We see the results of that plan all around us," said Dudley in a message to the university community. "Even as we embark on the final initiative of that previous plan — the construction of The Richard L. Duchossois Center for Athletics and Recreation, which will begin in a few short weeks — it is time to look forward. I am grateful to all of the people on campus and around the world who shared their input during the planning process. The result is a bold vision for the university that will build on our strengths and on the momentum of the past decade to ensure the bright future of W&L."
For information on the University Strategic Planning Initiative, see go.wlu.edu/strategic-plan.