Defying Gravity Professor Jenefer Davies talks about her new book on aerial dance and the physical and artistic challenges of working against gravity.
What's the history of aerial dance, and when did you become interested in this art form?
Within the larger continuum of dance, aerial is relatively new. It began to make an appearance in the 1970s when dancers started experimenting with the trapeze and other sorts of apparatus that were, at the time, part of circus arts and began incorporating them into dance performances.
Prior to teaching at W&L, I was the artistic director of a professional dance company and school. We started experimenting with rope and harness and collaborated with some climbers who had technical expertise in rigging. I was interested in discovering what we could do with rope and harness artistically. The outgrowths of that experimentation were a few really interesting and exciting performances.
When I came to W&L in 2006, incorporating aerial dance into our academic curriculum was one of my goals. It was quite a long process of permissions, determining which building on campus would suit our needs, the logistics of rigging to the building and, most of all, ensuring the safety of the dancers. This was a huge undertaking by my department, the dean's office, the director of health and safety, the director of facilities management and the director of outdoor education, as well as W&L's architects, engineers and many others. Thanks to all of these people, I taught the first aerial dance class and presented the first aerial production on the outside wall of Wilson Hall during the 2008 spring term. To my knowledge, W&L was one of the first universities in the country to incorporate aerial dance into an academic curriculum.
Why modern dance?
What draws me to modern dance is its philosophy and how that philosophy informs movement. This art form was created by radical, independent women at the turn of the 20th century, and it was created specifically for women's bodies. There is a feminism present that acknowledges weight and gravity, acknowledges power and isn't afraid to show exertion in performance. Dancing modern means we can take you on journeys and tell stories through a unique lens.
Teaching modern dance technique is one of my favorite classes because I cover both the movement principles and kinesiology of the art form, but I also incorporate some of its philosophy and history. There's so much more to dance than just moving through space. It's about acknowledging and understanding why you're moving through space, where it fits in the historical canon and how it happens kinesthetically. It involves a deep understanding that is more than just shape-making.
Tell us about your new book, "Aerial Dance: A Guide to Dance with Rope and Harness."
As an academic, I've done a lot of experimenting to determine the limitations and freedoms that are inherent in aerial rope and harness. Refining those outcomes have enabled me to create a program of optimal conditioning for the students so that their bodies were physically prepared before we started working on the wall. Once they are rigged, we use a sequence of lessons to help them grow stronger, flexible, nimble and prepared for performance. Aerial necessitates a very different kind of technique than is required for traditional dance forms. This book describes the technique for aerial dance that I have created (and contains links to companion videos).
The book is the culmination of the past 16-plus years of experimentation and research. In some ways, it is really a love letter to W&L. The majority of the research happened during my tenure here. Much of it was supported through W&L grants and through the aid of W&L faculty and staff. All the photos were taken by W&L photographer Kevin Remington, and the photos in the book are all of W&L students who have been in my classes over the past 10 years. I love so much that my students are part of the book.
What does it take to train for aerial dance?
For much of the time spent on the wall, the dancer is parallel to the ground. Gravity and centrifugal forces work against the body and affect the body in unusual ways. When you are spinning through space or trying to execute a flip, force and direction are upended. Traditional concepts in alignment shift. The cycle of orientation and reorientation becomes an internal conversation.
Aerial dance can be difficult for trained dancers because they have set preconceptions about how their body moves through space. Traditional concepts of alignment, the force necessary to push away from the 'floor,' distance gained in jumps and leaps, and timing and landing suddenly become uncertain and fluid. Alignment is an internal process of sensing, as opposed to an external use of mirrors. The way that muscles engage, give in to and resist gravity has shifted 90 degrees. You think you know where your body is in space, but your body is not where you think it is. Aerial dance takes everything you thought you knew about your body and shifts it. In addition to the muscles that are working in a new way, part of the training for aerial dance is developing internal kinesthetic knowledge.
What do you want your students to learn about dance?
One of the things that is wonderful about being an artist and an educator is that my scholarly work and teaching interact and converse with one another. In creating and presenting original pieces of choreography, I contribute to the scholarly canon of dance. When I have the opportunity to also set these works on my students, my scholarly work is translated into teaching. These two aspects intertwine in a really beautiful and harmonious way. Further, many times in the rehearsal process, I receive valuable feedback from the students, which then circles back and informs my scholarly work. It is a wonderful collaborative experience.
I hope that all my students, across all the classes I teach, walk away with a sense of bravery. For many of them, dance is new territory. I work to create an environment where students feel safe to take risks. Then I encourage them to try new things, learn from failure and risk again. In many ways, the failing is the succeeding. It's the learning. There's a quote I share with my students that says, "The greatest risk is not taking one." That's why we're here — to try new things. Sometimes that involves flying high into the air from the roof of a building.
If you know a W&L faculty member who would be a great profile subject, tell us about it! Nominate them for a web profile.
Jenefer Davies
Associate Professor of Dance, Director of the Dance Program, Artistic Director of the W&L Repertory Dance Company
Classes:
Contemporary Modern Dance Technique
Contemporary Modern Dance Composition
History of Contemporary Modern Dance
Aerial Rope and Harness
Aerial Silks and Bungee
Movement for Actors
W&L Repertory Dance Company
Dance Europe
Artistic Identity in Contemporary European Dance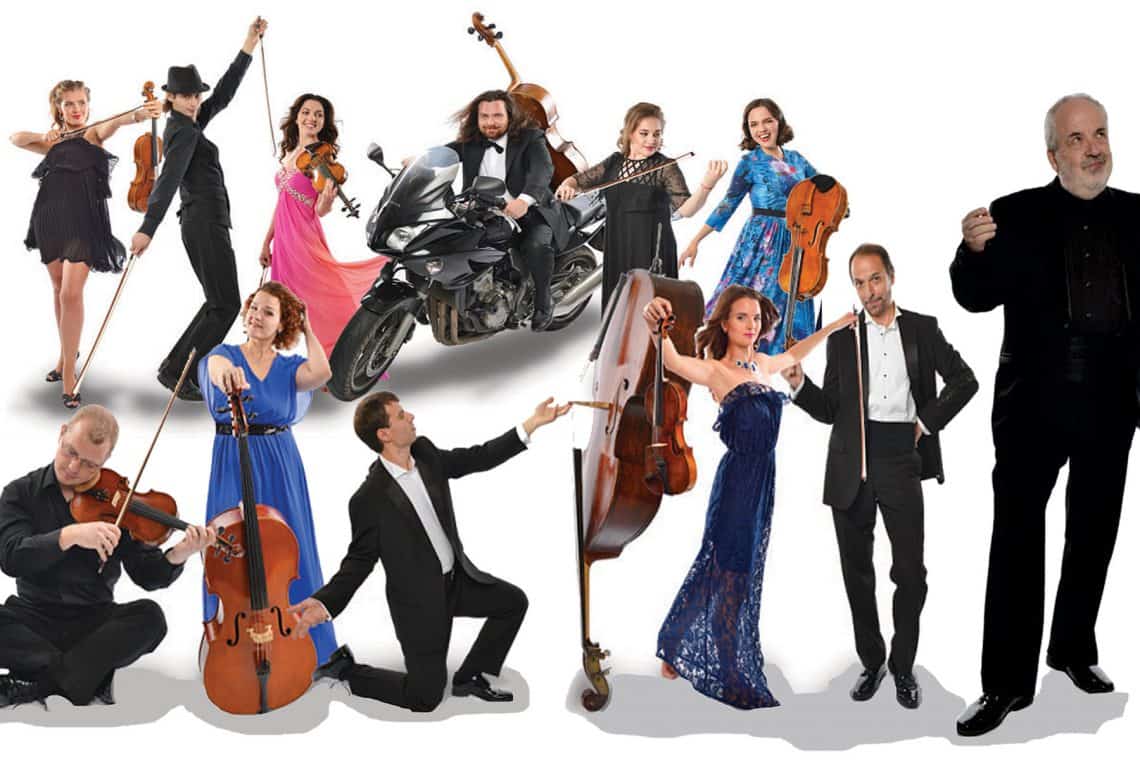 Russian String Orchestra to Perform at W&L
The Concert Guild of Washington and Lee University will welcome the Russian String Orchestra to Lenfest Center for the Arts on March 9 for an 8 p.m. performance in Wilson Concert Hall. This marks the third time since 2006 that the orchestra, previously known as Chamber Orchestra Kremlin, has performed at W&L.
Since its founding in 1991, the Russian String Orchestra has concertized in 25 countries around the world. The orchestra performs a variety of works, from early baroque to new pieces commissioned by music director Misha Rachlevsky.
In describing the orchestra's performance of Brahms' "String Sextet in G," the San Antonio Express-News said "…Rachlevsky knew at every moment how to shape phrases to maximize the kinetic energy, how to bend the tempo to propel the music. Even the slow movement careened irresistibly toward its finish line."
The concert at W&L will give the audience a voice by allowing it to vote on repertoire for the second half of the concert.
Tickets are available through the Lenfest Center Box Office at 540-458-8000 or online here.
SaveSave
President of Russell Sage Foundation Second Speaker in Shepherd Program's 20th Celebration
Washington and Lee University will host Sheldon Danziger, president of the Russell Sage Foundation, as the second speaker for the Shepherd Program's 20th Anniversary Celebration on March 15 at 4:30 p.m. in Stackhouse Theatre.
Following the theme "Poverty, Inequality and Work Today," the talk is titled "Poverty, Inequality and Public Policies: Reflections on the End of the Safety Net As We Know It." The talk is free and open to the public.
Danziger's research focuses on social welfare policies and the effects of economic, demographic and public policy changes on trends in poverty and inequality.
"Sheldon Danziger is one of the most respected scholars in the social sciences examining the causes and consequences of poverty in the United States and the role that public policies have played in both preventing poverty and assisting those below the poverty line," said Art Goldsmith, Jackson T. Stephens Professor of Economics.
Three of Danziger's books have been selected as Noteworthy Books in Industrial Relations and Labor Economics by Princeton University's Industrial Relations Section: "The Price of Independence: The Economics of Early Adulthood" (2007); "Working and Poor: How Economic Conditions and Policy Changes Affect Low-Wage Workers" (2006); and "America Unequal," co-authored with Peter Gottschalk (1995).
From 1989 through 2013, Danziger directed the research and training program on poverty and public policy at the University of Michigan, geared toward developing the careers of emerging scholars from underrepresented groups.
In addition to being president of the Russell Sage Foundation, which supports social science research "for the improvement of social and living conditions in the United States," he is also the Henry J. Meyer Distinguished University Professor Emeritus of Public Policy at the Gerald R. Ford School of Public Policy, University of Michigan.
Beginning in 1997, the Shepherd Program's focus is on the various causes and consequences of poverty as well as on our individual and collective responsibilities to address the problems associated with poverty.
"At the heart of a Shepherd education is a greater understanding of how economic, social and political realities affect the precariously employed, the unemployed and the communities in which we all live," said Howard Pickett, assistant professor and director of the Shepherd Program for the Interdisciplinary Study of Poverty and Human Capability, and adjunct professor of law.
The Shepherd Program integrates thought and action in direct service to disadvantaged communities. Through an array of courses and service opportunities, it prepares students from a variety of majors and political perspectives to work with those communities to address the problems associated with poverty.
The event is sponsored by the Shepherd Program, the Mudd Center, the Economics Department, the Office of the Provost and the University Lectures Series.
W&L's Department of Music Presents a Faculty Recital: "Mockingbird Amongst the Flowers"
The Department of Music at Washington and Lee University invites you to a faculty recital titled "Mockingbird Amongst the Flowers" on March 4, at 3 p.m. in the Wilson Concert Hall. No tickets are required.
Faculty members Byron W. Petty, Shuko Watanabe and William McCorkle will perform a program featuring French, German and Italian works from the baroque.
The recital features two manual mid-18th-century French-style harpsichords built by John Watson of Williamsburg in 1976.
The harpsichord was gifted by alumnus Dr. Lawrence Smith, class of 1958 and his wife, Ganelle.
You can find more information on the concert here.
SaveSave
Miranda Fricker Completes Yearlong Mudd Center Equality and Difference Series
Philosophy professor and researcher Miranda Fricker will be the final speaker in the yearlong Roger Mudd Center for Ethics Equality and Difference series. Her talk is scheduled for March 8 at 5 p.m. in the Hillel Multipurpose room.
The title of her talk, which is free and open to the public, is "Epistemic Equality as a Condition of Well-Functioning Blame."
Fricker is Presidential Professor of Philosophy at the City University of New York Graduate Center and a research professor at the University of Sheffield. Her main areas of interest are ethics, social epistemology and feminist philosophy, with occasional forays into political philosophy.
Her multiple publications include "The Epistemic Life of Groups: Essays in the Epistemology of Collectives" (2016), "Reading Ethics" (2009) and the "Cambridge Companion to Feminism in Philosophy" (2000). In 2014, she was awarded a Leverhulme Major Research Fellowship to work on a book in moral philosophy.
Fricker served as director of the Mind Association from 2010-15 and was recently appointed to the position of moral philosopher on the Spoliation Advisory Panel, a U.K. government panel that resolves claims from families that lost property during the Nazi era. She is also an associate editor of the Journal of the American Philosophical Association.
The Mudd Center was established in 2010 through a gift to the university from award-winning journalist Roger Mudd, a 1950 graduate of W&L. When he made his gift, Mudd said that "given the state of ethics in our current culture, this seems a fitting time to endow a center for the study of ethics, and my university is the fitting home."
For full details on this series, visit https://www.wlu.edu/mudd-center.
SaveSave
SaveSave
Phillis Wheatley: 'Favored by the Muses' Washington and Lee's Special Collections contains a rare volume of poetry by Wheatley, the first published African-American poet.
"Although Wheatley remains a somewhat controversial figure among African-American writers … the significance of her place in American history is uncontested."
My first encounter with the remarkable Phillis Wheatley and her equally remarkable poetry was about a decade ago, when I discovered a very rare first edition (1773, London) of her book, "Poems on Various Subjects, Religious and Moral," in the collection at the Library of Virginia, where I served as director of Special Collections for 12 years. Fast forward to 2015 when, as head of Washington and Lee's Special Collections, I was able to purchase an equally rare first American edition (1802, Walpole, New Hampshire) of Wheatley's book for the Washington and Lee vault.
What is so remarkable about the little book of 39 poems is that Phillis Wheatley was the first black poet in America to publish a book, and that she did so at the young age of 20 while serving as a slave to a Boston couple.
Wheatley was born in Senegal/Gambia about 1753. She was kidnapped at the age of eight and brought to Boston aboard the slave ship Phillis, from whence she received her name. After arrival in Boston, she was purchased by John Wheatley, a prosperous merchant, as a domestic servant for his wife, Susanna.
Susanna Wheatley and her two children, Mary and Nathaniel, taught Phillis how to read and actively encouraged her literary pursuits. At a time when African-Americans were discouraged and intimidated from learning how to read and write, Wheatley's experience was unusual. John Wheatley was known throughout New England for his progressive thinking, and he and his family gave Phillis an unprecedented education for an enslaved person, and for a female of any race.  By the age of 12, Phillis was reading Greek and Latin classics. Strongly influenced by the works of Alexander Pope, John Milton, Homer, Horace and Virgil, Phillis Wheatley began to write poetry.
In 1773, at the age of 20 – and after failed attempts to have her book of poetry published in America – Phillis sailed to London with her master's son, Nathaniel. This trip was partially for health reasons (she remained fragile all her life), but also because Susanna Wheatley believed Phillis would have a better chance of having her book of poems published there.
Indeed, Phillis quickly became acquainted with significant members of British society. Selina Hastings, the Countess of Huntingdon, served as the patron of Wheatley's book of poems, which was published in the summer of 1773. In that same year, sometime between July and October, it is thought that the Wheatley family emancipated Phillis.
Her book of poetry was elegiac in form and included poems on Christian themes as well as race. A strong supporter of America's fight for independence, Wheatley wrote several poems in honor of the Continental Army's commander, General George Washington. One of those poems, which she sent to Washington in 1775, prompted an invitation in which he stated that he would be "happy to see a person so favored by the muses." She visited him at his headquarters in Cambridge in March of 1776.
Although freed from slavery, Phillis was still devastated by the deaths of Wheatley family members, including Susanna, who died in 1774, and John, who died in 1778. She married John Peters, a free African-American man from Boston, in 1778. Three children born to them all died in infancy. She continued to write but ultimately was unable to find support for a second volume of poetry. Her marriage to Peters proved difficult, and they battled almost constant poverty. Phillis was forced to work as a maid in a boarding house and Peters ultimately abandoned her.
Phillis Wheatley died at the age of 31 in Boston, Massachusetts, on December 5, 1784. Although Wheatley remains a somewhat controversial figure among African-American writers (some of her poetry was perceived as a glorified treatment of slavery), the significance of her place in American history is uncontested. While it is true that she died in abject poverty, broken in spirit and body, Phillis Wheatley died a free woman.
This slideshow requires JavaScript.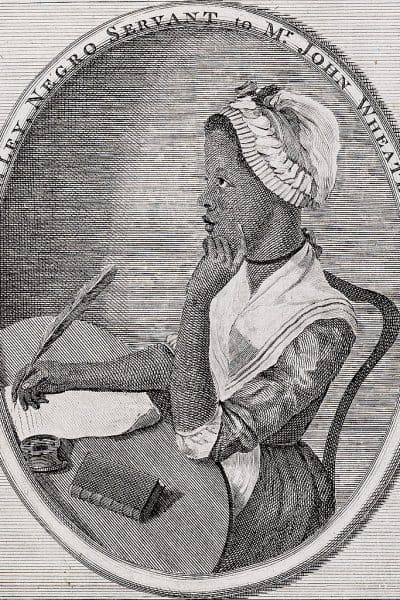 'An Hymn to the Morning' by Phillis Wheatley
Attend my lays, ye ever honour'd nine,
Assist my labours, and my strains refine;
In smoothest numbers pour the notes along,
For bright Aurora now demands my song.
Aurora hail, and all the thousand dies,
Which deck thy progress through the vaulted skies:
The morn awakes, and wide extends her rays,
On ev'ry leaf the gentle zephyr plays;
Harmonious lays the feather'd race resume,
Dart the bright eye, and shake the painted plume.
Ye shady groves, your verdant gloom display
To shield your poet from the burning day:
Calliope awake the sacred lyre,
While thy fair sisters fan the pleasing fire:
The bow'rs, the gales, the variegated skies
In all their pleasures in my bosom rise.
See in the east th' illustrious king of day!
His rising radiance drives the shades away–
But Oh! I feel his fervid beams too strong,
And scarce begun, concludes th' abortive song.
From Brainstorm to Billboard Majo Bustamante '18 was a marketing and communications intern for NASA Automotriz, the company that owns the rights to sell Ford and Volkswagen in San Jose, Costa Rica.
"It was exciting to be involved in a project with such a clear and definite end goal, and to see the final result being advertised on billboards and social media."
Hometown: Cartago, Costa Rica
Major: Strategic Communications
Minors: Philosophy; Film and Visual Culture
This past summer I had the opportunity to intern with NASA Automotriz, the company that owns the rights to sell Ford and Volkswagen in San Jose, Costa Rica. The experience was possible thanks to the Charles S. and Lee P. Rowe scholarship fund and the journalism department's support.
I was the marketing and communications intern, and my main objective was to help launch the company's new loyalty programs, Ford Nation and Volkswagen Life, as well as their VIP clients' rewards club. The opportunity allowed me to work in close contact with the marketing manager and the other marketing executives at the company, which gave me insight as to what an average day looks like in this field.
I attended marketing meetings with my boss that included a sales pitch for software to automatize social media responses and a budgeting meeting for airing a commercial in one of the main national channels. Additionally, I was able to attend almost all meetings with the businesses with which we were trying to establish partnerships, and to help negotiate the benefits and arrangements.
When I arrived, my boss explained that the agency's goal is to be the first vehicles company in the country to offer their clients a loyalty program as well as a VIP rewards club. He showed me the sample cards that would be sent in a leather pouch to clients to inform them about the discounts they would be able to enjoy just by showing their car keys at different establishments. The brand needed help creating connections with sports centers, restaurants, hotels, dentists and spas in order to secure the partnerships.
The marketing department had also started organizing special experiences that could be offered to influential brand ambassadors in order to recognize and reward their loyalty to the brand. The experiences could include VIP tickets to their favorite concerts, personalized dinners, wine tastings and test tracks of new vehicles with other brand ambassadors. The company also needed to work with the sales department to build a database of those clients that had brought in new customers as a result of their recommendations. The ambitious project was innovative and highly marketable.
I enjoyed the creative component of this marketing internship, as well as the amount of freedom my co-workers gave me during our contract meetings. One of my tasks included studying the proposed mutually beneficial relationship with other businesses and overseeing the legal contracts that would make it a reality. I would then debrief the other marketing executive and attend the meeting with the potential partner to discuss the discounts and advertising events moving forward. The first thing that I was told was to not be afraid to speak up, as my boss wanted me to help negotiate the agreements. Having interned with the Costa Rican Embassy at the United Nations Office in Vienna, Austria the summer before, I never thought that the persuasion skills that I learned overseas would prove useful in this new area. Marketing meetings were similar, in a way, to delegates negotiating proposals, and this made me realize why the United States sometimes focuses more on skill sets than fixed values.
The experience gave me confidence to approach new challenges with a positive attitude, and to recognize familiar patterns in unknown situations. It was exciting to be involved in a project with such a clear and definite end goal, and to see the final result being advertised on billboards and social media. This internship certainly influenced my post-graduation plans and I'm thankful to the university for all the wonderful opportunities it has helped me secure.
If you know a W&L student who would be a great profile subject, tell us about it! Nominate them for a web profile.
More about Majo
Why did you choose your major?
The Strategic Communications major at W&L is quite interdisciplinary, which allows you to tailor it to your own interests. I was surprised to see that graduates from this major could work in fields as diverse as International Relations and Marketing. I was attracted to this versatility.
What's your personal motto?
"Two roads diverged in a wood, and I—I took the one less traveled by, and that has made all the difference." – Robert Frost
Best place to eat in Lexington? What do you order?
Brunch at Bistro and the House Special at Don Tequila.
What three books do you recommend to everyone?
"The Catcher in the Rye" by J.D. Salinger, "The Bell Jar" by Sylvia Plath and "Alice's Adventures in Wonderland" by Lewis Carroll
Favorite class:
I loved taking Professor Timothy Gaylard course, Music in Stanley Kubrick Films, during Spring Term. I have always admired Kubrick's work and I just cannot believe I got to spend four weeks analyzing his movies.
Favorite W&L event:
Not necessarily an event, but Spring Term is definitely my favorite time at W&L. I'm still sad that I will graduate before I get a chance to take Children's Literature or Cross Cultural Documentary Filmmaking.
What's something people wouldn't guess about you?
I used to play competitive chess when I was younger.
Quick Hits: Gonkar Gyatso's 'Buddha's Picnic' The interactive exhibit will be on display in Staniar Gallery through March 17.
"'Buddha's Picnic' is a visually stunning, immersive installation that…invites people to sit, quite literally, and ponder the contradictory meanings of this shrine-like creation and its fabulous mash-up of imagery."
When visitors walk into Washington and Lee University's Staniar Gallery, they may feel as though they have been transported to a picnic in the Tibetan countryside. Artist Gonkar Gyatso's exhibit "Buddha's Picnic," which will be on display through March 17, is an interactive installation that features a modern Tibetan shrine and an actual picnic, replete with snacks and a comfortable place to enjoy them.
Watch the video below to get a glimpse into "Buddha's Picnic."
Still photo courtesy of Jake Sirota '19
Gyatso is best known for his work mixing Buddhist iconography with pop imagery to examine the complexities inherent in defining identity when different cultures simultaneously coexist and conflict. He has recently completed installations in Australia, Singapore and Hong Kong, as well as in the United States at galleries in Boulder and Atlanta. "Buddha's Picnic" will be his first installation in the region.
"This exhibition activates the gallery space in exciting new ways," said Clover Archer, director of the Staniar Gallery.
Melissa Kerin, associate professor of art history at W&L, worked with Gyatso and Archer on this project over the past two years. She explained that "Buddha's Picnic" is "a visually stunning, immersive installation that subversively combines playful, seemingly innocent plastic figurines of Tibetan monks and My Little Pony with sobering posters of political figures from the People's Republic of China and advertisements for beauty products. This body of work invites people to sit, quite literally, and ponder the contradictory meanings of this shrine-like creation and its fabulous mash-up of imagery."
The idea for the installation grew out of conversations between Gyatso and Kerin, who were introduced in 2015 by W&L alumna Victoria Andrews '15. While discussing their shared interest in shrines—Kerin's academic and Gyatso's artistic—they decided to explore the idea of creating a multidisciplinary shrine-focused project. The two have given talks on campus, at the Smithsonian's Freer/Sackler Galleries and New York's Asia Society about this work and the powerful role of shrines.
"Buddha's Picnic" was funded by a $10,000 grant from the Robert Lehman Foundation, as well as funding from the Office of the Provost at W&L, which allowed Staniar Gallery and the Art and Art History Department to expand the scope of the project. Consequently, Gyatso was brought to campus from Chengdu, China to create this site-specific installation with W&L students.
"The additional funding allowed us to support Gyatso in realizing an ambitious new project, one that would not have been possible otherwise," said Archer.
This was Washington and Lee's first grant from the Robert Lehman Foundation. Based in New York, the foundation's mission is to "fulfill and further [founder] Robert Lehman's vision and therefore to support the visual arts in any fashion that seems likely to enhance the appreciation, knowledge and enjoyment of this central aspect of our culture." Grants are made to museums, arts organizations, educational institutions and other cultural organizations with the goal of enhancing the role of the visual arts within American and world culture.
Staniar Gallery is located on the second floor of Wilson Hall, in Washington and Lee University's Lenfest Center for the Arts. Gallery hours are Monday through Friday, 9 a.m. to 5 p.m. For more information, please call (540)-458-8861.
Character Counts Austin Brown '13L shares the real secret to success as a player-agent with Creative Artists Agency.
Jerry McGuire could learn a thing or two from Austin Brown '13L.
The slick-talking and opportunistic sports agent played by Tom Cruise is defined by the iconic line "Show me the money!" But for Brown, who is one of the most successful, young NBA agents at the industry-leading Creative Artists Agency (CAA), it is more about "Show me the character!" He has learned a little secret Hollywood doesn't let you in on—as he puts it: "Money and talent fade, character doesn't. I only work with people I respect."
It sounds like a fairly simple rule, but it seems to have served Brown well. It's not everyday that you're listed among Forbes magazine's "30 Under 30: The Sports World's Brightest Young Stars" or sign three top-40 NBA draft picks all less than a year after graduating law school—but that's exactly what Brown has done.
Brown is no stranger to the limelight. Prior to law school, he was a first team all-Southern Collegiate Athletic Conference Selection and even made a memorable national television appearance on ESPN2 after draining an impressive 61-foot, game-winning shot that carried his team from DePauw University to the NCAA tournament. Even at that early stage in his sporting career, Brown displayed remarkable humility, stressing to the news anchor that DePauw's big win was a team effort.
It's a mindset he still adheres to—and is undoubtedly one of the secrets to his quick rise as a player-agent: "I love the game of basketball…I get immense satisfaction from helping extremely talented individuals realize their dreams in the sport."
Despite all the success, Brown will be the first to tell you that the life of an NBA agent is not all glitz and glam. Behind the scenes there are hundred-page contracts to review, sponsorship deals to be negotiated, and travel plans to be coordinated. "This definitely isn't your typical 9-5," says Brown. But for him, the fact that no two days are exactly alike is a positive aspect of the job: "It keeps things interesting and allows me to constantly add to and sharpen my skill set both as an agent and an attorney."
Brown's decision to attend Washington and Lee for law school all came down to its uniquely close-knit academic environment that sets it apart from other top-tier law schools. Having excelled as an undergraduate at a small liberal arts college, he was immediately drawn to W&L's community, which offered him the opportunity to interact closely with his professors and classmates.
He credits his W&L experience with helping him sharpen the skills he now uses on a daily basis: "Being an agent is all about relationships. Players have ups and downs in their careers. It's easy to be there for them when they win the MVP, but it says a whole lot more about you as an agent, and as a professional, when you're there for them during the low points—injuries, scoring droughts, personal issues."
In an industry dominated by over-inflated egos, exorbitant salaries and cutthroat competition, Brown is a refreshing reminder that modesty, integrity and adherence to core values are the true building blocks of lasting success.
Sydney Internship and Study Abroad Program: Laura Gottschalk '19
Laura Gottschalk '19
Major: Accounting and Business Administration
Hometown: Lake Forest, IL
I left W&L excited for two new experiences, having an internship and going abroad. A winter internship is a unique experience for a W&L student, as the school calendar does not have a long enough winter break to allow for a winter internship. I moved from Lexington to Arlington, VA –a fifteen-minute drive from downtown Washington D.C.  I thought that I would miss my friends back in Lexington more than I do, but I am so glad I decided to have a winter internship and study abroad.
My internship at EY has been a great learning experience. As part of the internship, we first had general training in EY's home office in Mclean, VA to help us learn about the company. We then had two days of audit training where we learned about EY's systems and how to audit certain accounts, such as cash and accounts payable. After training, I went out to my first client site. Interns get assigned to two clients and I was excited to get two very different ones. My first is in the aerospace and defense industry and my second is a subsidiary of a large communications company.
Living in Arlington with another student from W&L and participating in the same program has been great, as we have been able to share our internship experience. I have enjoyed getting to explore downtown Arlington and going downtown most weekends. D.C. has so many things to offer: walking around the monuments, visiting all of the free museums, and great places to get food. I have enjoyed exploring the city and have also been able to visit my older sister who lives in D.C. She has been able to show me fun places to go and local restaurants.
My internship has also helped me see more of downtown D.C. because we have had several intern events. One of which was going to see a Wizards basketball game. I really enjoyed going to the game, since it is not something that I would have chosen to do myself. It has been great getting to know all of the other interns through the events scheduled by EY and also when we have gone out to restaurants as a group. I have enjoyed learning about other colleges' accounting programs and the variety of different experiences each intern has had.
While working for my first client, I enjoyed getting to know two of the other interns. It was nice having someone else to talk to, get advice from, and being able to ask questions. One of my responsibilities as an intern was ordering and picking up dinner every day for the team. Us interns always teamed up on dinner orders, making it a bit easier. Some of the other things I was tasked with included formatting excel spreadsheets, preparing work papers and organizing documents. I have learned a lot more than I ever thought I would with the internship so far. Working during the busy season has allowed me to receive tasks that I never would have received as a summer intern.
There are also several W&L alumni that I have gotten to work with. A great thing about auditing is that they teach you everything you need to know and do not expect you to come in with a lot of prior knowledge. My biggest piece of advice for anyone interested in doing this program is to stay positive throughout the busy season internship because the teams get stressed out with upcoming deadlines. My team commented that it was great to have an intern there that had a positive attitude while they were stressed out.
My second client is a technology company in the communications industry. It has been very different than the first client, as the entire work environment is much more casual. There are a lot of open meeting rooms, kitchen spaces, and casual seating areas. My second client also has a policy of having free lunch for all their employees, which has been a great perk and helped me save some money. The team is in busy season, but they seem less stressed, as they do not have a stringent deadline like my first client did. As an intern, I do not work more than 40 hours a week, so I have not had to work very long. My first team worked up-to 55-hour weeks. I have enjoyed getting to see to vastly different clients that have contrasting work environments.
So far, my experience living in Arlington has been great, and I am very excited to leave for Sydney, Australia in less than three weeks. I have always wanted to study abroad and get to live in another country for a few months. It has been fun planning trips and things to do while I am in Sydney and I can't wait to leave for Australia!