Getting a Leg up on Health W&L women track athletes teamed up with Rockbridge Area Community Services for RunJumpThrow, a national program that teaches kids about physical activity.
This slideshow requires JavaScript.
Members of the Washington and Lee women's track team joined local schoolchildren on March 3 to run, jump and throw their way through a fun-filled Saturday afternoon at Wilson Field on the W&L campus.
Part of a national program created by USA Track & Field and Hershey, RunJumpThrow paired W&L student volunteers with local kids for a variety of exercises. The purpose of the event was to introduce children to track and field, not only as a healthy individual activity but as a team sport. Rockbridge Area Community Services (RACS) brought the program to Rockbridge County with its Live Healthy Rockbridge Kids coalition, and with funding from Virginia Foundation for Healthy Youth.
Washington and Lee women's track athletes, including Bailey Sanders '19 and Katie Bearup '20, helped to organized W&L's participation through their membership in the Generals Leadership Academy. The program provides underclassmen with skills necessary to be leaders on their athletic teams, as well as within the university community. It was created in 2002 by the Athletic Department and Scott Fechnay '69, and was fully endowed by Scott and his wife, Peggy Ann Eacho Fechnay. RunJumpThrow also served as the women's track team's required annual community service project.
"It was awesome for us to help those kids see what track and field is really like, and to introduce them to it at a young age," Sanders said. "That was really rewarding for us."
On the afternoon of the event, the majority of the women's track team met with 40 students from Central Elementary, Natural Bridge Elementary, Waddell Elementary, Fairfield Elementary and Maury River Middle School. They started out with a dynamic warm-up, then cycled in small groups through various activity stations. Over the course of the afternoon, they learned the benefits and proper form for running, long jump, hurdle jumping, ball throwing, starts, and baton hand-offs. The event wrapped up with some friendly competition, then all of the children received a string backpack, a medal and a water bottle.
"It went really well," Sanders said. "It was a little chilly and windy but that didn't seem to bother the kids. I think they had a good time."
Nothing but Love Peyton Powers '18 says studying poverty has helped him understand that "humans cannot be divorced from the dignity that is concomitant to life."
"The Shepherd Program has been an instrumental component of my W&L experience."
Peyton Powers '18
Hometown: Norman, Oklahoma
Major: Economics
Minors: Poverty Studies, Education Policy
I have a very limited understanding of sports. I'm not an athlete (shocking, given my gymnastic physique!) and I never will be. Nevertheless, I've always been fascinated by one unique aspect of tennis—its scoring. Imagine this: you're in a tennis match, but you haven't scored a single point. As it turns out, you don't actually have zero. Instead, you have love.
This seemingly minor observation became more significant to me in my time at W&L. Since the start of my college career, I've had the privilege to work closely with the Shepherd Program for the Interdisciplinary Study of Poverty and Human Capabilities. As a Bonner Scholar, the Volunteer Venture Coordinator, a Poverty Studies minor, a member of Strategic Planning, and now a student representative to the Advisory Committee, I've come to fully understand the program and its mission: Humans cannot be divorced from the dignity that is concomitant to life.
Poverty is crippling. It hinders opportunity, exacerbates inequity, and threatens human dignity. With poverty increasingly encroaching upon humanity's most vulnerable, the tennis metaphor is of paramount importance: even when one player has nothing, they have love. The same, too, applies for every member of society. We are all deserving of love, and it starts when we recognize the wholeness of the person immediately in front of us.
The Shepherd Program has been an instrumental component of my W&L experience. The co-curricular nature of Shepherd imbued a sense of clarity regarding my vocational path. As I prepare for my next steps as a math teacher at a public school in Providence, Rhode Island, I am grateful for the love that has been shared with me and am eager to pass it along to my students over the next few years.
More about Peyton
Extracurricular Involvement: Bonner Program, Volunteer Venture, White Book Review Committee, Faculty Executive Committee, Fancy Dress, LEAD, Shepherd Advisory Committee, Lambda Chi Alpha
Why did you choose your major?
I haphazardly stumbled into the economics major when I realized that politics and I were no longer a match made in heaven. I remain indebted to Professor Katharine Shester for encouraging me along the way.
Has anyone on campus inspired you?
There are too many to count, but Lainey Johnson '16, John Crum '17 and Elizabeth Mugo '19 immediately come to mind.
Best place to eat? What do you order?
Waffle House on Saturday mornings. I'll have the all-star special—scrambled eggs, hash browns (smothered and covered, please and thanks), cinnamon raisin toast, bacon and a waffle.
What one film/book do you recommend to everyone?
"The Art of Racing in the Rain" by Garth Stein
Post-graduation plans: Teaching math with flexibility for Special Education in Providence, RI through Teach For America, while working on a Master's in Urban Education Policy at Brown University
Favorite W&L memory: Tropical, a party that my fraternity throws in the fall. It's just always a blast.
Favorite class: GEOL105: Earth Lab—Dinosaurs!
O'Hare Headlines 7th Annual AdLib The VP of global brand communications for adidas delivered the keynote address at a daylong advertising and marketing conference full of networking opportunities for students.
For the 7th Annual AdLib Conference at Washington and Lee on March 2, Alegra O'Hare '94 brought her marketing expertise — not to mention a snazzy pair of black-and-white sneakers — to the Stackhouse Theater stage.
O'Hare, vice president of global brand communications for adidas, returned to the W&L campus for the first time in 20 years to network with students and deliver the AdLib keynote address. Her talk focused on five key lessons she has learned during her career in brand marketing.
The point she hammered heaviest was that a good team (part of what she calls "Vitamin T") is paramount to success in the field. "They say retail is dead, TV is dead, and content is king," she said. "Well, content isn't king if you don't have the right people working on it. People are king — content is queen."
O'Hare, who majored in psychology at W&L before going on to study at the SDA Bocconi School of Management and Harvard Business School, also stressed to students in the audience that "it's OK not to know" where they want to ultimately end up in their careers. "My major took me to a place I never could have imagined," she said.
Read more about O'Hare, who was named one of the 35 most powerful women in sports by AdWeek magazine, in this W&L alumni profile.
"Alegra's participation was incredibly valuable and sparked some real thinking," said Amanda Bower, the Charles C. Holbrook, Jr. '72 Professor of Business Administration at W&L and the faculty advisor for AdLib. "She was so generous with her time and thoughts, and the students have absorbed it all. My email is filled with students who want to talk about how she has changed their thinking about their own personal and professional directions."
The AdLib conference, which first took place in 2011, has evolved into a daylong event that allows current students to network with alumni in the advertising and marketing industries. This year's event was made possible in part by a donation from Jackson Spalding, a marketing communications company co-founded by Glen Jackson '85.
In addition to O'Hare's keynote address, this year's conference included coffee talks, luncheons, and a panel discussion on how to break into the industry. The following alumni donated their time and spent the day at their alma mater:
Carly Sachs '07 (The Hershey Company)
Maria Blackwell '07 (C.F. Sauer Company)
Ben Gillespie '03 (UPS)
Bethany Evans '05 (Southwest Airlines)
Colton Payne '10 (Brown-Forman)
Marty Ritter '04 (The Martin Agency)
Marshall Woodward '16 (Redscout)
Jillian Leigh '17 (Burns Group)
Rachel Baker '17 (Wildfire)
"Our students might have a sort of preconceived notion about what they should do when they graduate, or what they should major in to be able to do that," Bower said. "AdLib demonstrates to them that there are so many other career options and experiences available to them, and that there are a variety of different paths to get there. Alegra was a psychology major, and Ben Gillespie was a history major, and both are doing some very big, very cool things."
This slideshow requires JavaScript.
Phillis Wheatley: 'Favored by the Muses' Washington and Lee's Special Collections contains a rare volume of poetry by Wheatley, the first published African-American poet.
"Although Wheatley remains a somewhat controversial figure among African-American writers … the significance of her place in American history is uncontested."
My first encounter with the remarkable Phillis Wheatley and her equally remarkable poetry was about a decade ago, when I discovered a very rare first edition (1773, London) of her book, "Poems on Various Subjects, Religious and Moral," in the collection at the Library of Virginia, where I served as director of Special Collections for 12 years. Fast forward to 2015 when, as head of Washington and Lee's Special Collections, I was able to purchase an equally rare first American edition (1802, Walpole, New Hampshire) of Wheatley's book for the Washington and Lee vault.
What is so remarkable about the little book of 39 poems is that Phillis Wheatley was the first black poet in America to publish a book, and that she did so at the young age of 20 while serving as a slave to a Boston couple.
Wheatley was born in Senegal/Gambia about 1753. She was kidnapped at the age of eight and brought to Boston aboard the slave ship Phillis, from whence she received her name. After arrival in Boston, she was purchased by John Wheatley, a prosperous merchant, as a domestic servant for his wife, Susanna.
Susanna Wheatley and her two children, Mary and Nathaniel, taught Phillis how to read and actively encouraged her literary pursuits. At a time when African-Americans were discouraged and intimidated from learning how to read and write, Wheatley's experience was unusual. John Wheatley was known throughout New England for his progressive thinking, and he and his family gave Phillis an unprecedented education for an enslaved person, and for a female of any race.  By the age of 12, Phillis was reading Greek and Latin classics. Strongly influenced by the works of Alexander Pope, John Milton, Homer, Horace and Virgil, Phillis Wheatley began to write poetry.
In 1773, at the age of 20 – and after failed attempts to have her book of poetry published in America – Phillis sailed to London with her master's son, Nathaniel. This trip was partially for health reasons (she remained fragile all her life), but also because Susanna Wheatley believed Phillis would have a better chance of having her book of poems published there.
Indeed, Phillis quickly became acquainted with significant members of British society. Selina Hastings, the Countess of Huntingdon, served as the patron of Wheatley's book of poems, which was published in the summer of 1773. In that same year, sometime between July and October, it is thought that the Wheatley family emancipated Phillis.
Her book of poetry was elegiac in form and included poems on Christian themes as well as race. A strong supporter of America's fight for independence, Wheatley wrote several poems in honor of the Continental Army's commander, General George Washington. One of those poems, which she sent to Washington in 1775, prompted an invitation in which he stated that he would be "happy to see a person so favored by the muses." She visited him at his headquarters in Cambridge in March of 1776.
Although freed from slavery, Phillis was still devastated by the deaths of Wheatley family members, including Susanna, who died in 1774, and John, who died in 1778. She married John Peters, a free African-American man from Boston, in 1778. Three children born to them all died in infancy. She continued to write but ultimately was unable to find support for a second volume of poetry. Her marriage to Peters proved difficult, and they battled almost constant poverty. Phillis was forced to work as a maid in a boarding house and Peters ultimately abandoned her.
Phillis Wheatley died at the age of 31 in Boston, Massachusetts, on December 5, 1784. Although Wheatley remains a somewhat controversial figure among African-American writers (some of her poetry was perceived as a glorified treatment of slavery), the significance of her place in American history is uncontested. While it is true that she died in abject poverty, broken in spirit and body, Phillis Wheatley died a free woman.
This slideshow requires JavaScript.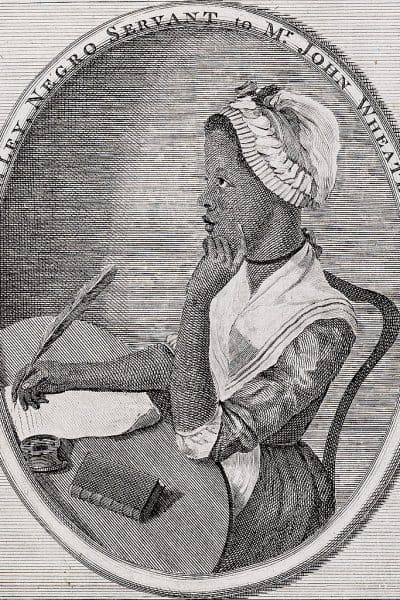 'An Hymn to the Morning' by Phillis Wheatley
Attend my lays, ye ever honour'd nine,
Assist my labours, and my strains refine;
In smoothest numbers pour the notes along,
For bright Aurora now demands my song.
Aurora hail, and all the thousand dies,
Which deck thy progress through the vaulted skies:
The morn awakes, and wide extends her rays,
On ev'ry leaf the gentle zephyr plays;
Harmonious lays the feather'd race resume,
Dart the bright eye, and shake the painted plume.
Ye shady groves, your verdant gloom display
To shield your poet from the burning day:
Calliope awake the sacred lyre,
While thy fair sisters fan the pleasing fire:
The bow'rs, the gales, the variegated skies
In all their pleasures in my bosom rise.
See in the east th' illustrious king of day!
His rising radiance drives the shades away–
But Oh! I feel his fervid beams too strong,
And scarce begun, concludes th' abortive song.
From Brainstorm to Billboard Majo Bustamante '18 was a marketing and communications intern for NASA Automotriz, the company that owns the rights to sell Ford and Volkswagen in San Jose, Costa Rica.
"It was exciting to be involved in a project with such a clear and definite end goal, and to see the final result being advertised on billboards and social media."
Hometown: Cartago, Costa Rica
Major: Strategic Communications
Minors: Philosophy; Film and Visual Culture
This past summer I had the opportunity to intern with NASA Automotriz, the company that owns the rights to sell Ford and Volkswagen in San Jose, Costa Rica. The experience was possible thanks to the Charles S. and Lee P. Rowe scholarship fund and the journalism department's support.
I was the marketing and communications intern, and my main objective was to help launch the company's new loyalty programs, Ford Nation and Volkswagen Life, as well as their VIP clients' rewards club. The opportunity allowed me to work in close contact with the marketing manager and the other marketing executives at the company, which gave me insight as to what an average day looks like in this field.
I attended marketing meetings with my boss that included a sales pitch for software to automatize social media responses and a budgeting meeting for airing a commercial in one of the main national channels. Additionally, I was able to attend almost all meetings with the businesses with which we were trying to establish partnerships, and to help negotiate the benefits and arrangements.
When I arrived, my boss explained that the agency's goal is to be the first vehicles company in the country to offer their clients a loyalty program as well as a VIP rewards club. He showed me the sample cards that would be sent in a leather pouch to clients to inform them about the discounts they would be able to enjoy just by showing their car keys at different establishments. The brand needed help creating connections with sports centers, restaurants, hotels, dentists and spas in order to secure the partnerships.
The marketing department had also started organizing special experiences that could be offered to influential brand ambassadors in order to recognize and reward their loyalty to the brand. The experiences could include VIP tickets to their favorite concerts, personalized dinners, wine tastings and test tracks of new vehicles with other brand ambassadors. The company also needed to work with the sales department to build a database of those clients that had brought in new customers as a result of their recommendations. The ambitious project was innovative and highly marketable.
I enjoyed the creative component of this marketing internship, as well as the amount of freedom my co-workers gave me during our contract meetings. One of my tasks included studying the proposed mutually beneficial relationship with other businesses and overseeing the legal contracts that would make it a reality. I would then debrief the other marketing executive and attend the meeting with the potential partner to discuss the discounts and advertising events moving forward. The first thing that I was told was to not be afraid to speak up, as my boss wanted me to help negotiate the agreements. Having interned with the Costa Rican Embassy at the United Nations Office in Vienna, Austria the summer before, I never thought that the persuasion skills that I learned overseas would prove useful in this new area. Marketing meetings were similar, in a way, to delegates negotiating proposals, and this made me realize why the United States sometimes focuses more on skill sets than fixed values.
The experience gave me confidence to approach new challenges with a positive attitude, and to recognize familiar patterns in unknown situations. It was exciting to be involved in a project with such a clear and definite end goal, and to see the final result being advertised on billboards and social media. This internship certainly influenced my post-graduation plans and I'm thankful to the university for all the wonderful opportunities it has helped me secure.
If you know a W&L student who would be a great profile subject, tell us about it! Nominate them for a web profile.
More about Majo
Why did you choose your major?
The Strategic Communications major at W&L is quite interdisciplinary, which allows you to tailor it to your own interests. I was surprised to see that graduates from this major could work in fields as diverse as International Relations and Marketing. I was attracted to this versatility.
What's your personal motto?
"Two roads diverged in a wood, and I—I took the one less traveled by, and that has made all the difference." – Robert Frost
Best place to eat in Lexington? What do you order?
Brunch at Bistro and the House Special at Don Tequila.
What three books do you recommend to everyone?
"The Catcher in the Rye" by J.D. Salinger, "The Bell Jar" by Sylvia Plath and "Alice's Adventures in Wonderland" by Lewis Carroll
Favorite class:
I loved taking Professor Timothy Gaylard course, Music in Stanley Kubrick Films, during Spring Term. I have always admired Kubrick's work and I just cannot believe I got to spend four weeks analyzing his movies.
Favorite W&L event:
Not necessarily an event, but Spring Term is definitely my favorite time at W&L. I'm still sad that I will graduate before I get a chance to take Children's Literature or Cross Cultural Documentary Filmmaking.
What's something people wouldn't guess about you?
I used to play competitive chess when I was younger.
The Path to Learning A team of Washington and Lee engineering majors is designing and building a walking trail for children served by Blue Ridge Autism and Achievement Center's Lexington location.
This slideshow requires JavaScript.
Employees and clients of Blue Ridge Autism and Achievement Center's Lexington branch were thrilled to move into a modern new building near Hull's Drive-in, but one feature of the former location was sorely missed: the playground and fenced-in yard.
"Our students benefit from structured play and instruction indoors and outside, so having an outdoor area that is accessible is beneficial to their learning. It is a goal of our program to have our students access their community and natural environment as much as possible," said Meagan Harding, a behavior analyst and special education teacher at BRAAC.
Fortunately, the wooded land behind the new building is a blank canvas, and four Washington and Lee University engineering majors are working to transform it into an interactive walking trail for the children serviced by the school. The trail will double BRAAC's space for activity.
Annie Jeckovich, Walker Brand, Kyle Ruedisili and Ryan Brink, all members of the Class of 2018, spent Fall Term mapping the trail, assessing and pricing materials and labor, and communicating with BRAAC to fine tune the plan. They hope to finish the project by the end of Winter Term.
The students were able to liaise with BRAAC through W&L's Office of Community-Based Learning and create a community-based research (CBR) project. Such projects provide students, faculty and community partners an opportunity to collaborate on mutually beneficial research aimed at addressing community-identified needs. The walking trail also will fulfill the new year-long capstone project requirement for engineering majors.
"The overarching idea is that students are able to pick a project they want to focus on for the entire year and take it from the initial problem to a proposed solution, then demonstrate that it works," said Joel Kuehner, department head and professor of physics and engineering. "They learn a lot in classes, but this stimulates a true career environment."
Blue Ridge Autism Center was founded in Roanoke, Va., in 2002; in 2009, it merged with The Achievement Center, a program of St. Vincent Home, to form BRAAC. Today, it has locations in Roanoke, Lynchburg and Lexington, and serves families who face unique learning challenges, including autism, ADD, and physical or visual impairment. The Lexington office works with children ages 2-16, Harding said, and is currently licensed by the Department of Education to serve 10 students.
Through their initial research, the W&L team learned that some people with sensory disorders like autism are hypersensitive to stimuli while others are hyposensitive. They found that nature immersion can have a positive impact by exposing children to sounds, smells, textures and other stimuli they would not encounter indoors.
The project was not as easy as selecting and shaping a route for the path. The students had to consider safety and accessibility, especially for clients with physical impairment, as well as the cost-effectiveness and durability of materials, the impact of the project on the environment, and aesthetics.
"We wanted to create a long-term solution for BRAAC," Jeckovich said, "a trail that manages foot traffic, weather and other impacts and is easily maintained."
Using GPS equipment borrowed from the Geology Department, and armed with machetes against thorny undergrowth, they mapped out an ADA-compliant trail that will weave around trees and use existing game trails. The path, which will be about eight feet wide and covered in wood mulch, will have a short section (150-200 feet long) and a long section (325-350 feet) with three rest stations along the way.
According to both Jeckovich and Ruedisili, they were surprised to find that the most challenging part of the project has not been the design, but the act of communicating with multiple parties, including contractors, and the logistics of funding and organizing.
"I didn't expect this much communication but it's definitely not a bad thing," Ruedisili said. "It's nice to not spend all your time sitting in a room running calculations."
Harding said she has appreciated the students' professionalism: "I can really see that they are striving to make this the best opportunity for our students. They have come numerous times and toured the facility inside and out, they have emailed weekly updates, and all of their communication has been thorough and thoughtful."
The next steps will include hiring a contractor to grade and remove large rocks, planning a volunteer work day, and raising money to pay for the project. Each team in the capstone course receives $1,000 in funding, with additional support from the McJunkin Endowment for Student Engagement and the Office of the Provost. But that will not cover the full cost of this project, so Jeckovich said they hope to find a contractor who will donate time or labor. In addition, a crowdfunding page has been set up.
The team hopes that in coming years, other W&L students will expand on their project, adding sensory stations along the route to make it even more stimulating and educational for children. Harding said everyone at the office is excited to see the finished product and its future iterations.
"I think the W&L students have really heard our concerns and feedback and utilized it to make the recommendations for our trail," she said. "It is definitely aligning with what we envisioned for our students. It's going to be such a phenomenal thing for our children and our staff. Being immersed in nature and having access to outdoor experiences will aid our students in meeting some of their physical and sensorial needs."
Kuehner said the BRAAC project is a great example of the kind of work that W&L students, through the Office of Community-Based Learning and the Community-Academic Research Alliance, can do in the community. He credited the folks in these programs, including Tammi Hellwig, Alessandra Del Conte Dickovick and Marisa Charley, with paving the way for these valuable projects.
"The students get to see that what they have studied for four years isn't just a fairy tale in a textbook — you are really going to make somebody's life better," Kuehner said. "And to actually have the community be excited is very rewarding. They may never think about a final exam again, but I don't think they will soon forget these projects."
Lee Chapel Auditorium to Close Temporarily for Technology Upgrades Those who wish to visit the Lee Chapel Museum between Jan. 22 and Feb. 9 may enter through the main museum entrance on the side of the chapel.
The Lee Chapel auditorium will be closed to the public from Monday, Jan. 22 through Friday, Feb. 9 for the installation of new technology that will better equip the space for lectures and other events. The Lee Chapel Museum will remain open during this period.
Lucy Wilkins, director of University Collections and Lee Chapel and Museum, said the auditorium is getting a new projection system with a retractable screen that will descend from behind the arch on the stage. It will not impact the statue of the recumbent Lee. The projector will be installed in the balcony, but will not impede views from balcony seats or of the balcony itself from the space below.
The new projection system will allow lecturers to incorporate video and images, including PowerPoint presentations, into their talks. It will also allow them to control those visuals from the stage. Previously, the university has had to rent equipment for many events in Lee Chapel, so these upgrades will save money over the long run, Wilkins said.
The auditorium will also get a brand new audio system complete with multiple microphone hook-ups. This will be especially helpful to university videographers as they Livestream events that feature more than one speaker.
The upcoming work has been approved by the university architect and the Historic Preservation and Archaeological Conservation Advisory Committee, Wilkins said.
Those who wish to visit the Lee Chapel Museum between Jan. 22 and Feb. 9 may enter through the main museum entrance on the side of the chapel.
W&L Celebrates the Life of Martin Luther King Jr. Nine days of events, featuring film screenings, discussions and guest speakers, kicks off Jan. 12 and runs through Jan. 21.
Bernice King, CEO of The King Center and the daughter of Dr. Martin Luther King Jr., will deliver the keynote address at W&L during a nine-day stretch of special events honoring the life and legacy of Dr. King.
The celebration kicks off Friday, Jan. 12 with a Shabbat celebration hosted by W&L Hillel in partnership with the Student Association for Black Unity (SABU) and the Multicultural Student Association (MSA).
To see the full schedule of events, please click here.
Oh, the Places They Went! Whether doing research on campus or traveling across the world for internships and projects, W&L students made the most of summer 2017. In the new year, we invite you to take a look back at everything they accomplished.
As 2017 draws to a close and winter settles over Lexington and the Washington and Lee campus, our imaginations are lured back to summer break and all the exciting and educational experiences that occurred for our students.
When summer classes ended, dozens of students continued their education with research projects on campus and beyond, while others worked at internships in their fields of interest. They traveled to China, Vietnam, Rwanda, South Korea, Greece, England, Hollywood and Capitol Hill, among many other places. They studied Chinese folk singing, hydroelectric power, and historical artifacts surrounding a turn-of-the-century murder. They reported big stories through print and broadcast journalism, opened a store in Cameroon, built a STEM center for children in Mexico, and shadowed doctors in Thailand and Ecuador.
In the new year, we invite you to take a look back at all the spectacular places they visited, the inspirational people they met, and the challenging experiences that will prepare them for careers after graduation.
Click here to see a round-up of all our student profiles from summer 2017.
No Such Thing as a Typical Day As a geology summer research assistant in Crete, Greece, no two days were the same for Chantal Iosso '20.
"This experience will probably lead me to do more research in the future, likely with some of the skills I've acquired this summer."

— Chantal Iosso '20
Hometown: Falls Church, Virginia
Majors: Geology and Environmental Studies
Q: What did you do for the summer?
My summer opportunity involved a total of 10 weeks of work with Professor Jeffrey Rahl in the Geology Department. First, we spent two weeks in Crete collecting 12 samples of peridotites and serpentinites from the uppermost unit. These rocks used to be part of the floor of an ocean that closed as the African plate subducted beneath the island. For the other eight weeks, back in Lexington, I analyzed the crystallographic preferred orientation of minerals in these samples, which will provide more information about the deformation history of the uppermost unit. This research was funded by a Mellon Grant and the R. Preston Hawkins IV Geology Award.
Q: What was your favorite part of working in Greece?
It's difficult to pick what I liked best. The island is beautiful: beaches that lead to crystal clear water, dramatic topography with gorges and mountains, clear blue skies. On a more academic note, it was amazing to see such a variety of rock types in such a small area, all telling the story of plate movements and terrain millions of years ago. On the first day, we drove through four different units right next to each other which tracked the closing of an ancient ocean.
Q: What did an average day for you look like?
One of the best things about this research was that there wasn't really an average day; I did a huge variety of different things. While we were in the field in Crete, the typical day started with data logging from the previous day at breakfast. Then we'd consult our maps, hop in the van, and drive to an outcrop.
Once we arrived, we used our hammers and chisels to extract samples, and we used our hand lenses to try to identify whether the sample was sufficient for our needs. If it was, we'd take some photos, jot down the orientation of the sample, and bag it. Then we'd go back to the maps and the van, and lather, rinse, repeat until dinner, which usually involved gyros and some fantastic sunset views over beautiful blue water.
Back in Lexington, I spent a few days slicing the rocks into chips on the rock saw. While waiting for the chips to be processed and polished, I read articles and got ready to interpret my samples. Once my samples returned, I'd use the scanning electron microscope and electron backscatter diffraction technique to analyze them.
Q: What was the biggest challenge you faced?
The rocks I am studying are part of an ophiolitic complex, or section of ocean floor that has been emplaced on land, on Crete. Outcroppings of this complex are relatively rare. Additionally, the papers that we were using to guide us to the outcroppings often didn't have roads marked on the map, and the road map didn't have outcroppings marked, so trying to find the roads to the outcroppings proved a challenge.
Another problem: The rocks I'm studying, peridotites, easily weather at the earth's surface and can undergo serpentinization, which uses up the minerals of interest. This meant that once we found the outcrop, we had to search for a relatively unaffected sample. There were some days that we spent more than eight hours searching and only gathered one or two samples. However, we did manage to get a few good samples that will provide interesting data. Having succeeded despite the difficulty makes the results even more rewarding.
Q: Who served as a mentor to you this summer, and what was the best thing they taught you?
Professor Rahl also taught my introductory geology class, so between that and this summer's research, most of what I know about geology comes from him. This summer in particular I learned a lot about mineral identification and lab tools, such as the EBSD, from him.
Q: Has this experience impacted your studies or future plans in any way?
As a sophomore, I'm not entirely sure where I will be headed three years from now, but this summer's experience provided useful insight in geology research. This experience will probably lead me to do more research in the future, likely with some of the skills I acquired this summer.
Q: Why is this kind of experience important to W&L students?
In-depth research over the summer adds dimension to a specific subcategory of geology that even an advanced class can't provide. The amount of background reading and the hands-on elements result in more learning, which results in more questions and then even more learning. And of course, working close to a professor is extremely educational. Going to Crete doesn't hurt either!
Describe your summer adventure in one word:
Exploratory
If you know a W&L student who would be a great profile subject, tell us about it! Nominate them for a web profile.